Guy Fieri has invited 16 of the best Guy's Grocery Games winners back to compete in an epic five-week competition beginning Sunday, March 12 at 8|7c. In the Supermarket Masters tournament, the group of experienced Triple G veterans will be tested in new challenges with the most-unforgettable twists Flavortown Market has ever seen. Troy Johnson, Marc Murphy, and Aarti Sequeira will decide which chefs will check out, and who will advance to the finale. The winners of the four preliminary rounds will earn $10,000, and will face-off for a shot at a shopping spree worth $25,000.
Supermarket Masters Tournament: Part 1 — Sunday, March 12 at 8|7c
Four amazing Triple G winners kick things off by making an upscale dinner that turns into an uphill battle when they discover the ingredients have to start with the same letter. Next, making a tricked-out pizza turns even trickier when Guy gives them a $12 budget. Then, the final two chefs have to serve up Asian takeout that includes high-priced and low-priced items chosen by a wheel of chance.
Supermarket Masters Tournament: Part 2 — Sunday, March 19 at 8|7c
The Supermarket Masters Tournament continues as four more Triple-G winners compete for a guaranteed $10,000 and a shot at winning up to $25,000 more in the finale. First, the chefs have to serve up a plate of hometown comfort with only five pounds of ingredients. Next, the chefs make an elevated burger featuring strange sample table items. Then, the remaining two chefs must cook a Mexican fiesta after shopping only in the aisles chosen in a game of bowling.
Supermarket Masters Tournament: Part 3 — Sunday, March 26 at 8|7c
Four more Triple G winners are ready to master Flavortown Market. First, they must make a steakhouse dinner, even though the meat and seafood sections of the market are unexpectedly closed. Next, they must make an upscale lunch that is almost upended by the budget and restrictions dictated by the Food Pyramid. Then, the chefs create very different winner's dinners when one chef shops the odd aisles and the other the even aisles. Finally, for the first time, Guy Fieri calls a fourth round, making the last chefs whip up their best breakfast in only 15 minutes.
Supermarket Masters Tournament: Part 4 — Sunday, April 2 at 8|7c
Four past Triple-G winners are vying for an instant $10,000 and the last spot in the Supermarket Masters finale. First, they must make a high-end, old-school dinner that includes the mish-mash of ingredients on Guy's Grocery List. Next, the chefs race against the clock to make a super sandwich and side in just 15 minutes. Then, the last two chefs pick wild cards to determine the international cuisine and comfort dish they must combine to make their finest fusion dish.
Supermarket Masters Tournament: Finale — Sunday, April 9 at 8|7c
The final four Supermarket Masters are ready to compete for the title of champion and the biggest shopping spree ever, worth up to $25,000. First, it's a dinner rush as the chefs get only 20 minutes to shop, cook and plate an Italian dish. Next, the chefs let a roll of the dice determine the components of their grilled seafood dinner. In the final round, the chefs have to shop for their ingredients for a "winner winner chicken dinner" using only a roasting pan, but that isn't even the biggest twist!
Fans can head to FoodNetwork.com/GroceryGames to get the inside scoop on the competition, go behind the scenes, take a quiz and watch video highlights. Plus, they can also join the conversation using #GroceryGames.
More posts from FN Dish Editor.
Similar Posts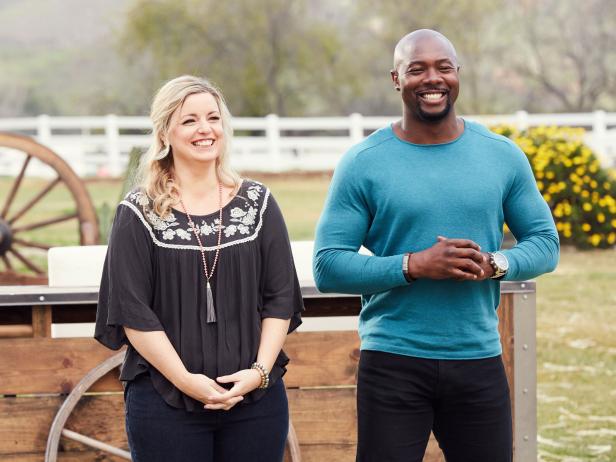 Kids BBQ Championship is back for Season 2 on Monday, May 1 at 8|7c, with more kid grill masters along with co-hosts Damaris Phillips and Eddie Jackso...