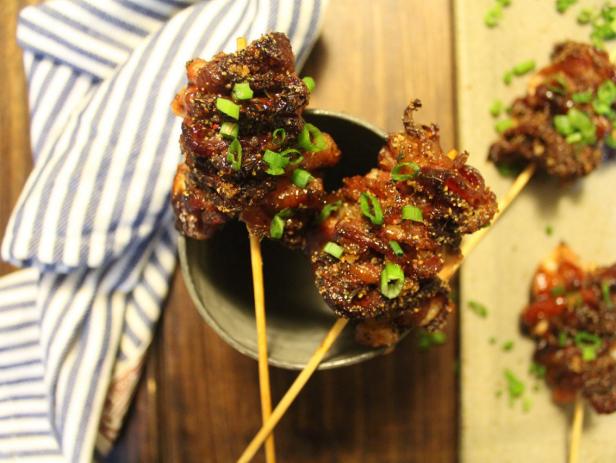 Chefs' Picks tracks down what the pros are eating and cooking from coast to coast.
As we approach the most-anticipated ceremony of the movie awards season, it's time to roll out the red carpet — for your party spread, that is. Chefs share their picks for appetizers and desserts that range from decadent star-worthy snacks to an update on a concession-stand classic. To up the ante, pair snacks with celebratory bubbles, like red carpet-themed magnums of Piper-Heidsieck that will be poured at the ceremony.
Lifetime Achievement Award: Bacon
One perennial party favorite is bacon — it can take on roles both savory and sweet, it always delivers an A-list performance and just about everyone loves it. For his Sugar Bacon Lollipops, Chef Brandon Frohne of Alabama biscuit house Holler & Dash transforms a Southern breakfast staple — double-smoked, cured bacon — into a sweet-and-savory party treat. He skewers the bacon, sprinkles it with brown sugar, cracked pepper, ancho chili and fresh thyme, then bakes it to ensure a beautiful caramelization. Chef Frohne ups the smoky and sweet ante by brushing the pork-centric pops with a housemade Mexican chocolate barbecue sauce before serving. "If barbecue sauce and mole negro had a Hollywood love story, this would be the sequel," he jokes.
Ask Amy Deaderick, who is chef de cuisine at Los Angeles' Tavern, about A-list appetizers and she also turns her attention to salty-smoky-sweet territory. She is partial to the Bacon-Wrapped Dates with Parmesan dreamed up by Tavern's Chef-Owner Suzanne Goin. These one-bite wonders, which Deaderick and her team turn out as to-go items at The Larder at Tavern, marry bacon with deglet noor dates. Why this particular type of date? "They are not overpowering in flavor and are firmer than medjool dates," Deaderick says. She stuffs the dates with Parmesan cheese, wraps them with thinly sliced bacon from cult purveyor Niman Ranch, then cooks them until the dates are still chewy, the bacon crisp and the cheese within perfectly melted.

Bacon-Wrapped Dates with Parmesan
24 deglet noor dates, pitted
1/4 pound Parmigiano-Reggiano cheese
24 three-inch strips of very thinly sliced bacon
5 leaves of flat-leaf parsley
Preheat the oven to 400 degrees F.
Using a small paring knife, cut a small slit across the length of each date.
Cut the cheese into approximately 1/2-inch-by-1/4-inch rectangles (the cheese will not cut into perfect shapes, but that's okay).
Insert a piece of cheese into each date. Lay the strips of bacon out on a work space, next to each other. One by one, place each date at the end of a strip of bacon, and then carefully roll the date along the bacon strip, wrapping it tightly. Place the bacon-wrapped dates on a roasting rack set in a baking sheet, and roast for 10 to 15 minutes, until golden brown and crispy on the outside.
Arrange the dates in a bowl with the parsley leaves.
Remember to warn your guests that the dates are hot!
Recipe excerpted from The A.O.C. Cookbook by Suzanne Goin. Copyright © 2013 by Suzanne Goin. Excerpted by permission of Knopf, a division of Random House LLC. All rights reserved.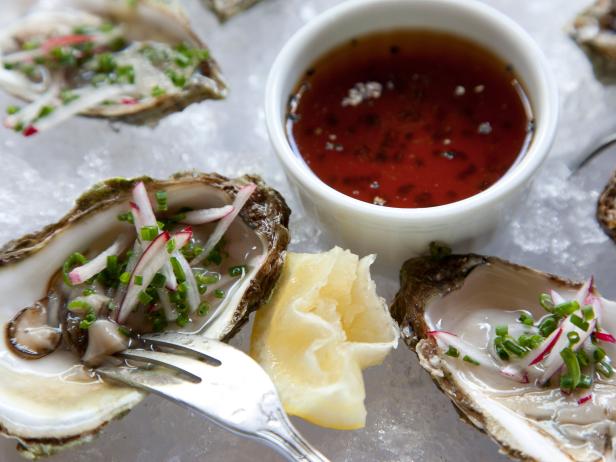 Best Leading Performance: Oysters
"The week leading up to the Academy Awards is like Christmas," says Chef-Owner Suzanne Tracht of Los Angeles' Jar (which served as a location in La La Land, a movie that has already garnered numerous nods this award season). To keep the feel-good vibes going, oysters are a must in Tracht's party playbook. "I'll get a bushel and I like to do half on the half-shell, and then I like to do the other half on the barbecue because it's fun to watch them open up," she says. To let the oysters' fresh flavors shine through, serve them with simple accompaniments, such as fresh lemon, melted butter or mignonette sauce.
The beloved bivalve gets a Cajun-inspired twist at the hands of Chef Nick Melvin of Venkman's in Atlanta, who credits his native Louisiana as the inspiration for his Smoked Oysters with Remoulade and Kettle Chips. To make the dish, Melvin opts for small, mildly flavored oysters. He brines them in a solution of salt water, brown sugar, orange and tarragon to ensure that they retain their natural juices, then smokes them over hickory wood and marinates them in garlic and lemon oil. Melvin serves the oysters in seasoned kettle chips dabbed with remoulade sauce for a presentation that's at once elegant and fun. As for how to pair the oysters? "They're incredibly versatile, being amazing with beer, whiskey or bubbles," Melvin says.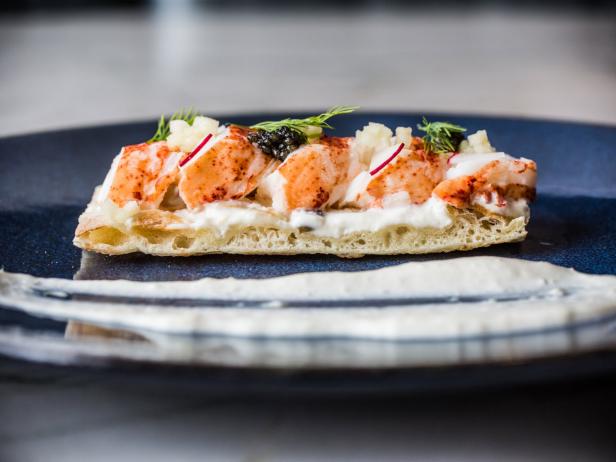 Best Dressed: Lobster
Executive Chef Nathan Duensing looks to make drinks the star when he prepares dressed-to-impress dishes. "I try to think about what would go great with a glass of champagne. Lobster is a perfect pairing," he says. This indulgent ingredient is the star of Duensing's Lobster Tart, which he serves at Nashville seafood spot Marsh House. A sliced lobster tail comes perched on housemade flatbread slicked with horseradish cream. The dish is topped with finely diced green apple and dill for a burst of freshness, then finished with a spoonful of caviar.
Lobster is also a go-to ingredient for Chef Deborah VanTrece of Atlanta's Twisted Soul Cookhouse & Pours. The succulent crustacean takes center stage at her viewing party in the form of Creole-inspired Lobster Beignets. VanTrece incorporates Old Bay seasoning, cayenne pepper and other spices to brighten up the batter and bring out the lobster's buttery taste. To keep the beignets light, she advises using a light touch when incorporating the ingredients, and turning the beignets while frying to ensure a crisp, golden finish. VanTrece recommends pairing the airy treats with a particularly decadent dipping sauce. "I chose to make a vanilla bean remoulade because I think the richness of vanilla bean pairs well with the sweet meat of lobster," VanTrece says.
Lobster Beignets with Vanilla Bean Remoulade
Recipe courtesy of Chef Deborah VanTrece
Yield: Approximately 3 dozen beignets
Beignets:
1 1/2 pound cooked lobster meat, chopped
2 eggs, beaten
2 teaspoons melted butter
3 bunches of green onions, chopped
1/2 cup fresh red pepper, chopped
1/2 teaspoon seasoning salt (recommended: Lawry's)
1/2 teaspoon seafood seasoning (recommended: Old Bay Seasoning)
1/2 teaspoon granulated garlic
1/2 teaspoon granulated onion
1/4 teaspoon cayenne pepper
1/2 cup flour, sifted
Vegetable oil for frying
Combine lobster, eggs, melted butter, green onions, red pepper, seasoning salt, seafood seasoning, granulated garlic, granulated onion and cayenne pepper in a large bowl. Gradually add flour and stir until well blended.
Fill a medium skillet halfway with oil for frying. Place over medium heat and bring oil temperature up to about 375 degrees F. Drop tablespoons of batter into the hot oil, being careful not to overcrowd the skillet. Fry until brown on both sides. Remove from skillet once golden and drain on paper towels.
Remoulade:
1 cup mayonnaise
2 whole vanilla beans, split and scraped
1/4 cup ketchup
1/4 cup sweet pickle relish
1/4 teaspoon of tarragon, chopped
Drop of lemon juice
Pinch of salt
Combine mayonnaise and vanilla bean. Allow to sit for five minutes. Add ketchup, relish, tarragon and a couple drops of lemon juice to taste. Finish with a pinch of salt. Makes about 1 cup.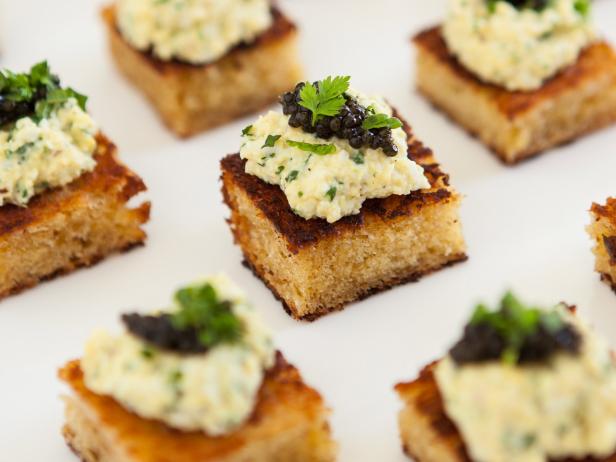 Best Supporting Role: Eggs
Sometimes you captivate your audience with subtlety, such as dressing up a humble dish with wow-factor ingredients. Chef Brandon McGlamery of Luma on Park in Winter Park, Florida, for instance, elevates egg salad with an ingredient that typifies indulgence. For his Crème Fraîche Egg Salad, McGlamery gives the picnic staple a makeover worthy of the red carpet by serving it atop a square of fluffy butter-fried brioche topped with caviar — and he doesn't skimp. "Just know the more caviar you use, the better mood you'll be in and the same goes for your party guests," he shares. You don't have to break the bank buying imported stuff; look for domestically raised caviar, such as Mote Marine Laboratory's sturgeon from Florida.
Tracht also takes a standard egg dish to extravagant heights by pulling in a luxurious ingredient: crab. Her Crab Deviled Eggs are a special-occasion spin on the crowd-pleasing finger food. Given the dish's simplicity, Tracht advises splurging on the best ingredients you can find (she favors Dungeness crab). "Treat the crab like your Oscar dress; it's the most important thing, everything else is an accessory." For a little extra flourish, Tracht finishes the deviled eggs with lemon oil, chives and toasted paprika.
Crab Deviled Eggs
Recipe courtesy of Chef Suzanne Tracht
Yield: 14 servings
Deviled Eggs:
35 hard-boiled eggs
10 – 12 (about 1/2 cup) cornichons, finely diced
1 tablespoon parsley
1 tablespoon Dijon mustard
Salt (about 1 1/2 teaspoon to taste)
1 1/2 teaspoon hot sauce (recommended: Tabasco)
1 1/4 cup Aioli (recipe below)
1/2 pound crab meat (8 – 9 ounces)
Fresh chives, for garnish
Toasted paprika, for garnish
Lemon oil, for garnish
Special equipment: food mill
Place eggs in pot with cool to lukewarm water and cover. Bring to a boil. Turn off heat and let stand with lid on for 20 minutes. Cool the eggs in ice water. Remove shells and cut in half. Put egg yolks through food mill. Combine with cornichons, parsley, mustard, salt and hot sauce. Cut and fold aioli, 1/4
cup at a time, with other ingredients. Make sure aioli is well incorporated before adding
more. When thoroughly blended and smooth, adjust seasoning to taste.
Immediately before serving, mix together 1 tablespoon of yolk mixture per egg half with 1/2 teaspoon
crab meat. Place in egg half. Garnish with crab meat, lemon oil, chives and toasted paprika.
Aioli:
3 cloves garlic
3/4 teaspoon salt
3 egg yolks
Juice from 1 1/2 lemon
1 1/2 cups canola oil
3/4 cup olive oil
Using a mortar and pestle, mash together the garlic and salt. In a large mixing bowl, whisk the egg yolks. Add lemon juice. While continuing to whisk, slowly drizzle in canola oil. Add the mashed garlic
mixture. Whisk in the olive oil.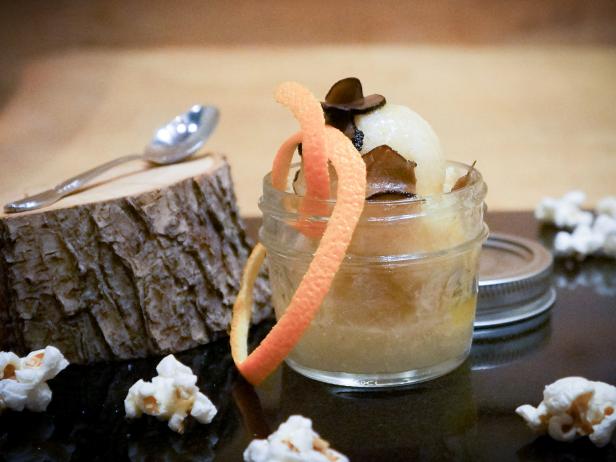 Best Original Riff: Buttered Popcorn
Chefs are often inspired by classic pairings but sometimes they can't help but flip the script. "There is nothing more apropos than popcorn during a movie. And nothing says celebration quite like frozen treats," notes Executive Chef Travis Messervey of Denver's Beatrice & Woodsley. He brings the two together for the big night in his Buttered Popcorn Sorbet finished with black truffle shavings and a sprinkling of sea salt. Chef Messervey describes the creamy confection's sweet-and-savory flavors as "a combination that could possibly be a better trophy than even that little gold fella." Get the recipe, and start preparing your acceptance speech now.
Buttered Popcorn Sorbet with Black Truffle Shavings and Sea Salt
Recipe courtesy of Executive Chef Travis Messervey
Ingredients:
2 cups granulated sugar
4 cups water
6 cups of popped and lightly buttered popcorn (squished into the measuring cup to reduce air)
1 cup light corn ¬syrup
1 black truffle, shaved
Sea salt, to taste
Special equipment: ice wand
In a sauce pot, make the simple syrup by bringing the sugar and water to a near boil (until the sugar dissolves). Cool as quickly as possible (using a large ice wand is recommended).
In a blender, combine the popcorn and the corn syrup and blend until smooth. It should form a semi-thick paste. Add this paste to the simple syrup, and freeze this concoction in an ice cream freezer machine (following the manufacturer's instructions for the machine).
Scoop the sorbet into individual dishes and top with black truffle shavings and sea salt to taste.
Note: You can substitute white truffle oil for the truffle shavings if necessary, though the black truffle shaving are recommended.
Photography courtesy of Holler & Dash, Jar, Andrea Behrends, Michael Pisarri and Beatrice & Woodsley
More posts from Layla Khoury-Hanold.
Similar Posts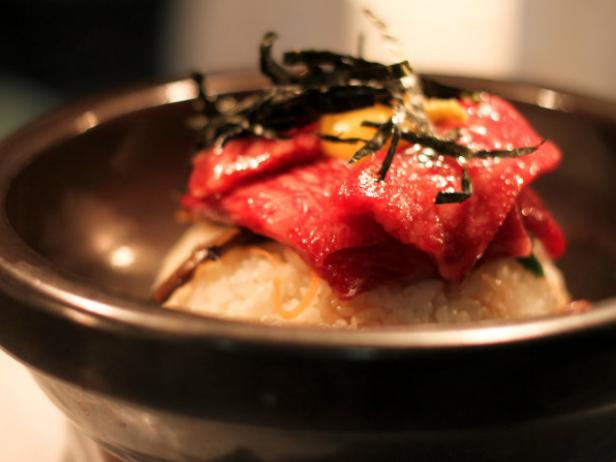 New Yorkers may be a bit of a skeptical bunch, but many leave their doubts at the door when indulging in omakase at their favorite sushi spot....