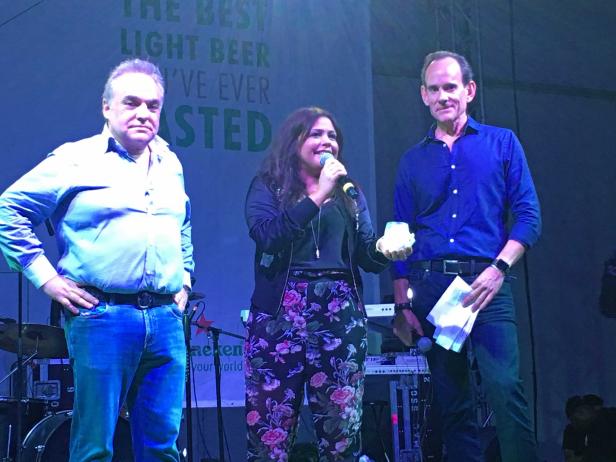 The soft sand, the cool ocean breeze, the sound of partygoers mingling along the shore — this was the scene at the South Beach Wine & Food Festival on Friday night. This plus a whole lot of burgers, of course. Friday marked the 11th annual Burger Bash at SOBEWFF, and like in years past, Rachael Ray hosted the fan-favorite extravaganza, which brought together nearly three dozen chefs from across the country. As hungry burger enthusiasts lined up to sample chefs' between-the-bun offerings, all-star judges, including Ayesha Curry, Rev Run, Adam Richman and Emilio Estefan, took their places on a perch inside the tents to get down to the business of tasting as well. Up for grabs this year was the sought-after Schweid & Son's The Very Best Burger Award, which would be decided by the judges, and the equally coveted Heineken Light People's Choice Award, which celebrates the chef or restaurant that earned the most votes from guests. After reveling in the meaty burgers (and plentiful sides) on display, we watched as two restaurants earned the highest honors. Read on below to find out who took home the trophies, and take an insider's look at some of our favorite bites from the night.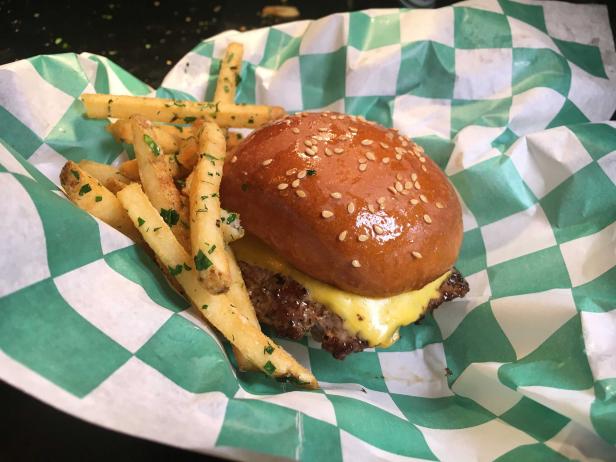 The panel members celebrated tried-and-true burger tastes and textures when they dished out the Schweid & Son's The Very Best Burger Award to Little Jack's Tavern. This Charleston, South Carolina-based eatery served up a two-bite burger that boasted a blanket of gooey American cheese and was served with hot herb-tossed french fries.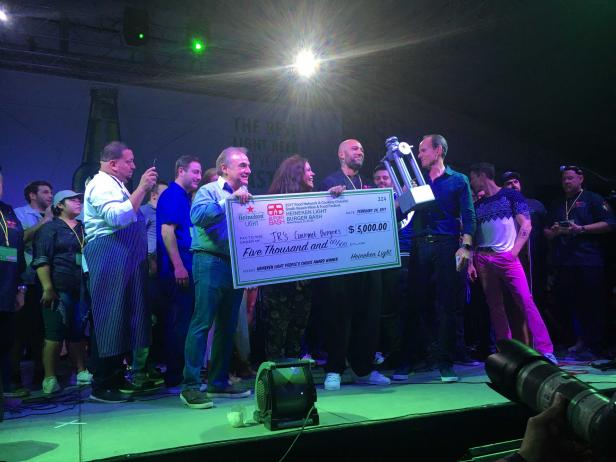 Fans, however, preferred less traditional flavors this year. Around 2,000 votes were cast, and ultimately Jr's Gourmet Burgers wowed the crowd with what it called That Guy's Burger, which was perhaps more akin to a patty melt. These bacon-wrapped bites featured guava two ways: in a mixture of cream cheese in the patty melt and in a subtly sweet ketchup on the side. Joining Rachael on stage to collect the check, the team from this Miami Springs, Florida, eatery all but beamed with pride.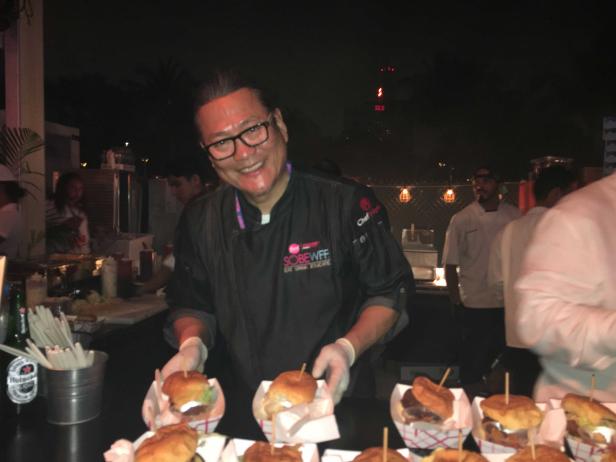 No strangers to competition, three of Kitchen Stadium's most-famed Iron Chefs showed up for this epic burger battle as well. Marc Forgione, Jose Garces and Masaharu Morimoto were on hand, each of them serving up an offering all their own. When we checked in at Iron Chef Morimoto's booth, he was posing for photos with fans and putting the finishing touches on his Menchi Katsu Burger, which boasted a golden, crispy exterior a la traditional katsu presentations.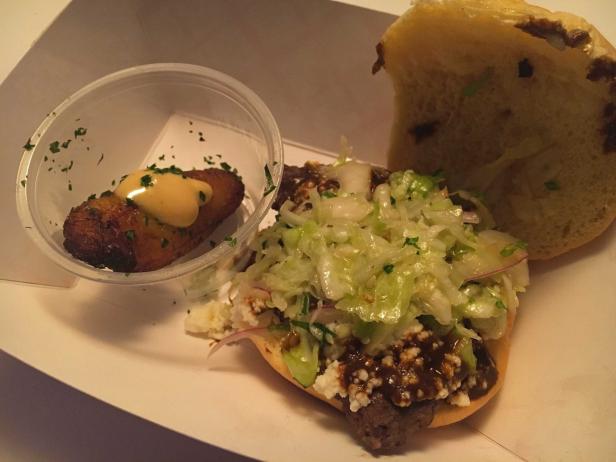 Iron Chef Garces, however, brought Mexican flavors to the party with his Mole Burger, featuring a layer of refried beans and a sprinkle of cotija cheese..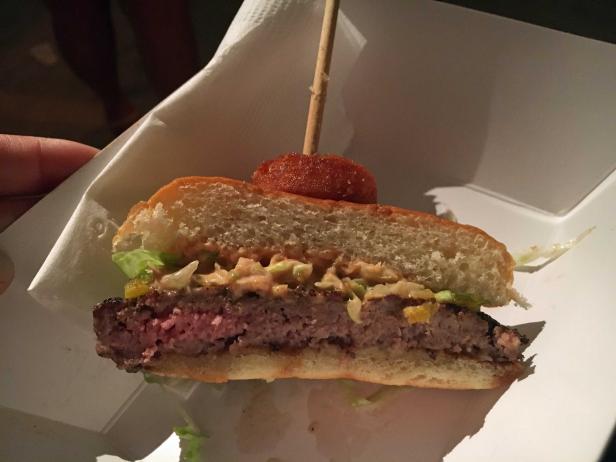 As for Iron Chef Forgione, the goal was simple: "We tried to recreate a Big Mac," he told us. His offering, cleverly called Big Marc, was built with cheddar and secret sauce. We were quick to get our hands on this offering, and we surely found it to be strikingly similar to the fast-food favorite you know and likely love.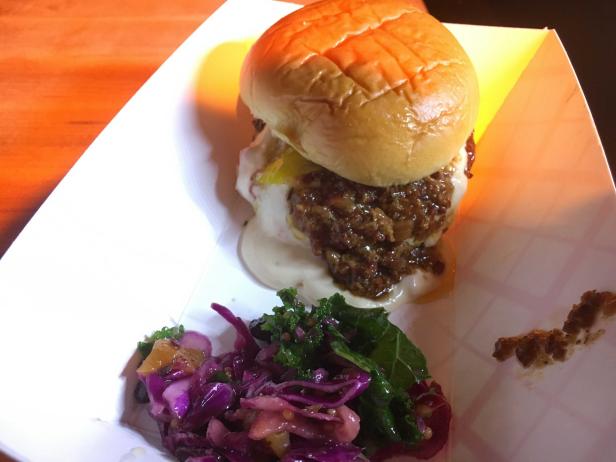 In many way, cheese can make or break a burger, and while you can hardly go wrong with a slice or two of classic American, we were particularly smitten to see fondue make an appearance at the Bash. The Society Burger from Society Fort Myers in Fort Myers, Florida, featured a generous pour of pimiento cheese fondue, and it was every bit as rich and creamy as we hoped it would be. Plus, it did the job of marrying the flavors of the other toppings, including bourbon-bacon jam and bright pickled peppers, which resulted in a well-balanced burger.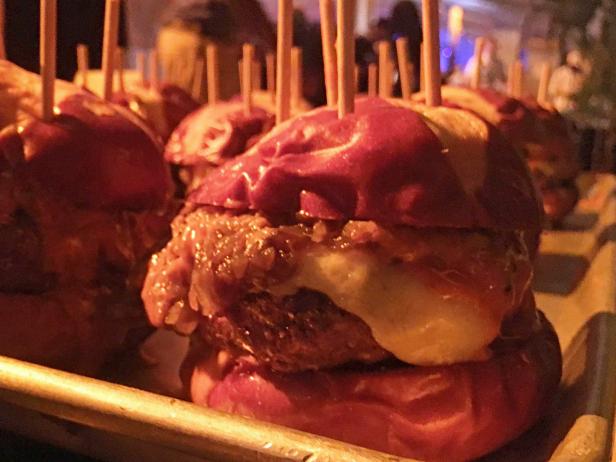 Being from New York City, we were excited to see Emily, a Brooklyn-based pizzeria, at the Bash, as the restaurant is known for turning out a signature burger — in addition to a roster of classic and creative pizzas, of course. The Emmy Burger is that craveable favorite, and the key is what the restaurant calls "Emmy sauce," a strikingly orange, deeply savory and noticeably spicy topping that will surely be dripping down your arms after eating.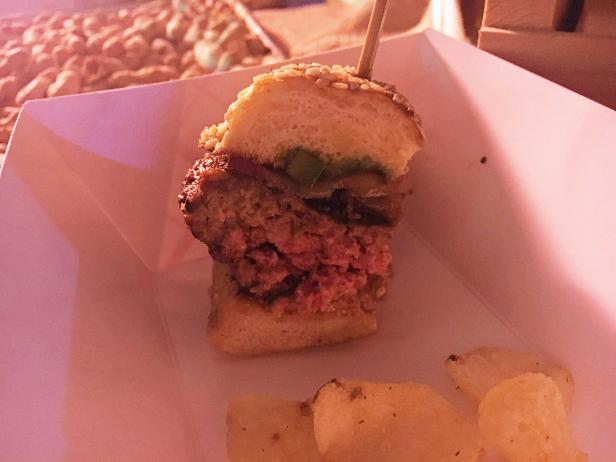 In what was surely one of the bravest decisions of the night, Miami Beach's own Quality Meats showcased a Bacon PB&JJ Burger — and we loved it. Hear us out on this one: There was no gloopy grape jam going on, but instead of a smear of vibrant jalapeno jelly that was at once sweet, spicy and tangy. Sandwiched with crunchy peanut butter and strips of salty bacon, this burger left us wanting more.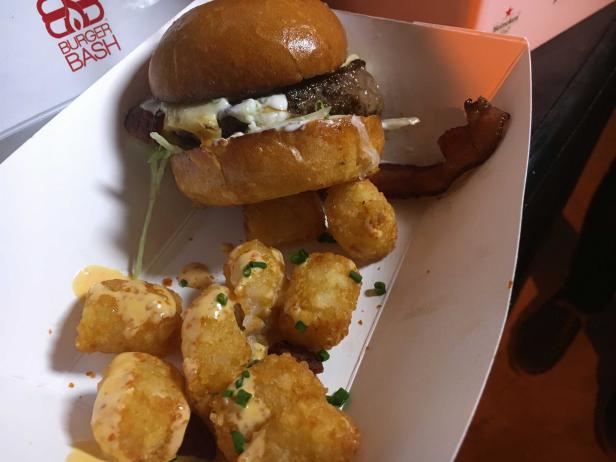 While the meat was indeed the star of the show on Friday, chefs didn't forget about the all-important sides either. Alongside The Smokehouse Burger, which was piled high with bacon and smoked gouda, the team from Zinburger Wine & Burger Bar in Boca Raton, Florida, offered up hot tater tots, drizzled with a habanero-flavored sauce for a boost of heat.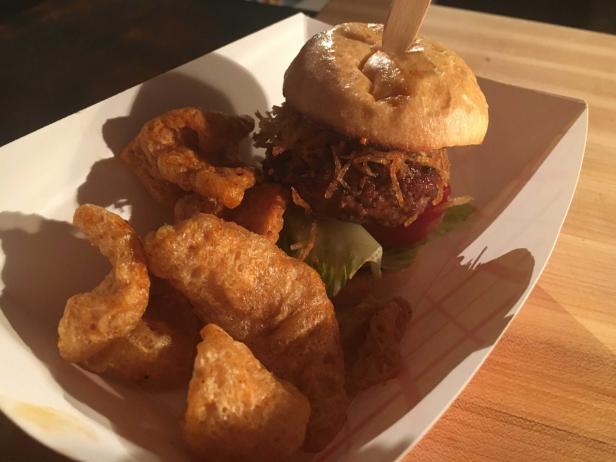 Similarly, the Miami Beach restaurant Pizza & Burger by Michael Mina rounded out its Cuban Frita — piled high with a nest of crispy potato shreds — with light, airy chicharrones. Dusted with chiles, these pork rinds delivered memorable bold taste.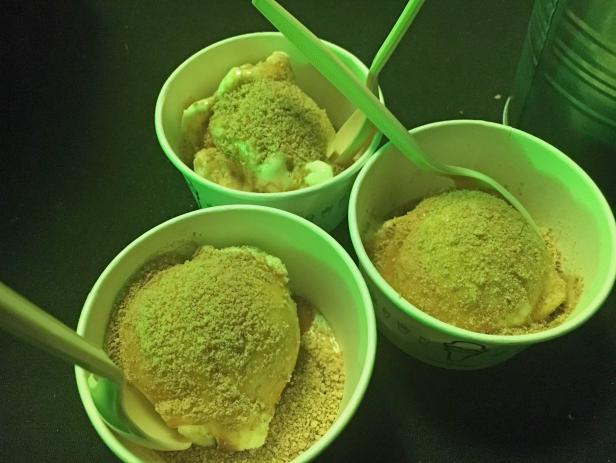 Yes, dessert is typically saved for the end of the meal at most traditional dinners, but Burger Bash is far from ordinary, so we have to admit that we indulged in ice cream pretty early in the night. Alongside full portions of its pork-topped Cubano Burger, Shake Shack, the beloved burger chain that got its start in the Big Apple, served up its Beach Blend Custard that we just had to have. Not only was the vanilla custard thick and creamy, but it was finished with a spiked caramel and sandlike crumbles of graham crackers. We're still thinking about this one.
Related Reading:
7 Reasons Why Italian Food Is Best Enjoyed on the Beach, As Learned at the South Beach Wine & Food Festival
Stay tuned to FN Dish as well as Food Network's Facebook and Instagram pages all weekend long for continued coverage of the South Beach Wine & Food Festival.
More posts from Maria Russo.
Similar Posts
Dirty Bones founder says the eatery is 'all about helping people capture that perfect shot."...