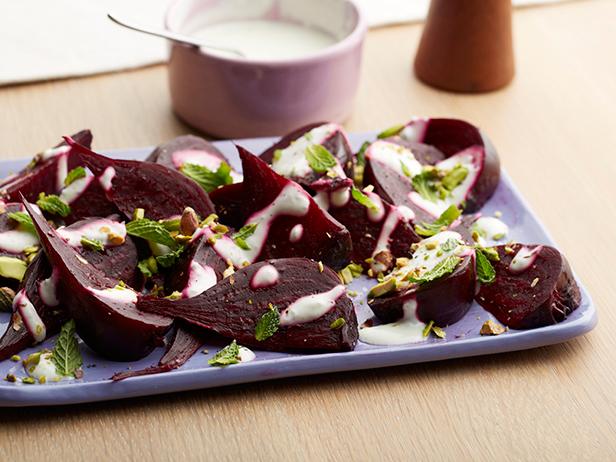 We're in the final stretch of cold, grey winter…but we're still a long way off from the season of juicy tomatoes and basil plucked from our backyards. Get yourself through the final stretch with these 8 beautiful salads showcasing vibrant winter veggies like ruby-hued beets, spicy pastel radishes, sweet-tart apples and jewel-like pomegranate seeds.
Earthy red beets, fresh mint, crunchy pistachios and a Greek yogurt based dressing combine to make our Beets With Creamy Balsamic Vinaigrette and Mint (pictured above).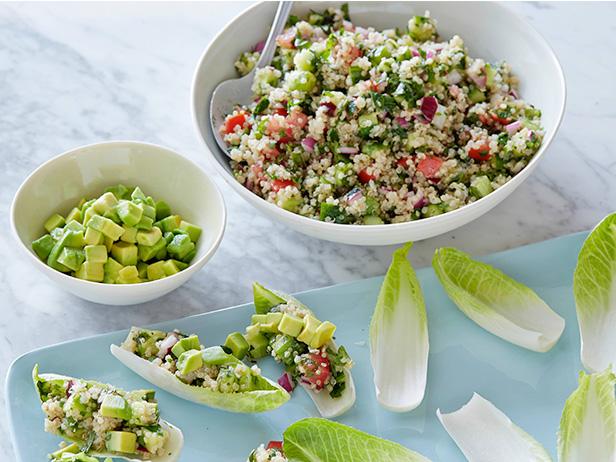 Put down that fork and fill crisp endive leaves with a light and satisfying Quinoa Salad — made with creamy avocado chunks, refreshing cukes, and bright herbs — from superstar chefs Mary Sue Milliken and Susan Feniger.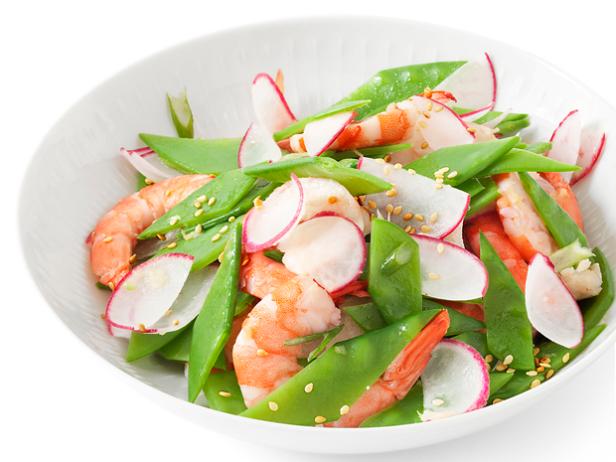 If you're craving fresh flavor and serious crunch, Ellie's healthy Shrimp and Snow Pea Salad is for you. Sweet and delicate shrimp and snow peas and temper the flavor of spicy radishes. Toasted sesame oil and seeds, fresh ginger, rice vinegar and scallions lend a bit of Asian-inspired flavor.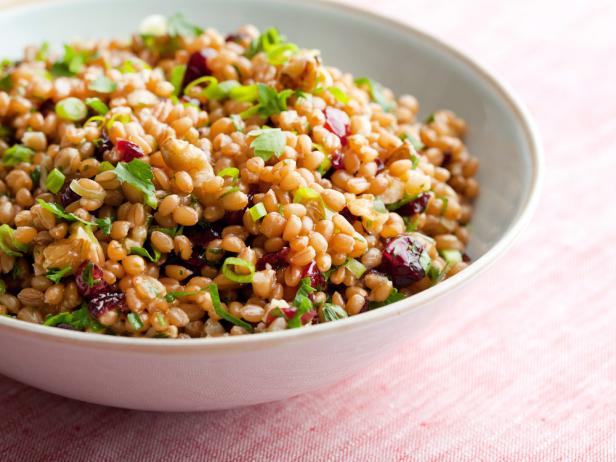 Ellie's Wheat Berry Salad packs a ton of flavors and textures into one healthy bowl. Tender wheat berries, crunchy celery, sweet-tart dried cherries and crunchy toasted walnuts all combine to make a healthy salad that's a great make-ahead lunch, or side dish served with grilled fish or chicken.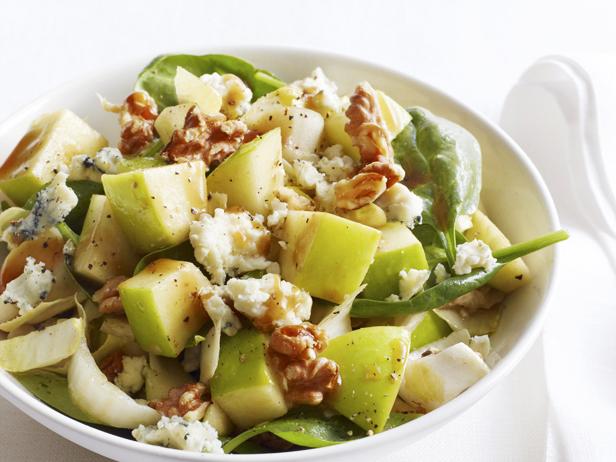 Bobby's Chopped Apple Salad With Toasted Walnuts and Blue Cheese is a study in winter whites (and greens!). make it once, and the combination of crunchy, sweet Granny Smith apples, mild baby spinach, slightly-bitter endive and creamy blue cheese is sure to become a classic in your house.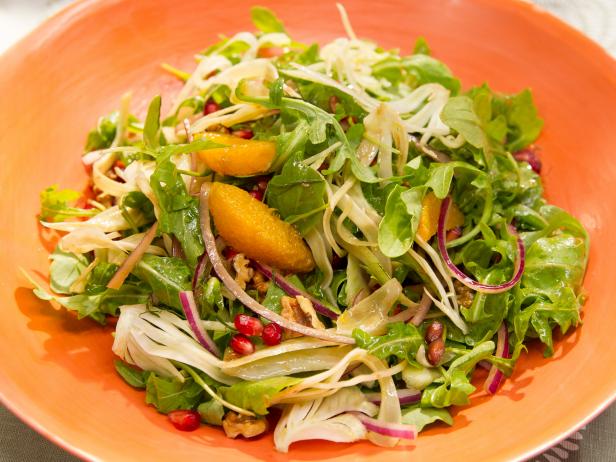 Katie Lee's Pomegranate Salad showcases some of winter's most delicious flavors: crunchy fennel, juicy oranges and spicy fennel topped with garnet-colored pomegranate seeds.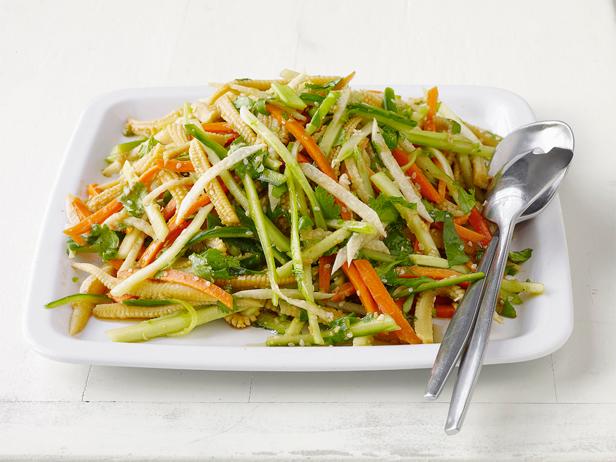 This Asian Salad is so much better than takeout: cut English cucumber, jicama, carrot and celery into matchsticks, add some canned baby corn, and toss with garlic, jalapeno and a soy dressing for a seriously addictive flavor combination.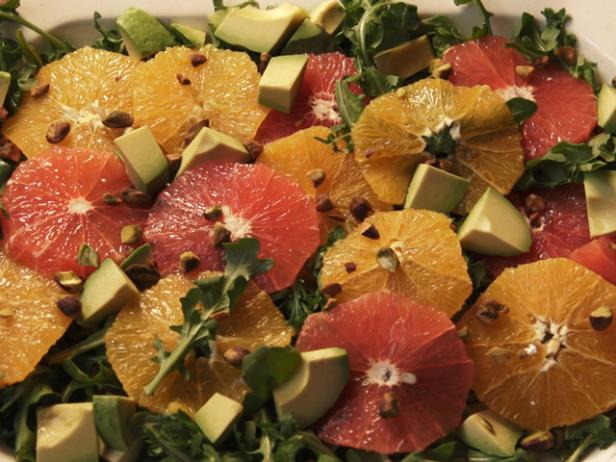 If you've never experienced the pairing that is bright, juicy citrus paired with creamy avocado, you're in for a treat. Our Citrus Salad with Pistachios & Maple Vinaigrette takes just 15 minutes to pull together. Just make a bed of baby arugula, top it with rounds of grapefruit and oranges, and sprinkle with salty pistachios and feta cheese.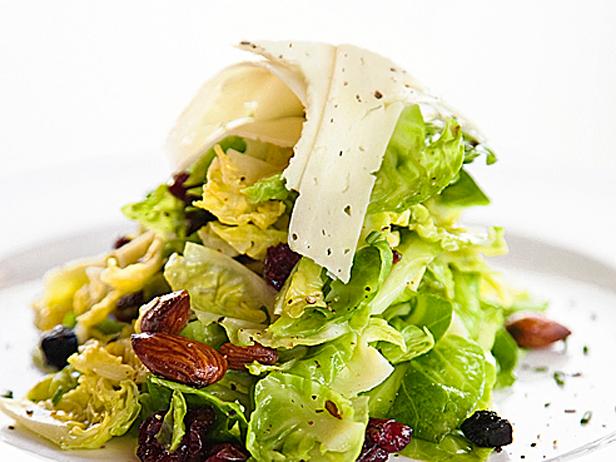 Our Brussels Sprout Salad is delicious enough to win over your friend who insist they're not fan of this cruciferous veg. The secret is tossing the tender leaves in a bright homemade vinaigrette and topping each mound of greens with a sweet-tart mixture of dried berries, smoked almonds and Manchego cheese.
More posts from Elizabeth Brownfield.
Similar Posts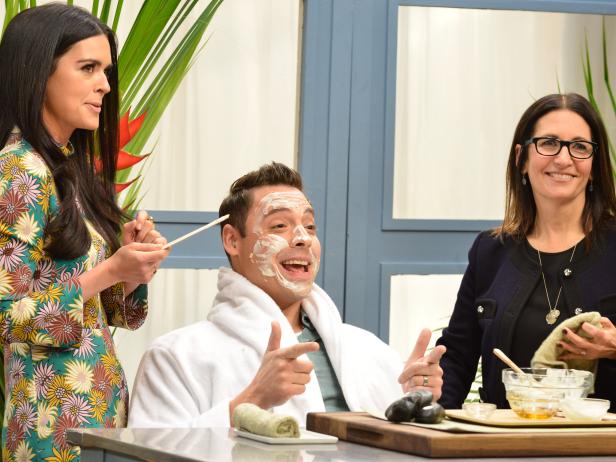 You don't have to travel somewhere exotic to make the most of your time off....