The team here at Food Network is enjoying a mini spring break of sorts. Along with some of your favorite chefs and many of the most-revered names in the restaurant industry, we headed south to Miami and are spending the weekend at the South Beach Wine & Food Festival, which brings together stars like Bobby Flay, Alex Guarnaschelli, Trisha Yearwood, Guy Fieri and Giada De Laurentiis for four days of celebrating all things food and drink — and plenty of eating and drinking, of course.
Thursday marked the first night of this 16th annual culinary extravaganza, and in true Florida form, sun-kissed guests donned their sandals and packed into the seaside tents to join pals Alex Guarnaschelli and Valerie Bertinelli as they hosted an opening-night soiree. At Italian Bites on the Beach, as guests danced in the sand to the sounds of a live band, chefs and restaurateurs doled out some of Italy's most-craved comfort foods, from pizza, pasta and saucy meatballs to lemony cupcakes and rich cannoli. And here's the thing: ordinarily we wouldn't consider these plates beach fare. After all, they're often warm and covered with sauce, not often an ideal combo when you're already sitting in hot, messy sand. But as we made our way from booth to booth, tasting each of the items up for grabs, we couldn't help but realize just how right it is to eat Italian food on the beach.
Here's why:
1. It's best shared among friends and family — as is a good beach day.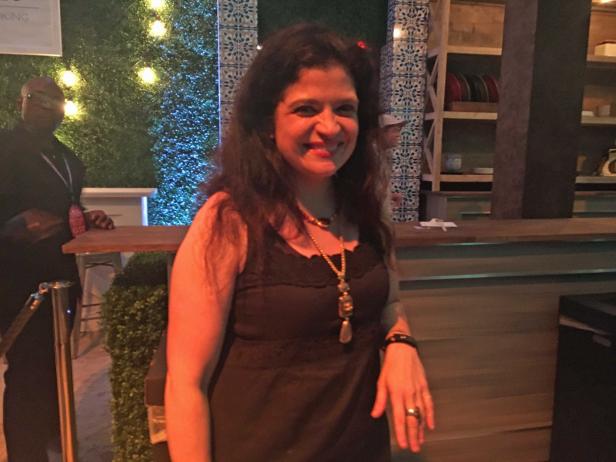 Friends at work and in real life, Alex and Valerie took to the stage together to welcome the crowd, but they also made sure to get out from behind their booths and mingle with fans lining up to meet them. They posed for photos and chatted with guests, who made sure to sample the signature dishes each chef had prepared for the event.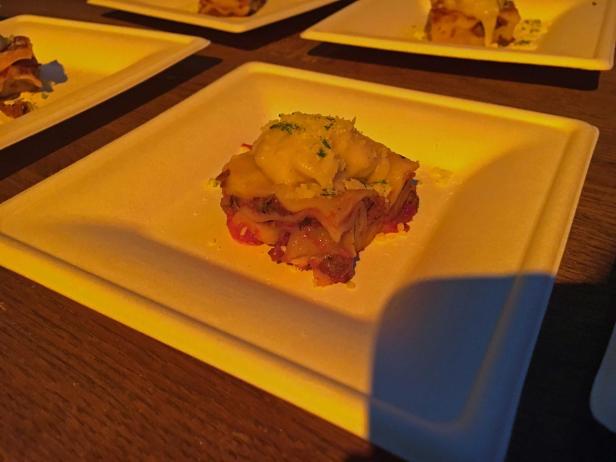 While Alex presented Ricotta Toast with Roasted Tomatoes, Herb Pesto and Saba, Valerie embraced the cheesy factor too, offering hearty slices of lasagna (pictured above), which was built with mozzarella and drizzled with besciamella (aka béchamel sauce) before serving.
2. It's OK if you get a little messy, because the water is right there.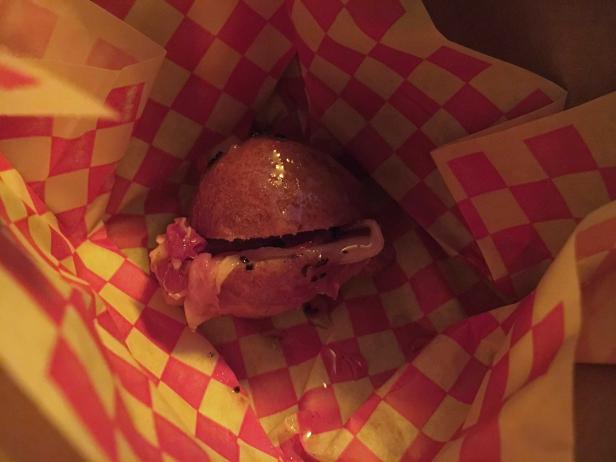 So, full disclosure: We did not go for a dip in the ocean last night. But after getting our hands on a Coccoli (pictured above) from Miami Beach's Prime Italian restaurant, we could have used a quick wash. These three-bite fried-bread sandwiches were smeared with stracchino cheese and piled with prosciutto before being dunked in a sticky truffle-laced honey that left our fingertips pleasantly fragrant all night.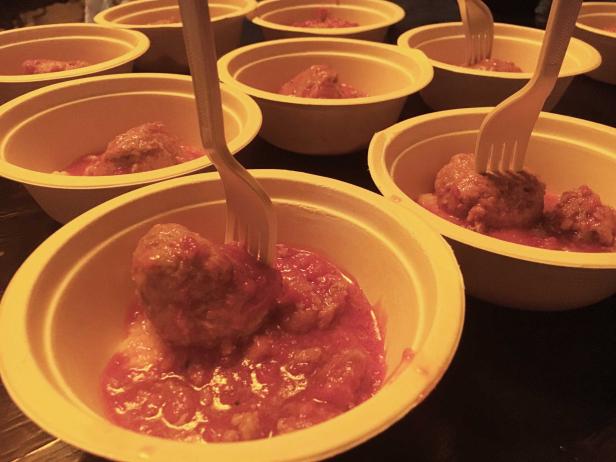 Similarly, if you've ever experienced the frustration of a shirt splattered with tomato sauce (we've been there more times that we care to count), you know well that perhaps a bathing suit would have been a better wardrobe choice. Though we managed to stay spot-free last night, we came close to wearing the meat sauce that coated the Spicy Pork Meatballs from New York City's The Meatball Shop. These light, tender rounds boasted subtle heat and were nestled atop a bed of creamy polenta.
3. You can eat it with your hands.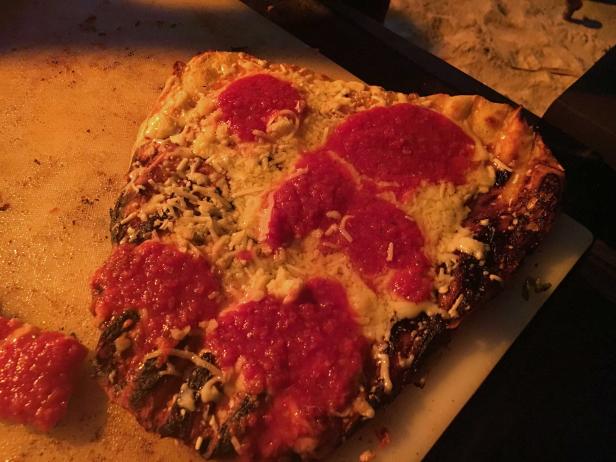 There's hardly time for forks and knives at the beach, which is why pizza is a go-to choice for easy snacking. One day later, we're still thinking about the Grilled Pizza! that Brooklyn's Emily restaurant was cooking over open flames. The thin yet chewy crust supported simple, classic toppings of cheese and tomato sauce. Check out how they made the pizza and go behind the scenes of the event by watching our Facebook Live with the Emily team.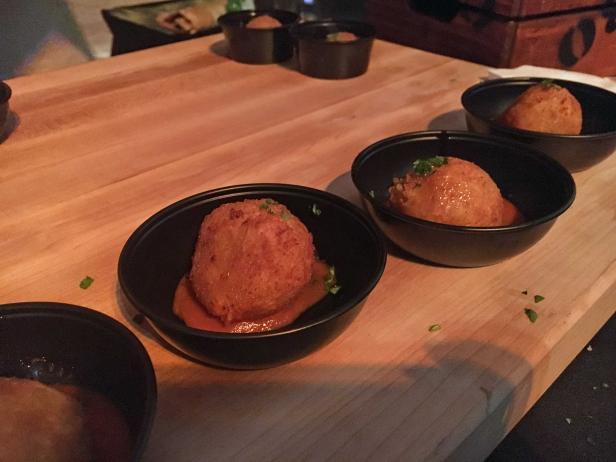 Arancini, aka a fried ball of creamy risotto-like rice, is another eat-with-your-hands beauty that left us wanting more. Served up by the team at Miami Beach's Cibo Wine Bar, these golden bites were stuffed with mozzarella, so the results were oh so indulgent.
4. It's endlessly comforting.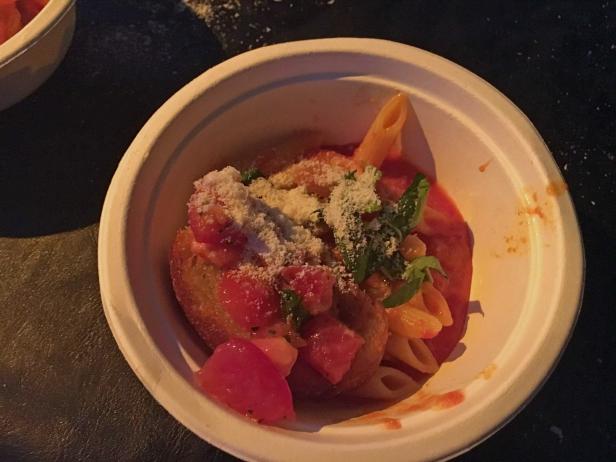 A good beach day is a relaxing beach day, and the same is true of dinner. Few things make us happier than a bowl of pasta, and lucky for us, there were plenty of those last night. Take a look at the Penne Tomato Basil from Il Mulino NY, which has an outpost here in Miami Beach. Finished with a crostini topped with tomatoes, this tried-and-true dish (pictured above) is an Italian staple for a reason.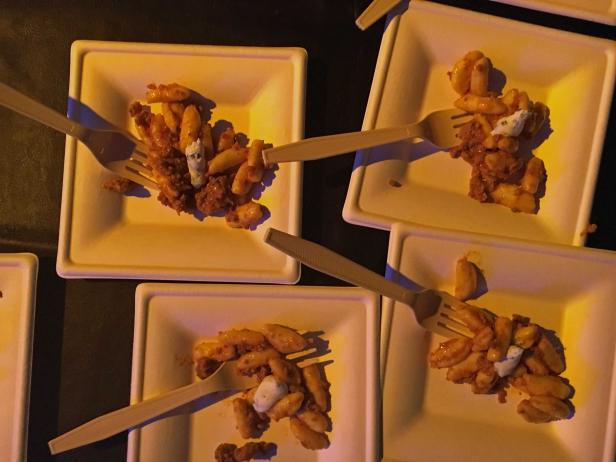 Fans of a soul-warming meat sauce had reason to be happy too. Miami Beach's Bocce restaurant dished out cavatelli with a thick wild boar ragu (pictured above), while Twisted Sprocket Cafe from Land O' Lakes, Florida, offered long strips of pappardelle pasta finished with a bold short rib-based ragu.
5. It can be performed as a show.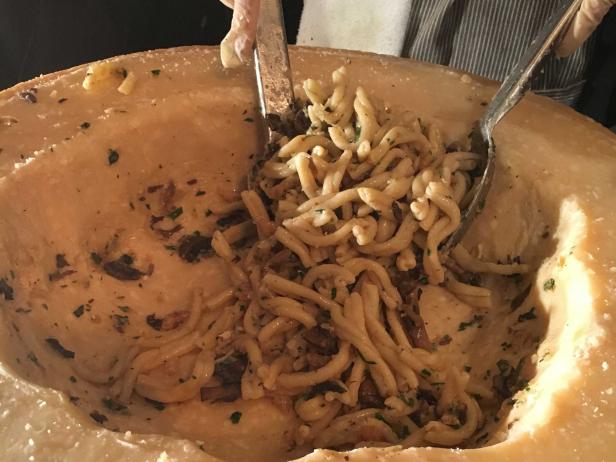 Just as surfers can provide endless entertainment for those of us lounging in the sand, so too can the process of prepping Italian food leave you enthralled. The team from Louie Bossi's Ristorante Bar & Pizza, which is based in Ft. Lauderdale, showcased a hollowed-out wheel of Parmesan and used it to toss their strozzapreti pasta with mushrooms. Before serving up each portion (pictured above), which would be finished with crispy-skinned porchetta, the hot pasta was tossed in the Parmesan wheel, so the noodles and sauce could absorb the nutty flavor of the cheese.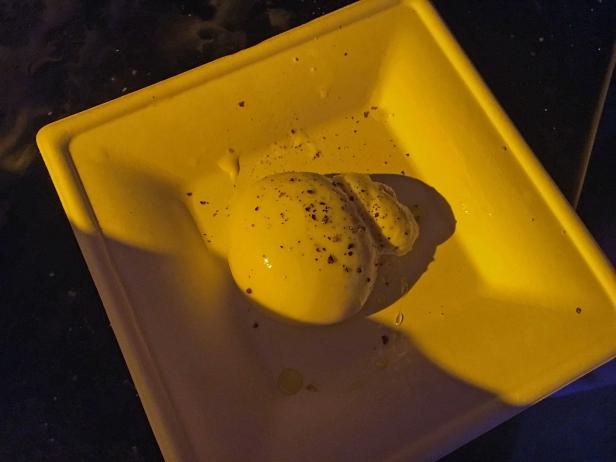 Similarly, fans watched in amazement as the guys from Mimmo's Mozzarella, located in North Miami, Florida, created Burrata cheese (pictured above) on the spot for each and every guest. After stretching what would become the "skin" of the cheese, they filled it with creamy curds and knotted each ball on the spot. Check out this video to see how it's done.
6. There are no rules.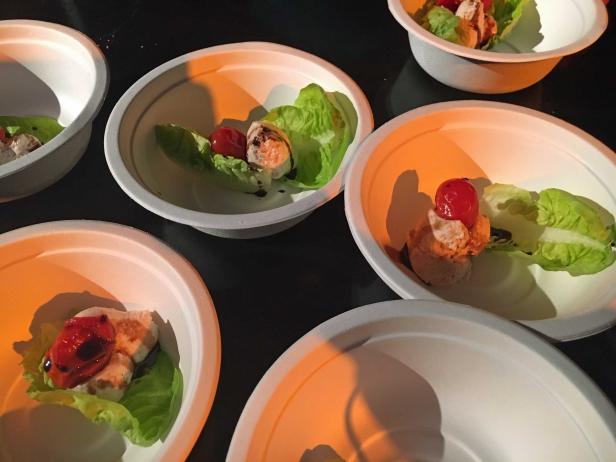 When it comes to lounging in the sun, everyone has a different approach — embrace the shade, opt for full sun, wade in the water, build sand castles, etc. — just like most chefs do. New York's Porsena made a savory mousse — and studded it with mortadella. Salty yet sweet, this decidedly creamy concoction (pictured above) was served in a lettuce cup with tomato and a splash of tangy balsamic to create a memorable bite.
7. There's something cool to quench your thirst.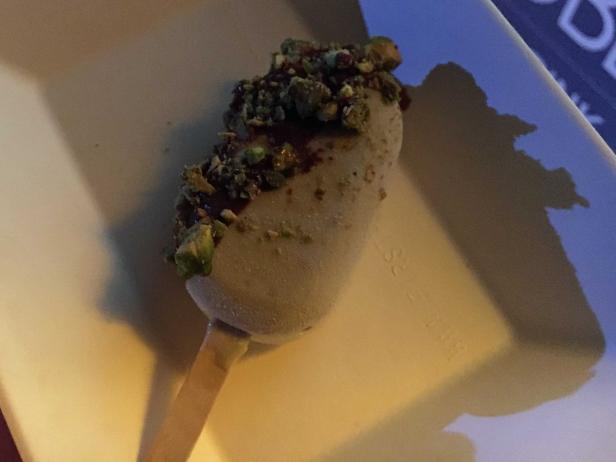 When you're at the beach, it's likely hot and you're surely sweaty. You know what you need? A drink — or ice cream. Both were on hand last night, as guests sipped wine, Aperol-based cocktails and chilled beers. For us, though, it was all about the gelato. Take a look at what's called The Godfather, a creation from HipPOPs in Dania Beach, Florida. Featuring a base of creamy pistachio gelato, this frozen dessert was blanketed with chocolate and peppered with pistachio nuts. The team there calls it "a bar you cannot refuse," and believe us when we say we did not.
Stay tuned to FN Dish as well as Food Network's Facebook and Instagram pages all weekend long for continued coverage of the South Beach Wine & Food Festival.
More posts from Maria Russo.
Similar Posts
Dirty Bones founder says the eatery is 'all about helping people capture that perfect shot."...