Super Bowl Sunday is just around the corner, and this weekend Ree Drummond, Giada De Laurentiis and some more of your favorite Food Network chefs are sharing some of their best crowd-pleasing, game-day recipes. It all starts Saturday morning when Ree whips up her pull-apart Pizza Rolls and Taco Quesadillas. Then, Trisha Yearwood is hosting a halftime themed party, serving sliders, dip and some fruity gelatin shots. After that, join the co-hosts of The Kitchen as they make three massive submarine sandwiches.
On Sunday morning, the co-hosts of Kitchen Sink are mashing up classic appetizers, making Loaded Baked Potato Tots and Stuffed Onion Rings. Then, Giada makes gourmet game-day food like her Spicy Calabrian Shrimp and Three-Way Tie Sandwich.
On Sunday night, head over to Flavortown for the finale of Triple-G's Triple-D tournament where one lucky chef will take the champion title, and then tune in to Worst Cooks where the recruits will have their culinary prowess tested in a game-day edition of Family Food.

The Pioneer Woman: Truly Madly Crazy — Saturday, Jan. 28 at 10a|9c
Ree is cooking up some crazy, fun ideas for game night food. There's a whole new take on a football favorite with pull-apart Pizza Rolls (pictured). Then she makes over-the-top Hawaiian Burgers piled high with grilled pineapple, and mashes up two winners with Taco Quesadillas. Finally, Ree supersizes some Husky Bark inspired by Coach Ladd and the team colors.


Trisha's Southern Kitchen: Halftime Funtime — Saturday, Jan. 28 at 10:30a|9:30c
Football season's coming to an end, so that means it's time for the big game! Trisha invites family and friends over for a halftime-themed party, featuring crowd-pleasers like Pimento Cheese Queso with Toppings Bar, Spicy Artichoke Dip and Nashville Hot Chicken Meatball Sliders (pictured). Plus, there's Lime Wedge Gelatin Shots and an end zone dance competition.


The Kitchen: Big Game Day — Saturday, Jan. 28 at 11a|10c
It's game time at The Kitchen as the hosts share big ideas for a big-game party, kicking off with an epic sub sandwich made three ways. Learn how to decorate with nothing more than a roll of tape, plus secrets for an ultimate burger bar from the Feltner Brothers. Katie Lee shares her Chili Cheese Dip with Biscuit Dippers (pictured), then fashion icon and food lover Olivia Culpo joins the fun and shares her creamy buffalo chicken-stuffed French bread and a refreshing recipe for a Michelada.


Kitchen Sink: The Ultimate Party Menu — Sunday, Jan. 29 at 11a|10c
Spike Mendelsohn kicks off the show with his super-easy sloppy sliders that will feed a crowd. Then, Sunny Anderson mashes up three crowd favorites into a mozzarella stick pizza onion rings appetizer and puts a spin on the classic loaded baked potato. The hosts check in with our Food Network Kitchen correspondent, Vivian Chan, who shares the latest boozy trends. Then, inspired by the trends, the hosts create a Dessert Taco Bar (pictured).


Giada Entertains: Super-Sized Sunday — Sunday, Jan. 29 at 12|11c
Giada invites friends over to watch the big game and makes gourmet super-sized versions of some of our favorite game foods, including a Three-Way Tie Sandwich, a bar made up of game day dips and chips, and Spicy Calabrian Shrimp (pictured).


Guy's Grocery Games: Diners, Drive-Ins and Dives Tournament 2: Finale — Sunday, Jan. 29 at 8|7c
For the finale, Guy Fieri takes the final four chefs on an epic cross-country road trip by dividing Flavortown into the East Coast, Midwest and West Coast. First, Guy turns the frozen section into a chilly New York scene, where chefs must thaw out ingredients for an East Coast high-end dinner. Next, the chefs must make an all-American dish by shopping the Midwest — or at least the middle aisles of the store. The tournament ends with a huge twist as the last two chefs serve up a West Coast winner's dinner and battle it out for the shot at an additional $20,000 and the champion title.


Worst Cooks in America: All Fun and Game Day — Sunday, Jan. 29 at 9|8c
Competition is in the air as the recruits enter Boot Camp to discover it's been transformed into a game-day arena. They must put their culinary knowledge to the test in a game of Family Food, where only one team can earn the win. For the Main Dish challenge, the recruits must cook for a crowd and impress their guests with the ultimate game-day sandwich and an appetizer.
More posts from Joel Raneri.
Similar Posts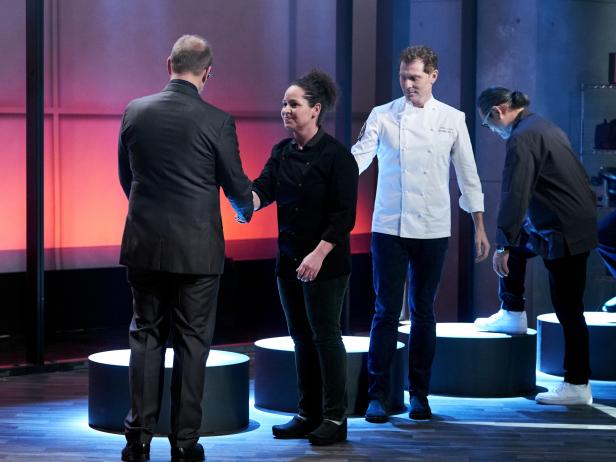 Get the latest details on the all-new series Iron Chef Showdown....