This weekend on Food Network, your favorite chefs are sharing tips for stretching ingredients and stretching your dollar. Saturday morning, Ree Drummond is making four different dishes using random cuts of beef, Trisha Yearwood is teaching her nephews some budget-friendly dishes, and the co-hosts on the kitchen are sharing recipes that can be used for breakfast, lunch and even dinner.
On Sunday morning, Tregaye Fraser is joined by Spike Mendelsohn on Kitchen Sink, and they share two recipes for five-ingredient pasta dishes. Then, Giada De Laurentiis is whipping up a menu for a last minute dinner party, and the dishes include Smokey Arugula and Apple Salad , Focaccia with Clementine and Fennel and Frozen-Fruit Sparkling Water.
On Sunday night, it's Part 4 of the Triple D tournament on Triple D, and the chefs are challenged with making a deluxe dinner on a menial budget. Then, on Worst Cooks, the recruits are forced to get over their fear of fish as they fillet and prepare a seafood feast.

The Pioneer Woman: Other Cuts of Beef – Saturday, Jan. 21 at 10a|9c
Ree's transforming random cuts of beef into four delicious dishes. She's turning stew beef into Slow-Cooker Sunday Stew and serving it with fabulous Buttery Lemon Parsley Noodles, then bottom round steak is unbeatable in a Teriyaki Beef Stir-Fry for lunch. Good ol' ground beef is used as a filling in amazing Meat Pies, then last but not least, a slab of top round London broil stars in a stunning Grilled Beef Salad (pictured).


Trisha's Southern Kitchen: Money Savers – Saturday, Jan. 21 at 10:30a|9:30c
Trisha's nephews return to the kitchen to learn some budget-friendly and belly-filling recipes. After giving out some gifts for the dorm, Trisha shows them how to stretch their dollar with dishes such as Garlic Ramen Popcorn, Breakfast Burritos (pictured), Peanut Butter and Jelly Smoothies, Peanut Butter Ramen and Peanut Butter Mug Cake with Chocolate Icing and Potato Chips.


 The Kitchen: Bang for Your Buck – Saturday, Jan. 21 at 11a|10c
The Kitchen is giving tips on how to get the most bang for your buck, starting with Sunny Anderson's Meatloaf Al Pastor (pictured). Learn how to make the most of your produce with the gang's quick stem-to-peel recipes, plus how to up-cycle and transform everyday household items. Jeff Mauro makes a delicious Slow-Cooker Corned Beef and Cabbage that Katie Lee and Geoffrey Zakarian stretch into breakfast and lunch, then restaurateur Spike stops by to mix up a Jug Red Wine Sangria.


Kitchen Sink: Carbs on Carbs – Sunday, Jan. 22 at 11a|10c
The carbs-on-carbs menu kicks off with an over-the-top sandwich cake, then Spike and Tregaye demonstrate two inexpensive weeknight pasta dishes that are just five ingredients each. Frozen fries get a makeover with two different takes in a skillet, and finally, Katie brings carbs to dessert with a four-ingredient twist on the classic apple pie (pictured).


Giada Entertains: Impromptu Party – Sunday, Jan. 22 at 12|11c
Friends drop by unexpectedly, so Giada shows how to host a fabulous last-minute party. Her menu features Focaccia with Clementine and Fennel (pictured), Frozen-Fruit Sparkling Water, Rigatoni with Greens, and Smokey Arugula and Apple Salad. Then, Giada shows how to use dishes and decor in cabinets to transform a living room and create a special mood with only a few minutes' notice.


Guy's Grocery Games: Diners, Drive-Ins and Dives Tournament 2: Part 4 – Sunday, Jan. 22 at 8|7c
Four more Triple D chefs compete to earn up to $20,000 plus the last spot in the Diners, Drive-Ins and Dives Tournament finale, by making classic diner meals. First, the chefs must create a lunch counter special using only ingredients that start with a specific letter of the alphabet. Next, they must make a deluxe diner dinner on a not-so-deluxe budget. Finally, Guy Fieri takes the last two chefs on a culinary road trip to determine which regional take on a chicken entree they must make.


Worst Cooks in America: Fish Freak Out – Sunday, Jan. 22 at 9|8c
Anne Burrell and Rachael Ray are replaced with two surprise culinary giants who don't "kid" around as they mentor the recruits through the skill drill of making unconventional pizzas. For the Main Dish challenge, the recruits have to get their hands dirty and face their fishy fears by learning to fillet and prepare a fish dinner.
More posts from Joel Raneri.
Similar Posts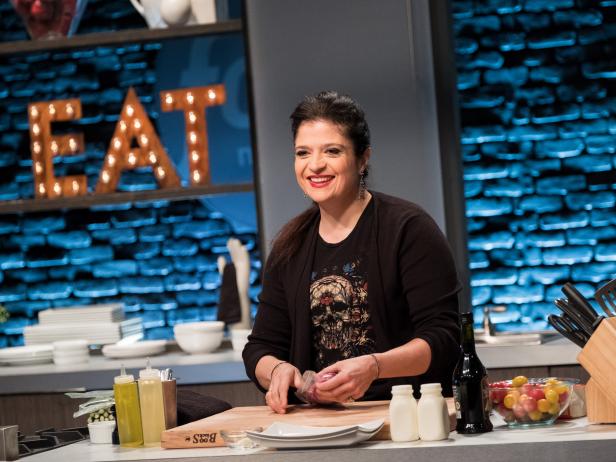 Get all the details on the upcoming premieres this weekend on Food Network....