Stay out of the winter weather this weekend and tune in to your favorite Food Network chefs as they share some warming comfort food recipes. On Saturday morning, Ree Drummond's making Fajita Nachos and Slow-Cooker White Chicken Chili, Trisha Yearwood is making Chicken Spinach Lasagna for the Nashville Predators ice hockey team, and on The Kitchen, the co-hosts are sharing tips for how to make classic recipes like a professional chef.
On Sunday morning, it's the season premiere of Kitchen Sink, and Food Network Star winner Tregaye Fraser joins Jeff Mauro in the kitchen to make some next-level nachos. Then, Giada De Laurentiis is throwing a cocktail party and serving Crab Crostini with Lemon and Herbs, Candied Prosciutto and Roasted-Carrot Hummus.
Then on Triple- G, four more chefs are competing for a spot in the DDD Tournament finale, and they must make hot sandwiches without a key ingredient. Then, on Worst Cooks, it's all about flavor, as the recruits must make a dish using ingredients from a foreign country.

The Pioneer Woman: B-Man and Me — Saturday, Jan. 14 at 10a|9c
Ree is spending quality time with her son Bryce and making him Fajita Nachos (pictured) for dinner. The next day, she's getting ahead with a delicious Slow-Cooker White Chicken Chili for the family's dinner. Then, as a post-football breakfast treat, Ree's making Orange-Vanilla Monkey Bread while Bryce cooks up a Meat and Potato Scramble.


Trisha's Southern Kitchen: Trisha on Ice — Saturday, Jan. 14 at 10:30a|9:30c
Trisha and her friend Glenda prepare for ice-skating lessons with Nashville's hockey team, the Predators! In exchange for the lessons, they make the team Glazed Limoncello Cookies. After hitting the ice, Trisha and Glenda come back to make a hearty meal of Chicken Spinach Lasagna, Prosciutto-Wrapped Breadsticks (pictured) and Shaved Sweet Tea Ice.


The Kitchen: Like a Chef — Saturday, Jan. 14 at 11a|10c
Learn how to make classic dishes like a chef. Geoffrey Zakarian kicks off the show with his Coq au Vin (pictured), then Jeff whips up a decadent Tiramisu and the hosts show how to master the perfect poach. Special guest Chef Scott Conant shares the secret to the perfect Potato Gnocchi with Heirloom Baby Tomato Sauce, and the Kitchen Helpline is open and the co-hosts are answering questions on how to master your kitchen like a chef. Finally, Geoffrey demonstrates how to make the perfect cocktail garnish.


Kitchen Sink: Foods You Need in Your Life — Sunday, Jan. 15 at 11a|10c
Kitchen Sink kicks off with a new way to weave bacon into every bite of breakfast, then Tregaye and Jeff take nachos to a new level with twists on the classic snack food. Inspired by the pizza pot pie, Fanny Slater wows with her combination of pizza and quesadillas (pictured). Finally, the Sink hits the streets to see one of the hottest dessert trends, and the co-hosts show how to make twists on ice cream cones at home.


Giada Entertains: Hidden Talent Party — Sunday, Jan. 15 at 12|11c
Giada hosts a cocktail party and good old-fashioned talent show with her friends in the style of a creative salon. Guests bring their best creative hidden talents, whether it's singing, playing the guitar, performing magic or juggling. The menu features Candied Prosciutto, Roasted-Carrot Hummus, Crab Crostini with Lemon and Herbs, and Calabrian Mojitos (pictured).


Guy's Grocery Games: Diners, Drive-Ins and Dives Tournament 2: Part 3 — Sunday, Jan. 15 at 8|7c
The Diners, Drive-Ins and Dives Tournament continues as four more DDD chefs try to win a Flavortown shopping spree and a spot in the finale. Making a hot sandwich sounds easy, until the chefs find out that one of the key ingredients is out of stock! Next, preparing a seafood special becomes hard when the chefs roll dice that limit their shopping options. Finally, Guy Fieri takes the last two DDD chefs on a mini road trip to decide what regional take on a pork dinner they'll be presenting.


Worst Cooks in America: All Aboard! — Sunday, Jan. 15 at 9|8c
Anne Burrell and Rachael Ray teach the recruits all about flavor, starting with a skill drill that puts their tongues and taste buds to the test. For the main dish challenge, the recruits put their newly learned flavor combination skills to work as they take a culinary trip around the world and make a roulade inspired by a basket of ingredients that corresponds to the cuisine of a foreign country.
More posts from Joel Raneri.
Similar Posts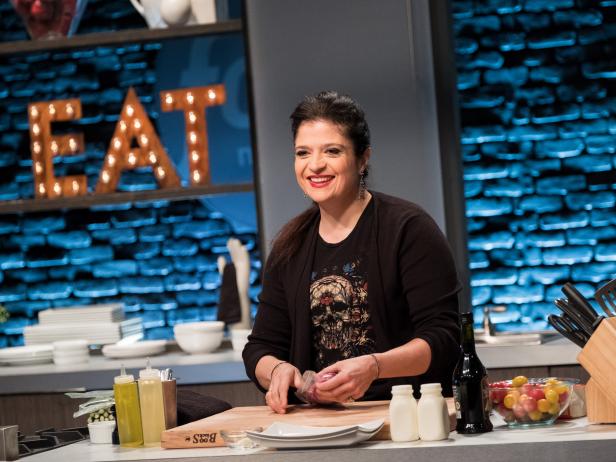 Get all the details on the upcoming premieres this weekend on Food Network....