If your 2017 resolutions involve bettering your bottom line, this morning's all-new episode of The Kitchen was for you. Money-saving tricks were the name of the game, as the co-hosts introduced not only good-to-know ideas for repurposing often-discarded food scraps, but also top tips for stretching leftovers. After Jeff Mauro put a hefty corned beef to work as the star of his slow-cooker supper, Geoffrey Zakarian and Katie Lee stepped in to bring the remnants of that meal — the meat and the veggies — to life in breakfast and lunch. Read on below to get all three recipes, then check out more of their low-cost, big-flavor plates right here.
Dinner: Slow-Cooker Corned Beef and Cabbage
Who says you can eat corned beef on St. Paddy's Day alone? Jeff turns it into the centerpiece of his anytime dinner (pictured above), letting the slow cooker do the work of infusing the beef with flavor and turning out moist, tender results. The secret to Jeff's recipe is a sachet; this cheesecloth baggie is full of such bold ingredients as coriander seeds, mustard seeds and garlic cloves, and as the meat, carrots, potatoes and cabbage simmer, they absorb those craveable tastes.
Breakfast: Leftover Corned Beef Breakfast Hash

By starting with the already cooked corned beef and potatoes from Jeff's dinner, GZ guarantees that this fuss-free hash (pictured above) can be on the breakfast table in only 20 minutes. Just like when you order hash at a diner, GZ's morning meal boasts a crispy base, and according to Geoffrey, the key to achieving that is a hands-off approach. "Try not to move the pan to allow the potatoes and meat to brown," he notes in his recipe. And because this is breakfast after all, be sure to follow Geoffrey's lead and finish the dish with a fried egg.
Lunch: Corned Beef Reuben with Savoy Cabbage Slaw

For its final showing, Jeff's corned beef gets dressed up in a hearty sandwich built on marbled rye bread. These griddled masterpieces are piled high with layers of a tangy mayonnaise-ketchup spread, Swiss cheese and a vinegar-dressed slaw to create a fill-you-up lunch.
Tune in to The Kitchen on Saturdays at 11a|10c.
More posts from Maria Russo.
Similar Posts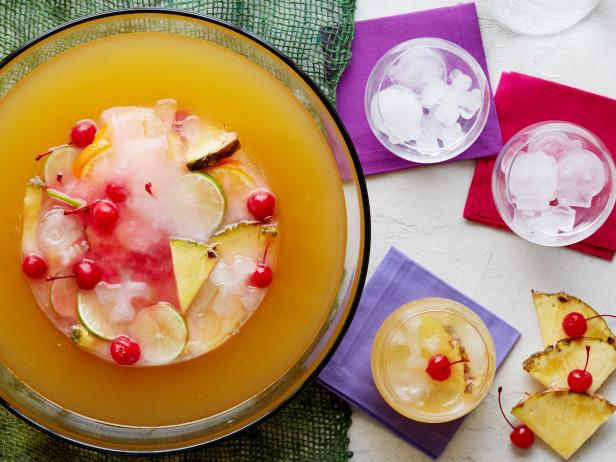 From formal events to backyard barbecues, punch is a party favorite for the ages....