Purging your kitchen of leftover holiday ingredients can feel both necessary and overwhelming, especially when you're working with limited storage space like I am. (Curse you, tiny New York City apartment.) In other words, yes, I understand how tempting it can be to throw out a half-empty carton of heavy cream or a mound of frozen pie dough scraps — in fact, I've succumbed to that temptation more times than I would like to admit. This year, in an effort to save money and reduce food waste, I'm hoping to use up as many leftovers from my holiday cooking arsenal as possible. Because who doesn't want to start the new year with a fresh, tidy kitchen? I've found that it's all about locating the right recipes to take care of your specific leftover needs — and recruiting enough friends to come over and help polish off the fruits of your labor. Here are the eight ingredients that I happen to have in surplus this month — and maybe you do too — plus, a few ideas on how to get rid of them as deliciously as possible.
If You Have Leftover Flour …
Every year, I look forward to December as an excuse to roll up my sleeves and tackle new baking projects. If I'm not making a batch of chewy oatmeal-chocolate chip cookies, I'm probably working on something festive to take to a holiday party. (Showing up empty-handed is the foulest of party foul there is, after all!) Come January, I'm usually left with some extra flour, sugar and baking soda — but mostly flour. Rather than toss it out, I'll treat myself to a few pancake breakfasts this month using Food Network Kitchen's easy, tried-and-true recipe, laced with vanilla and nutmeg.
If You Have Leftover Pie Dough …
You wouldn't believe the amount of pie dough I'm currently hording in my freezer. Rolled into discs, swaddled in plastic wrap, and stacked into tall and buttery towers, it's just begging to be baked every time I open the door — and I want to clear it out quickly. That way, I'll finally have room to store the many soups and stews I plan to cook and freeze this month. And I need no further inspiration than this clever guide for repurposing pie dough scraps, which includes instructions for turning the leftovers into crisp animal-shaped cookies topped with cinnamon and sugar, a buttery crown for chicken pot pie, dessert nachos, and more.
If You Have Leftover Butter and Sugar …
If you couldn't already tell, I'm not one to set diet resolutions. Therefore, I have no shame admitting that I plan to use my post-holiday butter-and-sugar surplus on Barefoot Contessa's luxurious Lemon Curd, a 30-minute solution to the odds and ends of any holiday baking supply. In theory, it will add an indulgent touch to my weekday-breakfast toast. In reality, it won't survive the weekend.
If You Have Leftover Buttermilk …
If the half-emptied quart of buttermilk tucked away in your refrigerator is swiftly approaching its expiration date, you may want to dedicate your weekend to Food Network Magazine's juicy, bone-in Oven-Fried Ranch Chicken. This recipe is particularly perfect if you happen to have a stash of post-holiday spices like paprika, garlic powder and cayenne; I know I do.
If You Have Leftover Grains …
Bulky grains are known to hog prime pantry real estate. This year, it's leftover risotto from Christmas dinner that's clogging up my shelves. To make room for a new wave of nonperishable goods, I'm going to use up the last of the tiny white pearls in Rachael Ray's uber-comforting Risotto-Stuffed Peppers and Zucchini. If you're facing an unruly surplus of other grains — wild rice, quinoa or millet, for example — stuffed peppers are still a great solution.
If You Have Leftover Canned Goods Like Olives, Capers and Anchovies …
Every December, I stock up on anchovies, garlic and capers in preparation for the Feast of the Seven Fishes, my Italian-American family's Christmas Eve meal of choice. The main course consists of Spaghetti Aglio e Olio laced with crisp garlic, salt-cured anchovies and briny capers. We'll finish with a light salad peppered with olives and, you guessed it, more capers. In January, the leftover unopened cans are a godsend: I'll whip up a quick, garlicky tapenade in lieu of a more-elaborate weeknight meal. It's perfect for spreading on toast and washing down with a glass of peppery syrah.
If You Have Leftover Brie …
One of the bonuses to hosting on New Year's Eve is the promise of leftover champagne, cheese and more cheese. At the moment, my fridge is cluttered with the remnants of a farewell-to-2016 cheese plate, including an unopened wheel of Brie. Since soft cheeses have a shorter lifespan than, say, a nice hard wedge of pecorino, I'll use it up in one fell swoop with The Pioneer Woman's crowd-pleasing Brie and Broccoli Quiche. And there you have it: the perfect excuse to invite friends over and pop the cork on that leftover champagne for a DIY mimosa brunch.
If You Have Leftover Chicken Stock …
A stash of homemade chicken stock is critical to holiday meal prep. Whether you're deglazing a pan or adding a splash to moisten and flavor your stuffing, a little bit will go a long, long way. But now that we're halfway through January, I'm still left with at least a quart of the stuff. This is the opposite of a problem, however, seeing as some of it will go into the buttery garlic-and-herb sauce featured in Tyler Florence's 5-star Chicken and Dumplings recipe, the ideal cooking project for a cozy indoor weekend.
Photos: Getty Images
Get your kitchen in tiptop shape for 2017 with more of Food Network's cleaning, storage and organization tips.
More posts from Emily Lee.
Similar Posts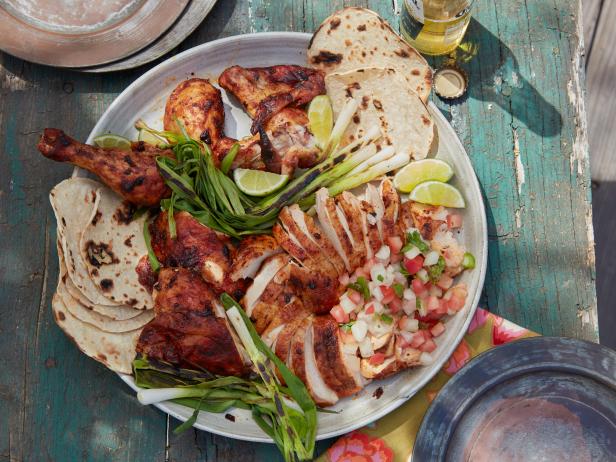 A little preparation means you can enjoy cookouts as much as your guests....