Chefs' Picks tracks down what the pros are eating and cooking from coast to coast.
Few remedies for killing that winter chill are as satisfying as spoonful after spoonful of piping-hot soup. Chefs across the country share their favorite spins on this versatile staple, including a vegan version, a beer-laced bowl and one wild-card pick perfect for warmer climes.
Creamy Celery Root
Chef Matt Conroy of Virginia's in New York City serves refined food in a casual neighborhood setting. It's no surprise, then, that his soup choice is a blend of simplicity and sophistication. He transforms a standard celery root soup into something a tad more indulgent by artfully adorning it with black truffle shavings and toasted hazelnuts.
Celery Root Soup
3 tablespoons salt
1/2 cup butter
4 cups celery root, large-diced
1 cup leek bottoms, sliced
3 cloves garlic, smashed
1/2 cup fennel, sliced
4 cups milk
2 cups vegetable stock
1 bay leaf
2 sprigs thyme
Optional toppings:
Black truffle shavings
Toasted hazelnuts
1/4 cup brown butter
Sweat vegetables over medium low heat for 15 mins with 1 tablespoon salt and 1/2 cup butter. Add milk, stock and herbs. Simmer until everything is tender. Blend until smooth. Add remaining salt.
If desired, garnish the finished soup with black truffle shavings, toasted hazelnuts and brown butter.

Warming Spices
Sarah Jordan favors a red lentil soup (also referred to as dal) that's brimming with Indian flavors, thanks to ingredients such as coconut milk and curry powder. The spice-laden, vegan-friendly dish is a staple both at her Chicago diner, Johnny's Grill, and at her own dinner table. "This soup is hearty and very affordable to make, perfect for getting through the colder months," Jordan says. "At home, I will ladle it over rice and add a fried egg."
Red Lentil Soup/Dal
Yield: 8 eight-ounce servings
2 tablespoons oil
1 medium onion, diced
2 cloves of garlic, minced
2 tablespoons ground turmeric
3 tablespoons curry powder
2 cups red lentils
3 cups water
3 cups coconut milk
6 Roma tomatoes, diced
Salt and pepper to taste
Freshly squeezed lemon juice
Cilantro, chopped
Saute onion and garlic over medium heat for approximately 5 minutes. Add turmeric and curry powder. Allow the spices to cook for about 30 seconds, then add the lentils to the pot. Add both the water and coconut milk to the pot. Allow the mixture to start to bubble before reducing the heat and gently cooking the mixture. Make sure to stir the soup frequently, so that the lentils will not accumulate at the bottom of the pot. Add the diced tomato and cook for another 10 minutes.
Season with salt and pepper to taste. Finish with lemon juice and chopped cilantro on top.

Comforting Ale
This Nashville spot may be named City Winery, but it's a beverage of another variety that's the star of a popular soup served here. Executive Chef Garrett Pittler pulls in dark ale to make his hearty batch of beer cheese soup, which also features a hint of mustard and mounds of white cheddar cheese. This crowd-pleaser is an all-star addition to any game-day spread.
Beer Cheese Soup
Yield: 1 gallon
Time: 45 minutes
2 tablespoons butter
1 pound bacon, chopped
1 1/2 cups celery, chopped
1 cup carrots, chopped
1 1/2 cups onion, chopped
24 ounces dark ale
4 cups water
5 cups heavy cream
1 1/2 pounds white cheddar cheese, shredded
1/2 cup all-purpose flour
1/2 teaspoon mustard
2 tablespoons salt
1 tablespoon pepper
Melt butter in a medium pot over medium heat. Saute bacon until crisp. Remove bacon and add celery, carrots and onion. Cook for 15 minutes. Pour in half of the beer and reduce by half. Pour in water and heavy cream and bring to a boil. Reduce heat and simmer for 25 minutes.
Puree mixture using an immersion blender. Return to pot over medium heat. Stir in the rest of the beer. Toss cheddar with flour and add into the pot, a handful at a time until fully incorporated and melted. Season with mustard, salt and pepper.

Satisfying Squash
Farm Kitchen in Phoenix truly embodies the term farm-to-table dining. This casual spot not only serves seasonal dishes driven by local ingredients, but it stands on actual farmland — The Farm at South Mountain — that's dotted with pecan trees and vegetable plants. Though the menu rotates on a regular basis, Chef Pat Christofolo serves a satisfying roasted butternut squash soup whenever the season is right. She usually tops the soup with pancetta to balance out the sweetness, then finishes it with creme fraiche, pecans and scallions.
Roasted Butternut Squash Soup
Serves 4
2 tablespoons extra-virgin olive oil
1 cup onion, diced
1 celery stalk, sliced
1 carrot, sliced
1 cinnamon stick
Salt and pepper to taste
4 cups vegetable stock
1 1/2 cups roasted butternut squash
Optional Toppings:
Creme Fraiche
Scallions
Heat olive oil in large saucepan over medium heat. Add onion, celery, carrot and cinnamon stick and saute until soft, about 10 minutes. Season with salt and pepper.
Add the vegetable stock and bring to a boil. Simmer for several minutes. Stir in the squash and simmer for another 15-20 minutes to let the flavors meld. Allow the soup to cool and discard the cinnamon stick.
Puree soup in a blender until smooth. Return soup to the pan and reheat. Add additional salt and pepper if necessary.
Garnish with a drizzle of creme fraiche and a sprinkle of scallions, if desired.

Mediterranean Medley
The sunny environs of St. Pete Beach, Florida, may not exactly scream soup weather, but Castile Restaurant serves a gazpacho that hits the spot on the warmest of winter days. Chef Nicolas Labas brings together lobster, compressed watermelon and housemade croutons to make this cold soup that's inspired by the flavors and ingredients found in Andalusia, Spain. The sweetness of the compressed watermelon offers a refreshing contrast to the rich lobster and tomato flavors, making this soup a standout on the restaurant's Mediterranean menu.
Photography courtesy of Virginia's, Johnny's Grill, City Winery, Farm Kitchen and Castile Restaurant
More posts from Samantha Lande.
Similar Posts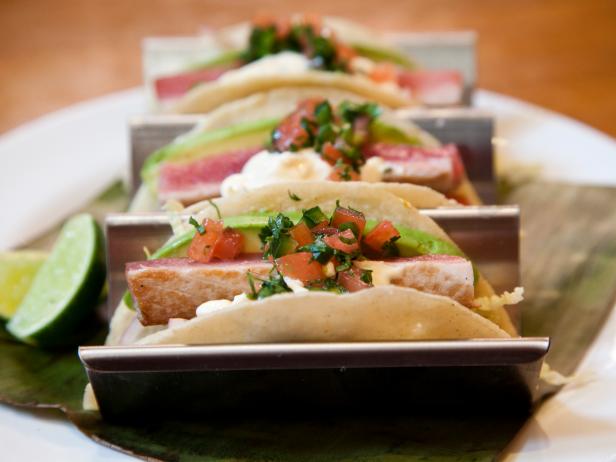 Hip spots are shaking up Magic City's Mexican-food scene with bold fillings and housemade tortillas....