This year's Super Bowl is an East Coast battle, with the Atlanta Falcons facing off against the New England Patriots. Will your game-day spread feature Southern comforts or New England classics? We've got you covered, no matter whether your loyalties lie north or south of the Mason-Dixon.
Plus, for decor that doubles as a sweet snack, show your team spirit with these candy centerpieces for the Patriots and Falcons.
Atlanta Falcons:
Chips and dip are crucial elements of big-game viewing. If you're pulling for Atlanta, show off your Georgia pride by dunking your chips in peach salsa.
You'll also need a cheesy dip to round out the spread, and when in Atlanta (or rooting for them), go with pimento cheese, a Southern classic. Sunny Anderson serves hers with the traditional white bread, but it's also great with crackers or even sturdy chips.
Pecans are another Georgia specialty that deserve a spot on your coffee table for game day. Snack away your nervous energy with spiced pecans from Alton Brown, who calls Atlanta home.
The South is in a league of its own when it comes to frying. These fried chicken sandwiches are just as delicious at room temperature, so no one needs to slave over hot oil during the game. Plus, they might remind you of a certain Georgia-based chain's cult-favorite chicken sandwiches.
Fried green tomato sandwiches make a winning game-day main for vegetarians, but everyone will want a bite of these.
New England Patriots:
Cheer on the Pats with lobster rolls made with classic New England split-top buns. Your big-game party is sure to be the talk of the town if you're serving up these buttery beauties from Jeff Mauro.
A big pot of creamy New England clam chowder is the perfect dish for a crowd of loyal Patriots fans on a chilly Sunday in February.

Up the ante on stick-to-your ribs baked beans with Trisha Yearwood's recipe for baked bean casserole. Loaded with ground beef and bacon, this traditional Boston side is transformed into a main dish.
Since the Patriots play for all of New England, there are plenty of iconic desserts to choose from to round out your spread. To show Beantown pride, you could go all out and make a classic Boston Cream Pie, or bake up these shortcut Boston Creme Cupcakes.
Whoopie pies are the state treat of Maine and an ideal hand-held dessert for game-viewing. Mix and match favorite flavors with Food Network Magazine's guide.
More posts from Sara Levine.
Similar Posts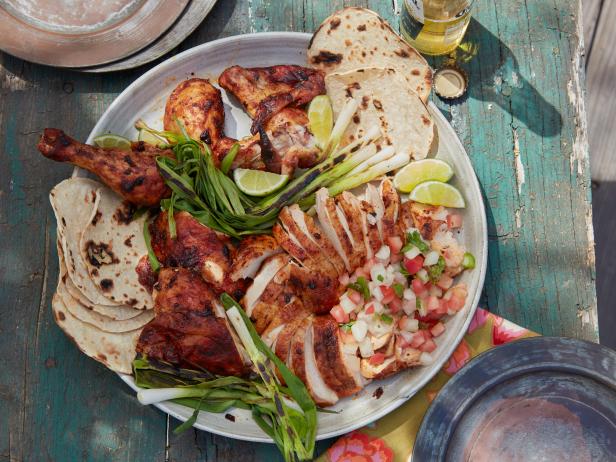 A little preparation means you can enjoy cookouts as much as your guests....