Even though it's "new year, new you" season, there are some things we'll never change — like the meals we make ourselves over and over again. But if you want to freshen up the ol' routine, you might try a new (and, dare we say, potentially better) technique for getting your favorite flavor fix. These new recipes come with clever twists that give meal prep a makeover.
Sideways Lasagna Roll-Ups (above)
This family-friendly dish (stuffed with the creamy ricotta and comforting sauce that always pleases everyone) becomes worthy of a dinner party with some small tweaks: Build the recipe in a springform pan so you can display it dramatically on a platter, and turn the roll-ups on their sides to show-off the pretty lasagna ruffles and crannies filled with cheese.
Slow-Cooker Whole Chicken
This set-it-and-forget-it dinner is the definition of no-fuss. Our trick for an evenly cooked bird? Rubbing it with spices and setting it on canning lids in the slow cooker so it doesn't get soggy.
Sheet-Pan Bacon Egg Sandwiches
Breakfast for a crowd doesn't have to mean a casserole or a giant bag of bagels. Make cheesy egg sandwiches for 16 (!) by baking the filling in a sheet pan and then slicing individual portions.
Ginger-Scallion Chicken Parchment Pack
Chicken tenders are a tried-and-true dinner option, and cooking them in a parchment pouch ensures they stay moist — without any added fat. This healthy recipe boasts savory Asian flavors that will definitely rival your favorite take-out order.
Two-Ingredient Pizza Dough
Homemade pizza dough doesn't have to be a big project. For a weeknight fix, just mix self-rising flour and full-fat Greek yogurt, knead for a few minutes and you've got the makings of an easy, last-minute pizza night.
All-Crust Sheet-Pan Scalloped Potatoes
When everyone in your family clamors for the crusty piece (don't we all?), some extra surface area can help you please the whole group. Food Network Kitchen dreamed up a version of this classic recipe that employs a sheet pan (instead of a casserole dish), so crust is king.
Microwave Spaghetti Squash
You might normally roast this subtly sweet, pasta-like squash. But if you don't feel like turning on the oven, you can cook it in the microwave in just 10 minutes. Top with marinated tomatoes and ricotta for a side that goes great with turkey meatballs.
Cornbread-Topped Skillet Chili
This recipe is a comforting, stick-to-ribs main and its bready partner all in one skillet. And the pairing is utilitarian too — the steam from the chili keeps the cornbread moist as it cooks.
Sprinkled Sugar Skillet Cookie
If you like a sugar cookie that's super-tender in the middle, but nicely caramelized on the outside, it might be more easily achieved in a big-batch skillet rather than in scoops on a baking sheet. Plus a big cookie (and we've got more — try peanut butter, snickerdoodle or chocolate-chip) is just plain fun.
More posts from Lauren Piro.
Similar Posts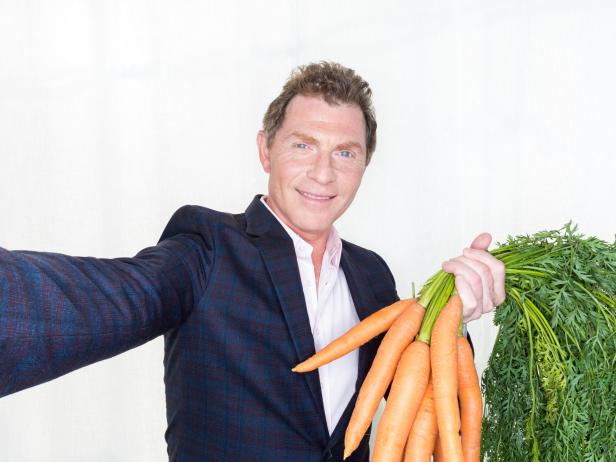 Food Network star Bobby Flay is no stranger to the idea that people want to eat more fruits and vegetables....