That gift list won't shop itself, and as for trimming the tree and decking the halls before everyone arrives, let's just say your hands are full well until New Year's Day. When it comes to holiday menu prep, think of your side dishes as one super-easy way to cut down on effort this holiday season. These quick and easy holiday side dishes won't take too much attention away from all the work you must do in the gift-wrapping, roast-monitoring and guest-hugging departments — and they'll be just as delicious.
Make It Mini
The secret to making this rich, typically simple potato side even more effortless lies in your muffin tin. These Individual Potato Gratins (pictured above) are faster to cook and easier to serve than the casserole dish rendition, and they're just as delicious.
Take a Nod from Thanksgiving
A few weeks back, if the turkey, mashed potatoes, vegetables, pies and so much more didn't fill up your guests, a few bites of bready, stick-to-your-ribs stuffing was sure to do the trick. Satisfy your Christmas crowd with Giada De Laurentiis' Christmas Stuffing with Bacon, which is super-filling (thanks to two types of rice) and takes minimal prep.
Waste Not, Want Not
It would be a crime to let the pan drippings from your labored-over roast prime rib go to waste. Do as the English do and save it to make Tyler Florence's easy, 30-minute Yorkshire Pudding.
Go for Speed
The step-heavy vegetable tarts and oven-bound dishes might fit the celebratory of the holidays, but it's also possible to make a special dish in no time at all. Food Network Magazine's rich, luxurious Creamed Spinach takes 16 minutes from start to finish.
Choose Make-Ahead Dishes
Quick-fix pasta is a lifesaver on a weeknight, and the same goes for your holiday dinner prep. Fix Rachael Ray's festive Christmas Pasta, filled with veggies and three types of meat, ahead. The longer it sits in the fridge, the better it gets.
Check out more holiday side dish ideas from our friends of #FallFest:
Devour: 6 Types of Bread to Complement Your Holiday Dinner
The Lemon Bowl: Roasted Acorn Squash with Tahini Sauce
Healthy Eats: Save Room for Dessert with These Slimmed-Down Holiday Sides
The Fed Up Foodie: Creamy Dreamy Scallop Potatoes
The Mom 100: Spoonbread Corn Pudding
A Mind "Full" Mom: Roasted Radicchio Wedge Salad with Green Goddess Dressing
Taste with the Eyes: Holiday Entertaining: Asparagus, Hollandaise, Caviar
Dishin and Dishes: Roasted Cinnamon Vanilla Almonds
More posts from Allison Milam.
Similar Posts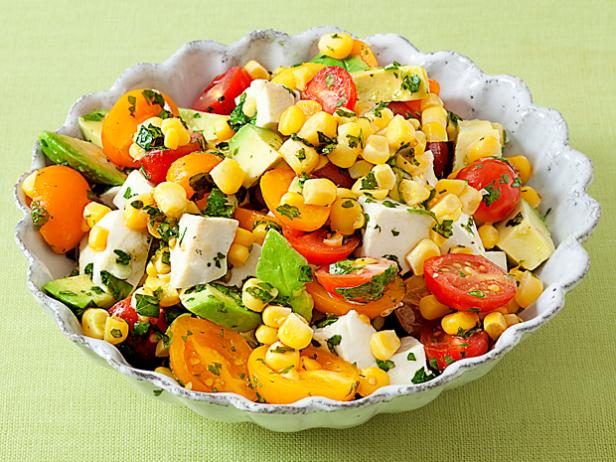 When it's too hot to cook, look no further than these tomato-focused recipes....