It's almost winter. Cream sauces are mandatory. We're adding veggies and pasta and chicken and vodka, so it's all good.
I feel like creamy chicken pastas should be a staple in your winter-meal rotation. Actually, your all-year rotation. Your all-day rotation? Your every-hour rotation? Your right-now rotation? I'll chill. This sauce! The sauce makes the dish here. It's buttery, creamy and cheesy for the kids, and for you adults, it's adorned with a tiny kiss of vodka, right at the end. These are the good things in life.
It's all very straightforward. Seared and chopped chicken — for the kids and you. Easy. Next comes cooked curly pasta glory. I found this crazy pasta called mafalda, but if you can't find it, any small, wacky and curly pasta will do. The veggies! If your kids eat veggies, well, whoop dee do. Congratulations. Just kidding! Add some to their plates. If not, save them all for your hoarding tendencies. (I know who you are.)
Chicken and cheese for them, chicken and veggies for you! And the pasta — you get pasta too. And, bonus, yours has vodka in the cream sauce. You're welcome.
Remember the thing I said about cream sauces being mandatory? Right. Get in it.
One Recipe, Two Meals: Creamy Chicken Pasta
Yield: About 4 servings (2 kids, 2 adults)
12 ounces mafalda pasta, or any small curly pasta
2 tablespoons extra-virgin olive oil, divided
2 chicken breast cutlets
2 medium carrots, thinly sliced
1/3 cup thinly sliced red onion
1 bunch asparagus, cut into 2-inch pieces (ends trimmed and discarded)
3 cloves garlic, minced
2 tablespoons butter
2 tablespoons all-purpose flour
2 cups milk
1/4 cup grated Parmesan cheese
1 shot vodka
Salt and pepper
Parsley, for garish
Bring a large pot of salted water to a boil. Cook the pasta according to package directions, until it reaches al dente.
Heat 1 tablespoon of the oil in a large skillet over medium heat. Season the chicken on both sides with salt and pepper. Sear the chicken, covered, for 5 minutes. Flip and sear another 5 minutes, covered. Remove the chicken from the pan and set aside to rest. After a few minutes, give the chicken a good chop.
Back in the skillet, add the remaining tablespoon of oil. Add the carrots and saute for about 4 minutes, until they start to soften. Add the onions and asparagus, continuing to saute another few minutes, until the asparagus is crisp-tender. Now add the garlic and saute until it becomes fragrant, about 30 seconds. Season the veggies with a pinch of salt and pepper, then reduce the heat to low.
In the meantime, melt the butter in a small saucepan. Once the foaming subsides, add the flour and whisk until the color changes from cream to a golden brown, just a few minutes. Slowly add the milk, continuing to whisk over medium heat, until it becomes a bit thicker and creamier. Now, add the Parmesan cheese and a good pinch of salt. Keep whisking until the cheese is melted and the sauce is good and creamy. Taste it and add more salt if needed.
Ladle out about 2/3 cup of cream sauce and add it to a cup of cooked pasta, tossing to coat. For the kids' plates, serve the creamy pasta topped with chopped chicken and extra Parmesan cheese. Done! (Feel free to sprinkle the veggies on the kids' plates, if they'll remotely let you.)
Now, back to the cream sauce. Stir in a shot of vodka and let it simmer for a couple of minutes.
For your adult plates, serve the creamy pasta with chicken and a good helping of sauteed veggies. Garnish with extra cheese and fresh parsley.
Eat!
Follow Bev on her blog, Bev Cooks, if you think you can even handle more.
More posts from Bev Weidner.
Similar Posts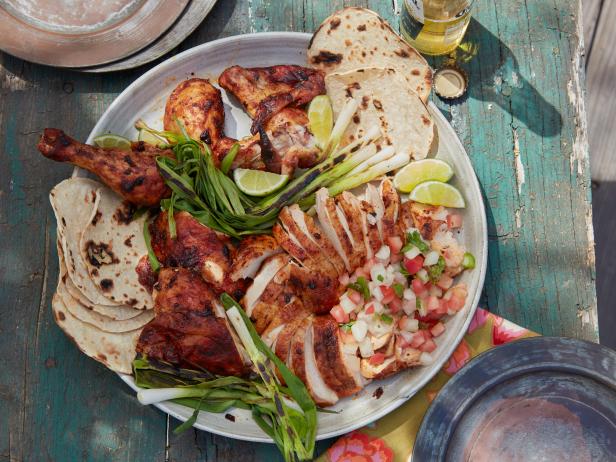 A little preparation means you can enjoy cookouts as much as your guests....