Chefs' Picks tracks down what the pros are eating and cooking from coast to coast.
Chefs' Picks: Hanukkah
Hanukkah spans eight nights, which means there is plenty of time to reflect on traditions, exchange gifts and indulge in one celebratory meal after another. The holiday is full of dishes that are steeped in symbolism. Many of them are made with oil, to celebrate finding the oil that kept the temple's menorah lit for eight days. That's why the holiday is often referred to as the Festival of Lights. Whether you are preparing your first Hanukkah feast or are looking for ways to mix up traditional recipes, get inspiration as these chefs across the country give their take on what should land on your table this holiday.
A Boozy Doughnut
A traditional Hanukkah dessert is sufganiyot, deep-fried doughnuts filled with jelly. At The Dutch in Miami's South Beach, Executive Pastry Chef Josh Gripper turns out a beyond-basic version of the standard treat that pulls in rum for a boozy twist. To add to the decadence, the dark-rum doughnuts are served with a drizzle of vanilla cream and a side of raspberry jam for dunking.
Dark-Rum Doughnuts
Dough:
1 cup milk
2 tablespoons and 2 teaspoons dry yeast
1 vanilla bean
4 3/4 cups bread flour
1/2 cup and 3 tablespoons sugar
1 teaspoon salt
9 egg yolks
Juice from 1 lemon
1/3 cup dark rum
1 tablespoon orange-flower water
1 stick (1/4 pound) cold butter
Bring 1/2 cup milk up to room temperature. Add yeast and dissolve.
Combine dry ingredients and vanilla bean.
Add yeast milk to remaining milk. Add all liquid and butter to mixer with dry ingredients. Mix on low speed until combined. Increase to speed 2 until dough is completely combined and glutinous, about 5 minutes.
Let proof for 1 hour, then punch out the air. Roll the dough until 3/4 inch thick. Cut the dough with a 2-inch ring cutter. Proof at room temperature for 1 hour.
Fry doughnuts at 350 degrees F until golden brown; coat in sugar.
Vanilla Cream:
2 cups milk
1 vanilla bean
1/4 cup sugar
1 tablespoon all-purpose flour
1 tablespoon cornstarch
3 egg yolks
Cut the vanilla bean in half (lengthwise), scrape out the seeds and add them to the milk. Combine the sugar, flour and cornstarch. Mix until homogenous. Whisk together the dry mix and the egg yolks until completely smooth. Bring the milk to a boil. Temper the milk into the egg yolk mixture. Return to a small pot. Over medium heat, whisk the mixture vigorously until it thickens. Simmer for 30 seconds. Pour the vanilla cream into a bowl. Cover the surface with plastic wrap. Refrigerate until cool and the custard sets, at least 3 hours or overnight.
Raspberry Jam:
3 cups raspberries
2 tablespoon sugar
1 tablespoon lemon juice
1 lemon, zested
Combine all of the ingredients in a small pot. Cook on low heat until the mixture breaks down and has a sauce consistency. Cook for another 5 minutes on low heat until the jam thickens.
It should be able to coat the back of a spoon. Pour it into a small bowl. Cover the surface with plastic wrap. Refrigerate until completely smooth. To plate, drizzle vanilla cream over large plate, pile doughnuts up and accompany with a ramekin of raspberry jam.

A Latke with a Twist
Of course, it wouldn't be Hanukkah without a helping or two of the holiday's best-known dish: the latke. At Milktooth in Indianapolis, the latke is a menu staple year round. But as with anything that Chef-Owner Jonathan Brooks churns out at the highly lauded breakfast and lunch spot that he owns with his wife Ashley, this latke is a stepped-up version that stretches beyond the standard variety. In addition to the typical potatoes, Chef Brooks adds celeriac (aka celery root) to his recipe, with delicious results.
Though Chef Brooks' latkes taste great with the traditional toppings of applesauce and sour cream, you may feel inspired to take a lead from Milktooth's menu and play around with new twists. For instance, Chef Brooks takes the sweet and sour flavors a step further by subbing in wonderfully unexpected toppings that he switches up regularly. One version (pictured above) came heaped with acorn squash butter, creme fraiche and pickled watermelon rind. The current option comes topped with espresso aioli, ketchup, scallions and bread-and-butter pickles.
Milktooth's Latkes
3 potatoes, washed, shredded, rinsed and drained
1 medium celeriac, peeled and shredded
7 eggs
1 3/4 cups flour
Salt and pepper
Press water out of rinsed potatoes and mix with all remaining ingredients. Fry in hot oil. Pair with your preferred toppings.

A Caffeinated Brisket
Chef Lee Wolen of Chicago's BOKA is known for his carefully curated plates that showcase a keen level of creativity in the kitchen. When it comes to Hanukkah, though, there is nothing he'd rather have on his table than a traditional brisket — with a slight twist, of course. Wolen's version starts with a dry rub made with instant coffee that he leaves on the brisket for 24 hours before cooking. The result is a sweet-and-smoky, tender brisket that's perfect for serving the whole family.
Lee Wolen's Coffee-Braised Brisket
One 8-to-10-pound brisket
2 cups tomato paste
5 Spanish onions, peeled and sliced thin
2 carrots, peeled and sliced thin
8 cloves garlic, peeled and sliced
1 bunch thyme
Dry Rub:
1 cup kosher salt
1 cup brown sugar
2 tablespoons ground cloves
3/4 cup ground instant coffee
1/4 cup sweet smoked paprika
3 tablespoons chili powder
1/2 cup coarsely ground black pepper
Begin by combining all dry rub ingredients. Place the brisket in a large pan and rub with an even, thin layer of tomato paste, and evenly sprinkle the rub to coat the brisket. Refrigerate overnight for 24 hours, covered. Heat an oven to 300 degrees F. Pull the brisket from fridge and let sit at room temperature for 1 hour so you don't start cooking from cold. Place the sliced vegetables on the bottom of a large pan or baking dish and lay the brisket on top. Cover tightly with foil and cook for anywhere from 3 to 4 hours until tender. Once tender, uncover and turn the oven to 450 degrees F for the last 30 minutes to get some caramelization on the meat. Let rest for 1 hour before slicing so the juices don't leak.
Photography courtesy of The Dutch, Milktooth and Boka
More posts from Samantha Lande.
Similar Posts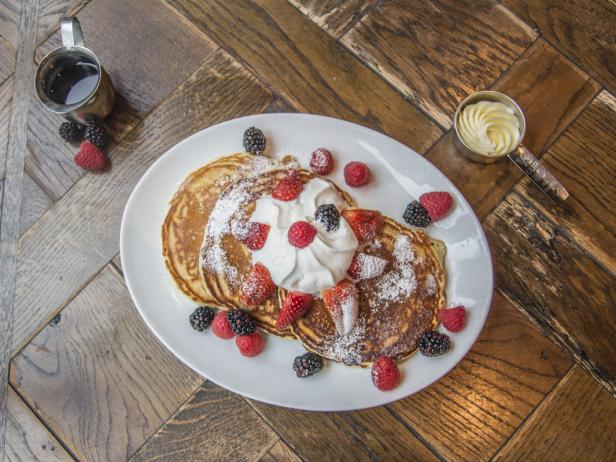 Chefs share where they go out to eat with the tiniest of food critics... their kids....