We've been waiting all year to break out our gingerbread spice. (Don't have any on hand? Make your own spice blend with this recipe from Food Network Magazine.) With the holiday season in full swing, we're pining for gingerbread-flavored desserts that go beyond cute cutout cookies. Check out these new ways to use this season's favorite flavor.
Gingerbread Sweet Rolls 
These sweet and spicy rolls (No. 19) are perfect for a late-night holiday snack. You'll sprinkle gingerbread spice onto premade pizza dough before rolling it up and cutting it into spirals. After they bake, you'll top them with molasses sweetened with confectioners' sugar.
Gingerbread Cake
This gingerbread sheet cake is easy to make in one pan. Instead of frosting, whip some fresh cream (or opt for store-bought vanilla ice cream) to dollop on slices.
Gingerbread Caramel Corn
For a sweet but not-too-filling snack, this spiced caramel corn (No. 48) does the trick. You'll use brown sugar, molasses and gingerbread syrup to turn 12 cups of average popcorn into a treat made for the holidays.
Gingerbread Coffee Cake
Have a slice of gingerbread coffee cake (No. 11) to go with your after-dinner coffee or eggnog. This sugary crumble cake will really satisfy holiday cravings thanks to a couple of teaspoons of gingerbread spice. If you have any leftovers, save them for tomorrow's breakfast.
Pull-Apart Gingerbread Man
Turn your favorite Christmas cookie into cupcakes! This gingerbread man is made entirely out of gingerbread mini cupcakes frosted with gingerbread-molasses buttercream. Add your favorite candies for decoration and he'll be gone in no time.
Gingerbread Cupcakes with Caramelized Mango Buttercream
Bobby Flay's gingerbread cupcakes are a chic treat for the holiday season. His mango frosting will take a little extra time, but the unique flavor is worth the effort. Your guests will surely be amazed by your baking talents, so don't be surprised when these become a holiday tradition.
Gingerbread Hot Chocolate
Pair any of these sweet treats with a flavored hot cocoa. You'll combine gingerbread spices with warm milk before slowly adding decadent chocolate. Once it's all incorporated, pour into your favorite holiday mug and enjoy.
More posts from T.K. Brady.
Similar Posts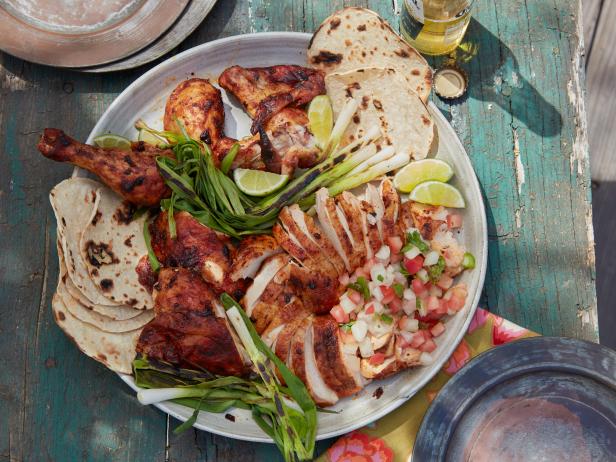 A little preparation means you can enjoy cookouts as much as your guests....