Just one week from today, every burner on your stovetop will be aflame and your oven will be hot and ready for a day of nonstop roasting and baking. That said, the biggest meal of the year requires a certain amount of strategy for it to get on the table without any swearing (or tears) from the cook: You need to strike a balance between the number of baked dishes and the number of stovetop-cooked dishes.
Each has its advantages. On the one hand, many baked Thanksgiving sides can be prepped ahead, so that all there's left to do is pop them in the oven on the big day. Plus, sliding them into the oven also lends a golden, crusty top to potatoes, green bean casserole and more. On the other, stovetop sides free up your oven for the main event (namely the turkey), so that you don't need to play a game of musical chairs in that regard. In advance of the big day, we're pitting preparations of must-have side dishes against each other so you can pick and choose at will (and cook the day away with a grand plan).
Potatoes
Oven-Baked Spuds: When paper-thin potatoes slices are baked under a blanket of herb-infused cream, they go from raw to intensely tender. And unlike sides with a consistency reminiscent of baby food, Tyler Florence's top-rated Scalloped Potato Gratin (pictured above) comes with a signature crispy, browned crust.
Stovetop Spuds: For those who think of potatoes mainly as a vehicle for deep puddles of gravy, the mashed route is best. Boil, drain and use a ricer or food mill to create perfect, silky Mashed Potatoes that are creamy and comforting.
Brussels Sprouts
Baked Brussels Sprouts: The picky eaters at your holiday table might ordinarily need a little nudge to dive into this hearty veg, but they'll be building a mountain of it on their plates if we're talking Brussels Sprouts Gratin. It's baked with cream, white cheddar and a blanket of breadcrumbs until bubbly and golden brown.
Simple Stovetop Sprouts: Ease up on the oven with Food Network Kitchen's boil-first, saute-second technique. In the end, these Brussels Sprouts with Bacon reach tender, completely addictive results.
Broccoli
Cheesy Baked Broccoli: Mounds of stick-to-your-ribs mashed potatoes and stuffing may be tough competition for a side of broccoli to tackle, but not when the green vegetable prepped Sunny Anderson's way. Her Cheesy Mushroom and Broccoli Casserole is a crowd-pleasing creation loaded with veggies, rice and cheese.
Speedy Skillet Side: Add a little citrusy brightness to your holiday table with Rachael Ray's 20-minute Orange-Scented Broccoli and Cauliflower, which reaches tender perfection on the stove.
Green Bean Casserole
Keep It a Casserole: The green bean casserole gracing many Thanksgiving tables looks a lot like The Pioneer Woman's Green Bean Casserole — until you notice that hers is flecked with morsels of smoky bacon (*adds bacon to shopping list*).
Out of the Casserole Dish, Onto the Stove: Your classic green bean casserole may have a reputation for, you know, being a casserole, but that doesn't mean it always needs to be made in a casserole dish. Alex Guarnaschelli takes the annual favorite out of the oven for a creamy, mushroom-studded remake: Stovetop Green Bean Casserole.
Sweet Potatoes
Baked and Then Baked Again: Guy Fieri's nutty, cinnamon-sugary Twice-Baked Sweet Potatoes are worth making room in your oven for — and doing so twice.
Sweet Potatoes Meet the Stove: Cooks often take the roasted, glazed and baked route when preparing sweet potatoes, but that surely isn't the only way to go. Rachael takes the stovetop approach for a side of super-creamy, innately sweet Mashed Sweet Potatoes.
Get more Thanksgiving side dish recipes from our friends of #FallFest:
Devour: Thanksgiving Side Dishes That'll Hold Up to Reheating
The Lemon Bowl: Oven Roasted Brussels Sprouts with Bacon
Foodtastic Mom: French Style Sweet Potato Soufflé
Feed Me Phoebe: Gluten-Free Stuffing with Vegan "Creamed Spinach" and Leeks
The Hungry Traveler: Loaded Smashed Potatoes
Healthy Eats: 7 Lighter Takes on Essential Thanksgiving Sides
Dishin & Dishes: Bacon Wrapped Butternut Squash Wedges
The Mediterranean Dish: Jeweled Couscous with Pomegranate and Lentils
The Fed Up Foodie: Festive Orange Spinach Salad
A Mind "Full" Mom: Parmesan Garlic Slow Cooker Mashed Potatoes
Creative Culinary: Golden Onion Casserole with Thyme and Toasted Bread Rounds
Swing Eats: Creamed Spinach
Taste with the Eyes: It's Back – The Stuffing Everyone Loves!
In Jennie's Kitchen: Pan Seared Cauliflower
More posts from Allison Milam.
Similar Posts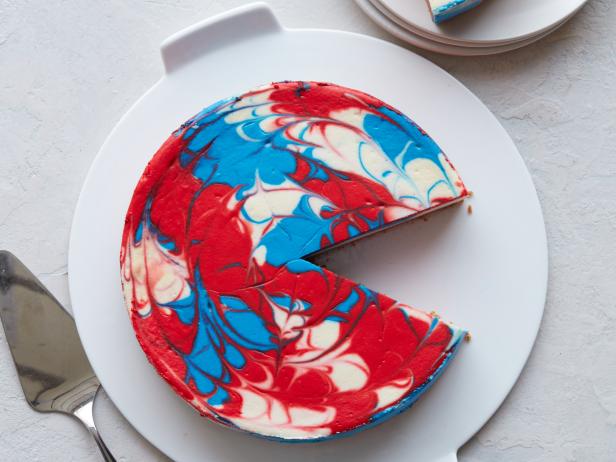 This week, our social feeds were inundated with red, white and blue....