Preparing Thanksgiving dinner is no simple feat — so if there's anyone who deserves a show of gratitude, it's the host. Find out how Food Network staffers plan to say "thanks" to their Thanksgiving hosts at this year's feast.
Bee Raw Honey Flight, $45
"This year, instead of candles, I'm gifting every hostess in my life a honey flight. Bee Raw makes flights of four specifically designed for cheese lovers (all my friends) and tea lovers (my mom). I'm planning on buying one of each flight — to tackle both my Friendsgiving and family Thanksgiving plans — in the hopes that it'll make an everyday cheese plate or cup of tea feel like a holiday treat."
— T.K. Brady, Online Editor
beeraw.com
Auchentoshan Single Malt Scotch Whisky — American Oak, $37
"The last thing I want to do is bring something that is just going to collect dust or add to clutter, which is why I always bring either food or booze as a hostess gift. My other rule of thumb is to bring something your hosts wouldn't necessarily buy themselves — something indulgent and perhaps a little frivolous. For a Scotch drinker, I would bring a nice Auchentoshan (pictured). Champagne, sparkling rosé and Lambrusco are great catchall booze options. From a food end, I like to bring lard bread from Brooklyn or [the Bronx's] Arthur Avenue — it's so deliciously gluttonous — along with super-indulgent cheeses like a triple creme with fig jam, wine-soaked cherries or gianduja spread. Of course, if the host is a sweets lover, you can't go wrong with some handmade chocolates or truffles in interesting, seasonal flavors."
— Alexis Markowitz, Recipe Developer
wineanthology.com
Laurie & Sons Toffee, $24
"My favorite hostess gift (and holiday gift!) is Laurie & Sons toffee — it's super-high-quality chocolate-covered toffee with really interesting flavors. The sea salt-and-Tellicherry is my favorite, but the licorice flavor is really good too. Plus, it's made in New York, and I always like to bring local gifts with me when I'm traveling."
— Michelle Buffardi, Site Director
laurieandsons.com
Murray's Assorted Meats and Cheeses, $17 to $20 Each
"I like to give (and receive!) a little crate of cheeses and meats from Murray's Cheese, one of my favorite places in New York City. You can often find me bellying up to the counter at their West Village shop and tasting as many cheeses as my cheesemonger will allow. When I'm shopping for a hostess gift, I opt for two or three kinds of cheese, plus one cured meat. My all-time favorites are Fromager D'Affinois (mild and super creamy), Roomano Extra Aged Gouda (nutty and almost sweet, with little caramelized bits inside) and Valdeon (a blue cheese that's wonderfully stinky but not overwhelming). For the meat, I keep it simple; Creminelli Wild Boar Salami (pictured) is a go-to pick. Then, when I arrive at the party, I tell the hostess to stash these in the refrigerator and save them for later; they're almost too good to share!"
— Maria Russo, Online Convergent Editor
murrayscheese.com
Salt & Straw's 5-Pint Thanksgiving Collection, $65
"Ice cream: It may not be the first thing you think to gift your Thanksgiving hosts as November temperatures drop, but what good is pie if it's not a la mode? The pies at our feast are always made from scratch, but breaking out the ice cream machine is a stretch when there's so much else to prepare. We always send high-quality pints ahead to our hosts, sometimes changing up the shops we order from. If your crowd is somewhat adventurous, opt for Portland-based Salt & Straw's whimsical flight of five Thanksgiving-themed pints. This year's flavors include everything from Spiced Goat Cheese & Pumpkin Pie to Salted Caramel Thanksgiving Turkey (a sleeper hit)."
— Sara Levine, Senior Managing Editor
saltandstraw.com
The Coffee Registry Ration Pack, $8
My family's Thanksgiving feasts have always been casual and intimate, and my uncle usually volunteers to host. He's a big coffee drinker, so I like to bring new beans for him to sample (or to serve at the end of the meal). The Coffee Registry, an eco-friendly roasting company based in Portland, Oregon, offers a set of three different whole-roasted beans, which yields just enough coffee for a small or mid-sized group to enjoy — two for the host to serve after the meal, and one to savor all by himself the next morning. The price is reasonable, and I love that the ration allows you to try new flavors. The set rotates seasonally, so you never know what you're going to get. But I think that's part of the fun."
— Emily Lee, Digital Content Producer
thecoffeeregistry.com
Salt Starter Set, $24 to $54
"I give fancy versions of pantry staples, like really good olive oil, tea or a salt sampler from The Meadow. That way you know your host will be able to use it, but it still feels special."
— Betsey Brownfield, Senior Digital Editor
themeadow.com
For more gift ideas for your Thanksgiving host, check out our full Thanksgiving gift guide, featuring festive foods, tabletop accessories and more.
More posts from FN Dish Editor.
Similar Posts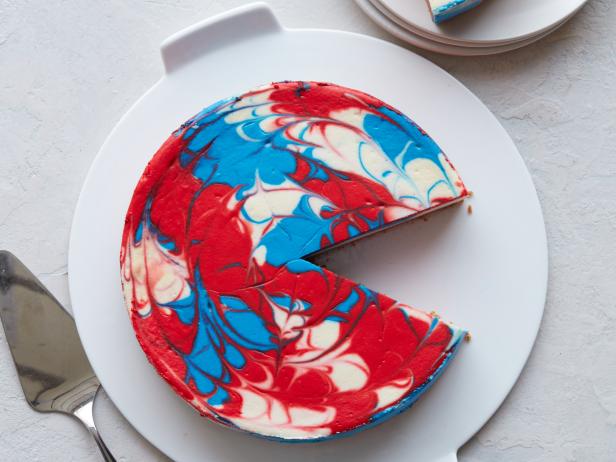 This week, our social feeds were inundated with red, white and blue....