The perennial fandom over a certain coffee chain's pumpkin spice latte proves that pumpkin, as an ingredient, should not be reserved for pie. Instead of relegating the sweet squash to dessert only, incorporate pumpkin into breakfast for a sweet, warming start to the day. And if you're still craving that PSL and want to save a few bucks, we've got a recipe to make one at home.
Pumpkin Pancakes
The fragrance of warm spices fills the room when you make these creamy fall-inspired pancakes. A dollop of nutmeg whipped cream and a drizzle of maple syrup complete the dish.
Healthy Pumpkin Oatmeal Bake
A fall breakfast for a crowd is made easy with this hearty, nutritious oatmeal. Canned pumpkin puree saves time on prep work and is packed with healthy fiber.
Pumpkin Scones with Maple-Cinnamon Glaze
Damaris Phillips folds roasted pumpkin (or canned pumpkin puree) into her scone dough and amps up the warm fall flavors with pumpkin pie spice, cardamom and coriander.
Pumpkin-Chipotle Waffles
Serve these sweet and spicy Southwestern-inspired waffles with an orange-and cayenne-infused maple syrup for a citrus kick.
Pumpkin French Toast Stuffed with Blackberry-Caramel Mascarpone
Bobby Flay adds pumpkin puree to his custard mixture for a genius autumn spin on challah French toast.
Pumpkin French Toast Casserole
This autumn-inspired casserole is both custardy and crunchy and perfect for brunch — or even dessert. Food Network Kitchen uses pumpkin pie puree, which comes pre-sweetened and spiced, lending an extra touch of warmth. Since the unbaked casserole needs to rest overnight, this is an ideal make-ahead company-worthy dish.
Pumpkin Spice Buns
These sweet and sticky buns are made extra-special with a pumpkin puree filling and a drizzle of vanilla glaze. Split up the prep work and make the dough a day in advance and refrigerate it overnight for the second round of proofing. All you have to do in the morning is bake and glaze.
More posts from Sara Levine.
Similar Posts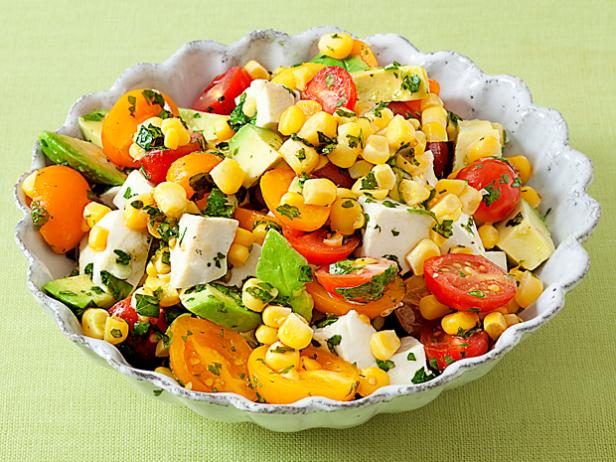 When it's too hot to cook, look no further than these tomato-focused recipes....