Pumpkin, pecan and apple may get all the love on Thanksgiving, but they aren't the only flavors that deserve a spot in your holiday dessert spread. Get carrot in on the action, too, with our favorite festive dessert recipes, each reaching plush, tender heights.
If you eat a slice of carrot cake for the promise of frosting alone, go even bigger by replacing your favorite part with a thick layer of creamy cheesecake. This decadent dessert mashup — Carrot Cheesecake — comes with layers of spiced carrot cake, rich cheesecake and a smooth sour cream topping.
A whole pound of grated carrots goes into the batter for Ina Garten's fan-favorite Carrot and Pineapple Cake, but the delicious ingredients don't end there. She also loads up  the batter with chewy raisins, crunchy walnuts and juicy pineapple, so each bite of the finished cake is extra-chunky — and goes perfectly with classic cream cheese frosting.
For those who can't choose among a whole tableful of desserts, bake Mini Carrot Cupcakes. They are little enough that you can tack one on next to a slice of pie.
If your turkey day celebration won't quite reach feast-size levels, don't let your small party prevent you from making real-deal desserts. Take carrot cake, for example. Scale down the standard recipe by baking a single sheet cake and transforming it into two cream cheese-frosted, four-layer slices for Carrot Cake for Two.
The dessert course of Thanksgiving is no time to be cutting calories, but you can opt for a lighter choice: better-for-you Carrot Cupcakes with Cream Cheese Frosting. They are surprisingly healthy, even slathered in cream cheese frosting.
Stuff oat- and raisin-studded Carrot Cake Sandwich Cookies with fluffy marshmallow-cream cheese filling.
For more sweet and savory ways to use carrots, check out these recipes from our friends of #FallFest:
The Lemon Bowl: Roasted Root Vegetable Soup
Creative Culinary: Carrot and Zucchini Quick Bread with Toasted Walnuts and a Cinnamon Nutmeg Glaze
Devour: 5 Gorgeous Carrot Recipes That Will Make You Eat With Your Eyes
Hey Grill Hey: Bacon Wrapped Maple Glazed Carrots
The Mediterranean Dish: Turmeric Roasted Carrots
The Fed Up Foodie: Carrot Cucumber Asian Slaw
Elephants and the Coconut Trees: Carrot Peas Pilaf
A Mind "Full" Mom: Vegan Carrot Soup with Spiced Peanuts
Pinch My Salt: Carrot Tomato Chipotle Soup
Healthy Eats: 7 Healthy Ways to Turn Carrots Into Cake
The Mom 100: Carrot, Cabbage and Kohlrabi Slaw with Miso Dressing
Taste with the Eyes: Baby Rainbow Carrots with Hazelnuts, Truffle, and Hollandaise
More posts from Allison Milam.
Similar Posts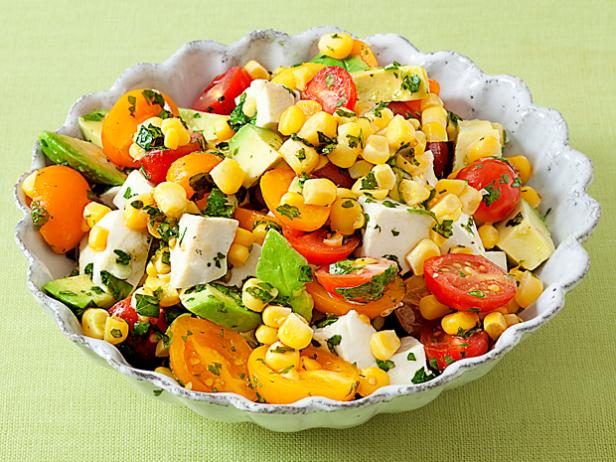 When it's too hot to cook, look no further than these tomato-focused recipes....