Here at Food Network, our office CSA loot this week included apples, leeks, sweet potatoes and one in-season vegetable that we've been waiting for quite patiently: butternut squash. Innately sweet, hearty and tender, this fall favorite is a stunner in whichever hearty soups, comforting mains and side dishes it becomes a part of. Learn how to break it down, step by step, then use it to make one of our favorite recipes.
Fold tender morsels of roasted butternut squash into a creamy pot of homemade risotto. With over 200 top reviews, Ina Garten's Saffron Risotto with Butternut Squash is the one to make, as it gets an added layer of flavor from a pinch of saffron threads, plus diced pancetta and grated Parmesan cheese.
Bring a sweet dose of fall to hearty, meaty stew by switching out potatoes for butternut squash. Giada De Laurentiis' Beef and Butternut Squash Stew is flavored with sweet Marsala wine and sun-dried tomatoes to give it a touch of Italian flavor that's best soaked up with fresh, crusty bread.
Toss fluffy quinoa with morsels of roasted butternut squash, crunchy pistachios and tart dried cranberries for a fall-forward dish — Quinoa with Roasted Butternut Squash — that's also the dream take-and-eat potluck dish.
If fall is a time for vats of chili at a tailgate, it's definitely the time for chili packed with in-season squash. Amp up your next batch of chili by bringing the innately sweet veg into it with our recipe for  Butternut Squash and Turkey Chili.
Silky butternut squash is a quintessential part of fall in its purest form, but teaming it with another fall favorite results in a true taste of the season. Ina's Butternut Squash and Apple Soup is delectably sweet, with a little complexity brought on by zingy curry powder.
Cozy up to a special pasta meal scattered with sweet, in-season butternut squash: Giada's Penne with Butternut Squash and Goat Cheese. Toss hot penne with tangy goat cheese until the cheese melts into the easiest cream sauce ever, and add in a whole cup of chopped walnuts for a nutty crunch.
When all else fails, simply roast butternut squash. Ina's recipe for perfect Roasted Butternut Squash ensures that the vegetable leaves the oven tender and caramelized every time.
Check out more squash recipes from our friends of #FallFest:
A Mind "Full" Mom: Hidden Veggie Quesadilla
The Fed Up Foodie: Bread Dressing Stuffed Acorn Squash
Dishin & Dishes: Thai Massaman Curry With Chicken and Butternut Squash
Devour: Combine Squash and Pasta for the Ultimate Fall Comfort Food
In Jennie's Kitchen: Delicate Squash, Shiitake, Kale & Quinoa Salad
Swing Eats: Zucchini Soufflé (gluten-free)
Healthy Eats: 6 Ways to Use Canned Pumpkin in Healthy Fall Meals
More posts from Allison Milam.
Similar Posts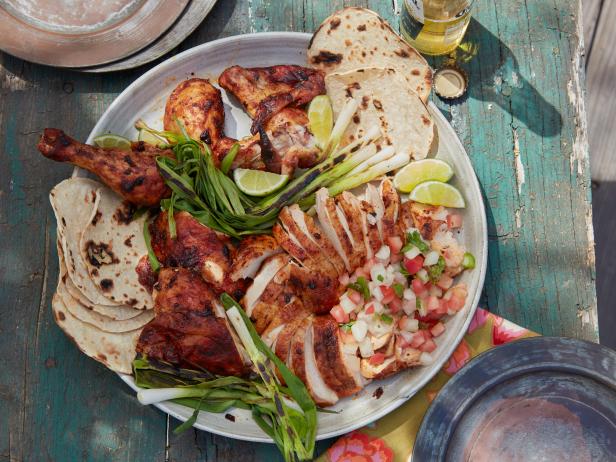 A little preparation means you can enjoy cookouts as much as your guests....