I'm a chocolate person — usually. When it comes to baked goods, I usually don't see the point in indulging unless there's chocolate involved … except when it comes to apples in the fall. Is there anything more satisfying than a tart-but-sweet dish whose description includes the phrase "apple-cinnamon"? If you're a fan of this combo like I am, do yourself a favor and make one of these recipes this week — and another after that. As for me, I'll be working my way through this list to the end. #Commitment
Apple Dumplings (pictured above)
What if you could hold an apple pie in your hand? That's what Trisha Yearwood is offering in these delicious treats.
Healthy Apple-Spice Quick Bread
The problem with many quick breads (and muffins, for that matter) is that they're closer to cake than a hearty way to start the day. Not this one. Packed with satisfying ingredients that stay with you, this apple-spice quick bread is a family favorite.
Warm Apples and Ice Cream
Dress up your after-dinner scoop of ice cream with a seasonal topping of fragrant, tender apples. This dessert from Rachael Ray can be ready in just 15 minutes.
Rustic Apple Pie Apple Crostata
A cinnamon-y brown sugar-oat topping gives the apples a welcome crunch.
Old-Fashioned Apple Crisp
I could hardly write about the glory of the apple-cinnamon combo without including an apple crisp recipe, and with more than a 5-star rating and 400 fan reviews, Ina Garten's seems like the perfect choice.
Baked Apple Cinnamon Chips
If you want your house to smell like heaven, put making these on your to-do list for this weekend, then enjoy the results long after the wonderful aroma has worn off.
Healthy Apple Muffins
Muffins that are actually good for you automatically get my vote. But once you throw in the flavor combination of apples and cinnamon, I'm even more on board. This is a drop-everything-and-make-it-now kind of recipe that even freezes beautifully, so you can enjoy "freshly" baked muffins anytime you like.
Skillet Apple Pie with Cinnamon Whipped Cream
You know a dessert's serious when even the topping gets a special flavor treatment. But guess what: This one needs only eight ingredients (and one of them is a store-bought pie crust!).
Slow-Cooker Apple Butter
Think applesauce with 10 times the flavor. This sweet spread is amazing on everything, including pancakes and toast, and makes an almost-instant dessert when you spread it between layers of store-bought puff pastry and bake for hand pies that are ready in minutes.
Charity Curley Mathews is the mother of four small kids who'll eat just about anything in the apple-and-cinnamon category. She's a contributor to The Huffington Post, InStyle and more, and she blogs about food and parenting at Foodlets.com: Mini Foodies in the Making … Maybe.
More posts from Foodlets.
Similar Posts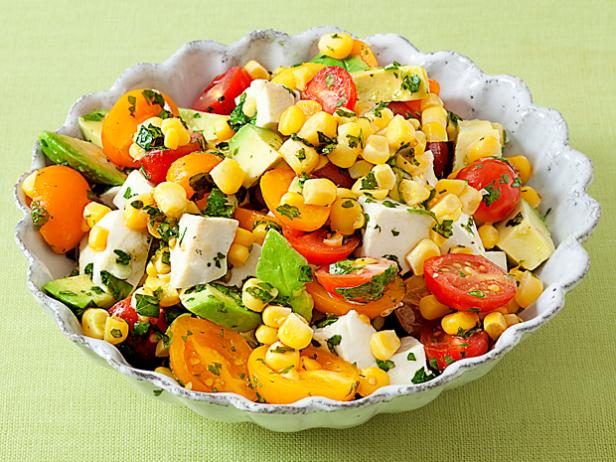 When it's too hot to cook, look no further than these tomato-focused recipes....