With a good chili recipe on your side, you can be the MVP at everything from a tailgating party in a parking lot to a weeknight dinner at home. Warm, comforting and so easy to make, chili as a category is infinitely adaptable — and we've got so many different ways you can score big when you cook it. And don't even get us started on all the things you can do with leftover chili.
Make It Classic, but Better
Save a beer for Geoffrey Zakarian's no-bean, all-meat Game-Day Chili. It adds another layer of complexity to this loaded blend featuring fire-roasted tomatoes, three pounds of ground meat and a whole lot of fragrant spices.
Make a Chili of a Different Color
Though most chili recipes that you'll find in your bowl are red, Giada De Laurentiis' White Bean and Chicken Chili has a lighter hue, from white beans, ground chicken and a kicked-up chicken stock base.
Bulk It Up with Macaroni
Some comfort foods just go together, and Rachael Ray's Chili Mac is proof. Fuel fellow football fans until the final whistle by uniting beef chili and macaroni noodles in one meaty pasta meal. It takes just 15 minutes of prep, so expect to spend a record low amount of time in the kitchen on game day.
Make It a Topping
Spoon Tyler Florence's easy, meaty chili over grilled hot dogs for seriously next-level Chili Dogs topped with grated cheddar.
Go for Seasonality
Though you could easily make chili with ground meat plus canned tomatoes and beans and call it a day, including fall produce will give it a seasonal touch and added flavor. Add tender morsels of in-season butternut squash to the mix to give Butternut Squash and Turkey Chili a dose of natural sweetness.
Give It the Casserole Treatment
Bring the comfort level of your next batch of chili up a notch by piling it into a casserole dish and baking it. Food Network Kitchen's Spicy Chili and Cornmeal Casserole is finished with a sprinkling of Parmesan cheese, so it leaves the oven hot and bubbling.
For more chili recipes, check out our friends of #FallFest:
Creative Culinary: Chipotle Chile is the BEST Ever!
The Fed Up Foodie: Tortilla and Beans
The Mom 100: Game-Day Ground Beef Chili
Healthy Eats: 5 Turkey Chilis That Put Beef Out to Pasture
A Mind "Full" Mom: Wine and Mustard Braised Chili
Foodtastic Mom: Slow Cooker Chili Verde
Hey Grill Hey: Smokin' Hot Chili
Mom Loves Baking: Quick and Easy Chili
Taste with the Eyes: Korean Chili con Carne with Red Beans and Kimchi
Elephants and the Coconut Trees: Best Vegetarian Chili with 9 Beans
Devour: Warm Up Chilly Days with Genius Chili-and-Chip Combinations
In Jennie's Kitchen: French Lentil Chili
Swing Eats: Cincinnati Chili
More posts from Allison Milam.
Similar Posts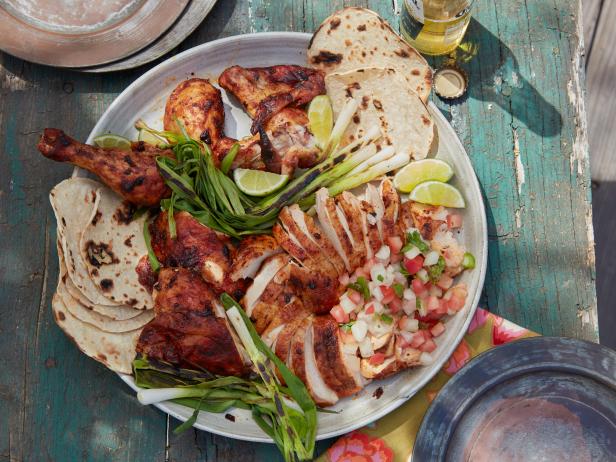 A little preparation means you can enjoy cookouts as much as your guests....