3 of a Kind checks out three places across the country to try something cool, new and delicious.
As it turns out, one plus one sometimes equals one — one exceptional dish, that is. Innovative chefs across the country are teaching that delicious lesson by marrying two menu classics to create one indulgent mash-up. There is the Cronut, the kimchi taco and even the turducken, which tweaks the traditional Thanksgiving turkey in a big way by stuffing it with a chicken inside a duck. One of the newest mash-ups to take the culinary world by storm is the sushi burrito, which brings together sushi and burritos, of course. Admittedly more giant sushi hand roll than burrito, the creation is still a tantalizing concept, with fresh fish and sticky rice rolled up in a seaweed wrapper. Here are a few places featuring this mash-up on their menus.

Buredo, Washington, D.C.
The culinary brainchild of two lifelong friends, Buredo has become a go-to spot in the nation's capital for a healthy lunch. Here you can score the namesake "buredo," or sushi burrito, in 10 different varieties, all of which are hand-rolled and bursting with bright vegetables and fresh fish. One standout in this sea of tempting sushi rolls is the Beatrix. This buredo is made with seasoned rice and traditional nori, which comes stuffed with layers of sustainable yellowfin tuna and salmon sashimi, cucumber, pickled cabbage, green onion and tempura crunch, along with a delicate slick of unagi sauce.

En Hakkore 2.0, Chicago
After dazzling Chicagoans with their version of Korean tacos at their hip fast-casual spot En Hakkore, husband-and-wife duo Peter and Faith Park were hoping to work their culinary magic once again. This time they're luring in diners with sushi burritos served at their second location (named En Hakkore 2.0, naturally). The little Wicker Park joint offers a handful of the oversize creations that are stuffed to the gills with different fillings. The Crunch plays off of a dragon roll, with shrimp tempura, eel, cream cheese, sweet potato, cucumber, avocado, and drizzles of eel sauce and mayo. The Fire kicks up the heat with spicy tuna and jalapeno, which are brought together with lettuce, avocado, cucumber, red pepper and eel sauce. Though the sushi burritos are the main hook, En Hakkore 2.0 does feature a few Korean options, including kimchi fries and Korean chicken wings.

Sushirrito, San Francisco and New York
Born in San Francisco and now with a brand-new location in New York, Sushirrito is helmed by Peter Yen and Ty Mahler, who tout their sushi burrito concept as the "original." With more of a focus on a true fusion of flavors, their massive rolls meld traditional Latin American and Japanese ingredients, which many other places don't do. The Satori is a favorite, with its combination of Hiramasa yellowtail and pickled red onion brought together with ginger guacamole and sweet corn. Another popular option is the Geisha's Kiss, brimming with yellowfin tuna, piquillo peppers, lotus chips, namasu cucumber, ginger guacamole and yuzu tobiko.
Photography courtesy of Buredo, En Hakkore 2.0 and Sushirrito
More posts from Samantha Lande.
Similar Posts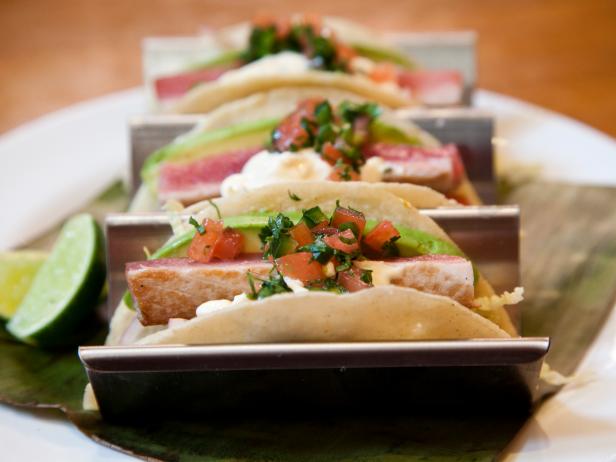 Hip spots are shaking up Magic City's Mexican-food scene with bold fillings and housemade tortillas....