By Jennifer Baggett Brennan
10 Things I Ate About You finds 10 enticing bites in smaller cities from coast to coast.
A tiny gem along the Connecticut coastline, Old Saybrook is perfect for travelers craving a weekend getaway without the pretension (or price tag) of other New England favorites. This idyllic spot (and hometown of screen icon Katherine Hepburn) offers sandy shores and sparkling marinas, and its Main Street channels classic Americana. Quaint storefronts stand alongside popular tourist attractions that include the historical James Pharmacy & Soda Fountain (more on that later). When it comes to restaurant options, Old Saybrook actually delivers far more sophisticated fare than its charming small-town appearance may suggest. Thanks to an influx of urbanites from New York City and Boston, the town's food scene has undergone a renaissance in the past decade, with stepped-up menus featuring fresh seafood recipes, creative farm-to-table meals and more. Here are 10 top dishes to try.
Cioppino at Fresh Salt at Saybrook Point Inn & Spa
Tucked along a picturesque marina, Fresh Salt has stunning views of the Long Island Sound and Connecticut River. Head to the outdoor Fire Bar at sunset to take in the full vista. Here you can cozy up to the warming flames of a fire pit with cocktail in hand, as the sky casts golden glows on the boats below. Inside, the restaurant specializes in locally sourced seafood and other New England-inspired fare. A standout is the cioppino, brimming with shrimp, scallops, calamari, mussels and swordfish in a delicate broth studded with tomatoes, saffron and capellini. A hunk of crusty ciabatta bread comes perched on the top. Cap off the night with the homemade limoncello (a creamy spin on the traditional Italian liqueur) or orangecello. Fresh Salt also does a killer Sunday brunch, with made-to-order omelets and a variety of stations serving hearty pasta dishes, carved meats, smoked seafood, fluffy waffles and more.

Fresh Cavetelli at Liv's Oyster Bar
This sophisticated spot is the brainchild of John Brescio, whose culinary background includes turns at New York City's iconic Tavern on the Green and Judson Grill. He has created a chic space, complete with exposed brick, dark wood accents and seaside photos of the restaurant's namesake, his daughter Olivia. It's the perfect backdrop for a glass of wine and oysters on the half shell at the raw bar, or opt for an impeccable meal of simple, seasonally inspired dishes in the main dining room. The dishes bring together fresh seafood that's regionally sourced with other top-notch local ingredients. Popular options include the fried goat cheese-stuffed squash blossoms, mussels, heirloom tomato salad and Fennel Crusted Yellowfin Tuna. The chef's specialty, though, is the Fresh Cavetelli. It's a warm and satisfying dish with swirls of brininess from the littleneck clams punctuated by a sweet burst of spices from the homemade Italian sausage and Calabrian chiles — finished with a delicate herb butter.
Banana Split at James Farmacy Organic Cafe and Juice Bar
Tourists and locals alike flock to the James Pharmacy & Soda Fountain (renamed the James Farmacy Organic Cafe and Juice Bar) for a side of history with their sweets. This charming shop is named after its original owner, Anna Louise James (the first female African American pharmacist in Connecticut), and houses one of the oldest ice cream soda fountains in the nation. Today the menu has been modernized a bit, as fresh juices and smoothies are featured alongside classic soda drinks and specialty sundaes — with a slew of organic options to boot. But the space still exudes an old-timey parlor feel, complete with heart-shaped stools and classic frozen creations. Opt for a Brown Cow and you'll get a root beer soda laced with chocolate syrup and milk. Order the Banana Split and you can choose three scoops of any housemade ice cream, with a selection that includes traditional flavors and exotic options (think chai masala and ginger matcha). The scoops are flanked by bananas, then topped with strawberry sauce, housemade hot fudge and whipped cream. Pro tip: Ask for extra napkins!

Baja Tacos at Red Hen
This bistro with an artsy vibe is the ideal spot to grab wine and tapas before a performance at The Katharine Hepburn Cultural Arts Center next door (show your tickets for 20 percent off your bill). Modern American dishes from Chef Shelley Deproto take center stage on the restaurant's dramatic red-tiled bar. Though she has a background in Mediterranean cuisine, Deproto prides herself on an ever-evolving and diverse menu, recently skewing more toward vegetable-based creations. As she puts it, the restaurant is "not becoming a vegetarian restaurant," but she's "shining the spotlight more on veggies." Deproto accomplishes that mission with small plates that satisfy, such as the Grilled Stuffed Eggplant and the Light Tempura of Green Beans. The star of the tapas menu, though, takes its inspiration from the sea. The Baja Tacos feature fresh cod loin that's soaked in milk, tossed in a well-seasoned flour mix, then lightly fried. The result is a rich, crisp bite of fish that's perfectly complemented by the tang and spice of pickled onions and hot cherry peppers, all drizzled with chipotle mayo and tucked into corn tortillas.

Fish 'n' Chips at Penny Lane Pub
A venerable, English-style pub on Main Street, Penny Lane is reminiscent of the iconic fictional bar Cheers, with servers greeting diners like old friends. And when it comes to the menu, the comfort food classics and pub fare are straight out of central casting, with hearty options that include shepherd's pie, hefty Angus burgers, meaty chili, baby back ribs and an indulgent Buffalo chicken mac 'n' cheese. The fan fave is the Fish 'n' Chips. Thick fillets of domestic cod are freshly breaded and deep-fried to create an airy crust, then paired with pub fries and coleslaw, and served in traditional British style: on newspaper. Opt for a frothy pint of Guinness to round out the meal.
Breakfast Sandwich on a N.Y. Bagel and Iced Coffee at Caffe Toscana  
One of the culinary charms in many small towns is that quirky hole-in-the-wall eatery that locals swear by. In Old Saybrook, that honor goes to Caffe Toscana, which churns out freshly brewed coffees and espresso drinks, as well as an extensive array of sandwiches and wraps. This snug shop is a great place to grab a quick bite (especially after a late night out) or stock your cooler for an afternoon trip. Menu favorites include the roasted turkey sandwich smothered with cranberry sauce, the Croque Monsieur and the Tomato Basil Melt piled with fresh mozzarella and bursting with the bright flavors of the balsamic reduction. But the biggest draw is the New York bagels that the shop imports, which can be ordered in a variety of ways. Get them toasted and slicked with cream cheese or customized as a breakfast sandwich with a choice of two eggs any style, American cheese, and bacon, sausage or ham.

"The PJ" French Toast at The Tea Kettle Restaurant
Though The Tea Kettle Restaurant's claim to fame is its specialized paleo and gluten-free menu, the breakfast menu is arguably the best in Old Saybrook. Locals frequent this spot for the modern, country-style cuisine turned out by Chef-Owner David Ciastko. With the exception of the bottled ketchup on the tables, everything on the menu is made from scratch (even the mayonnaise). The jalapenos and Canadian bacon are brined in-house, the beef and sausage are hand-ground on the premises, and many of the dishes incorporate fresh produce plucked straight from the garden. Diners can try a bevy of dishes by mixing and matching single items (such as one pancake instead of a whole stack) to create their own sampler platter. "The PJ" French toast is a must-try. First, Ciastko slathers two slices of fresh-baked cinnamon swirl bread with peanut butter and strawberry jelly, then dunks them in housemade batter. Next, he sears the bread to a golden brown on the griddle and tops it with powdered sugar, bananas and whipped maple butter. The result? Breakfast perfection.
Hummel Bros Hot Dog with Firecracker Relish at Kim's Food Truck at Harvey's Beach
The food truck craze has finally reached the Connecticut coastline, as evidenced by a trip to Harvey's Beach. Kim's Food Truck can often be found parked on this cozy sliver of sand, with owner Kimberly Morgan churning out elevated barbecue dishes. She first made her mark on the local food scene with her homemade Firecracker relish, which she serves atop a Hummel hot dog (a family-owned brand that's popular in Connecticut) and also sells by the jar. Locals and tourists line up for a taste of the fiery relish, which is made by combining nearly 25 ingredients (including five different hot peppers, cauliflower, carrots, olives and apple cider vinegar), then soaking the concoction for two days in a salt bath and three days in a spicy dressing. Other popular picks include Morgan's homemade meatballs, which she serves as a special once a week, and her pulled pork sandwich made with slow smoked meat from Hog Wild (a renowned BBQ joint in the neighboring town), which comes slathered with barbecue sauce and zesty coleslaw.

Lobster Roll with Old Bay Fries at Liv's Shack at Harbor One Marina
Maine may get the most attention for its lobster rolls, but Connecticut has an alluring style all its own. Unlike Maine's version, which blends cold lobster meat with mayo, Connecticut's riff on the classic roll is served hot and dressed only with butter. Liv's Shack is the place to head for a bite of one in Old Saybrook. When the weather warms, local families, tourists and boaters mingle around the picnic tables at this quintessential clapboard hut that's open seasonally. Here, the toasted rolls come stuffed with 4 ounces of lobster bathed in silky, clarified butter. Add the shack's signature Old Bay fries and a bottle of lemonade to complete the meal. Other popular options include New England clam chowder, truffle fries, fish tacos and BLT salad.
Lobster Risotto at The Back Porch
Popular for its outdoor waterfront dining and live entertainment, The Back Porch draws regulars, vacationers and visiting sailors docked for the night at the nearby Between the Bridges Marina. The seasonal restaurant serves seafood-centric dishes in a setting that blends New England-inspired decor and country chic (think whitewashed wood and wicker furnishings, cerulean tablecloths and lanterns) to evoke a back porch, naturally. On the menu are shoreline classics such as fried clam strips and Beer Battered Fish and Chips, along with house specialties that include the Baked Stuffed Shrimp and the Pan-Seared Atlantic Salmon served with lobster mashed potatoes and sweet corn salsa. But the absolute showstopper is the Lobster Risotto: a massive portion of creamy Arborio rice crowned with succulent morsels of poached Maine lobster, sweet peas and fresh tomatoes. It's perfect for splitting — especially to leave room for a decadent dessert. Strawberry shortcake or hot fudge sundae, anyone?
Cioppino photo courtesy of Frank Gilroy, Fresh Cavetelli photo courtesy of Emanuelson Photography, Baja Tacos photo courtesy of Red Hen, Fish 'n' Chips photo courtesy of Penny Lane Pub, "The PJ" French Toast photo courtesy of The Tea Kettle Restaurant and Lobster Roll  photo courtesy of Emanuelson Photography 
More posts from Guest Blogger.
Similar Posts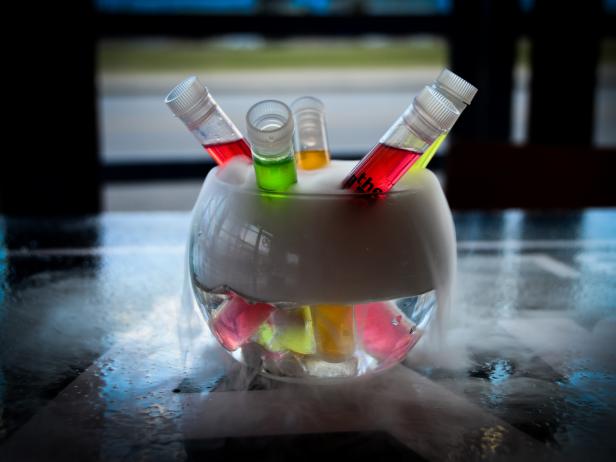 To celebrate the total solar eclipse, restaurants and bars are adding a bit of starry magic to their menus with items inspired by this rare celestial ...