Go beyond store-bought candy this Halloween with something homemade. These sweet treats are festive, a little frightening, and perfect for a Halloween party at home or your kiddo's school. Make them more personal by packing one in your child's lunchbox as a spooky surprise or making them as an after-school treat on the day of Halloween. It's a delicious way to get everyone into the Halloween spirit!
Bat Cupcakes (pictured above)
These cute cupcakes are double the sweet treat. Snack on the bat-shaped sugar cookie, then dig into the vanilla cupcake.
Bloody Milkshakes
Little vampires will love these creepy milkshakes. To get the effect without a mess, you'll pipe red gel icing around the rim of a glass, then stick it in the freezer for just long enough to blend a milkshake. Then pour the milkshake into the glass and serve.
Pizza Mummies
Kids can help make these easy personal pizzas. Put out sauce, mozzarella strips and olives while they toast their bread. Then have them spread some marinara sauce on their slice and add the cheese and olives for eyes. Broil until the cheese melts, and serve.
Ghost Toasts
Start the festivities with a boo-tastic breakfast. These toasts are a spooky version of an egg-in-a-hole. Use a cookie cutter to make the themed hole, and egg whites for a perfect ghost. Hot-sauce eyes add an extra kick.
Truffle Monsters
These little guys are almost too cute to eat and super-simple to make. Refrigerate truffles made of pretzel sticks, cookie butter and cocoa powder. Then roll them in green sprinkles and add candy pearls for eyes.
Frankenstein Pops
Get creative with cake pops: Coat halved Twinkies in green icing, then use black licorice for Frankenstein's iconic bolts and black icing for his hair and lips. Candy eyes bring the pops to life.
Ghost Crackers with Pumpkin Hummus
Go a healthier route with an easy seasonal hummus. Make the presentation spookier by baking wonton wrappers into ghost shapes and adding eyes with an edible marker.
Scary Strawberries
Chocolate-covered strawberries aren't just a Valentine's Day treat. Coated with white and green chocolate, they become ghosts and ghouls for Halloween.
Wicked Witch Cones
Build your ice cream cone upside down to make a witchy dessert. Use a chocolate cookie and cone to make the witch's hat, and licorice candies for her face.
Bat Wing Cheese Balls
Make Tex-Mex-flavored cheese balls into tiny creatures. Simply roll the completed cheese ball in blue corn chips and refrigerate until firm. Then add pimentos for eyes and two chips for wings.
For even more Halloween snacks, check out Spooky Snacks from Food Network Magazine.
More posts from T.K. Brady.
Similar Posts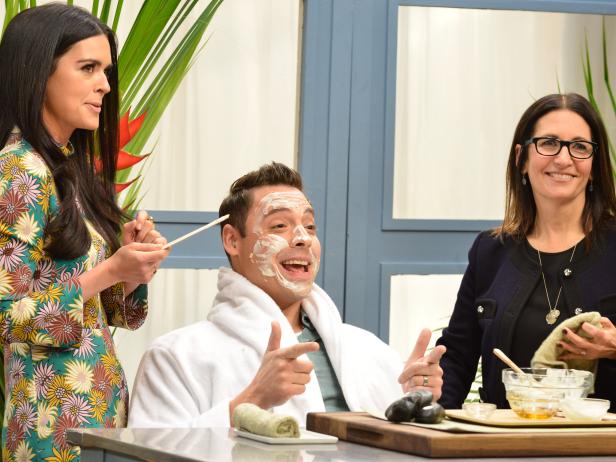 You don't have to travel somewhere exotic to make the most of your time off....