The weighty pots in your kitchen likely didn't get a lot of love the last few months, when lighter, cooler picks were in high demand. Now, whether the weather is reflecting it or not, we've got fall on the brain, and a big batch of soup is one of the first things we can't wait to cook. These are the recipes that'll fill our bowls first.
Break out the biggest pot in your kitchen for a cheesy, creamy dose of soup-induced comfort. Simply puree broccoli together with grated cheese, milk and half-and-half to get a taste of the crowd-favorite dish made right at home: Ree Drummond's thick and hearty Broccoli Cheese Soup (pictured above).
If you do anything tonight, serve a steamy bowl of the Best Tomato Soup Ever. Why is it the best, you ask? Swirling together a far-from-the-can tomato soup is about more than using juicy, fresh tomatoes. Stirring in cream and sherry, plus a little sugar, creates a balanced spoonful flecked with fresh basil and flat-leaf parsley.
When dried green split peas are cooked in broth with potatoes, carrots, onions and garlic, they break down into a thick and creamy soup that's healthy, hearty and comforting. Ina Garten's classic recipe for Parker's Split Pea Soup is an old-fashioned favorite that's so easy to make.
Summer might have been the time for crispy fish tacos and beachside margaritas, but fall is the time for south-of-the-border fare that's comforting and kicked-up. Food Network Kitchen's Tortilla Soup is a chipotle-spiked, tomato-based blend brimming with chicken and corn, and is best topped off with crispy tortilla chips.
It's no wonder that this Lentil Vegetable Soup is one of Ina's favorites. Rich and hearty, yet still vegetarian, it gains substance and texture from the lentils, but the deep, rich flavor profile derives from the chunky vegetables, fresh thyme, earthy cumin and tomato paste.
As fall vegetables start to line produce shelves once again, bring them into a warming fall soup. Food Network Kitchen's simple, one-pot Butternut Squash Soup calls for just six ingredients, and it takes only one hour to make.
Check out more soup recipes from our friends of #FallFest:
The Lemon Bowl: Slow Cooker Chicken Pho
A Mind "Full" Mom: Healing Chicken Soup
In Jennie's Kitchen: Roasted Butternut Squash Soup with Coconut & Lime
Foodtastic Mom: Slow-Cooker Squash Soup
Hey Grill Hey: Smoke Roasted Tomato Soup with Basil Cream
Devour: 4 One-Pot Soups, Because Who Has Time to Do the Dishes?
Elephants and the Coconut Trees: Sweet Corn Soup
Creative Culinary: Roasted Poblano Pepper and Corn Soup
Healthy Eats: How to Transform Summer Tomatoes into Comforting Fall Soups
The Mom 100:  Thai Chicken Noodle Soup
The Fed Up Foodie: Mom's Chicken Gumbo Soup
The Wimpy Vegetarian: Italian Chickpea Stew with Swiss Chard
Taste with the Eyes: Michel Richard's Asian Bistro Soup with Shrimp
More posts from Allison Milam.
Similar Posts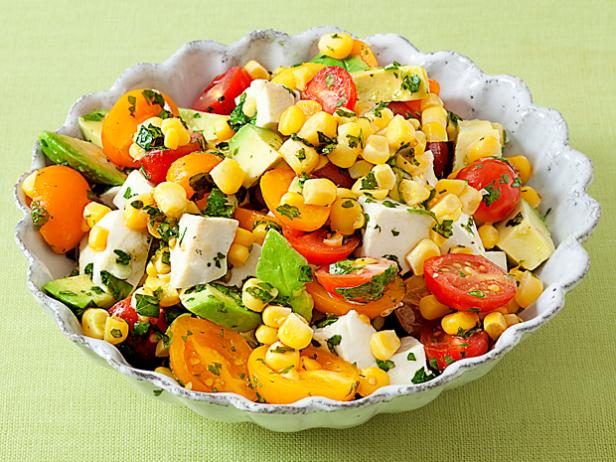 When it's too hot to cook, look no further than these tomato-focused recipes....