Today marks the very first day of fall, the time when you unearth your flannel from storage, shine your tucked-away boots and ready your kitchen for colder-weather fare. It's also the time when there are apples aplenty, and any trip to the farm for picking (or even any trip to the supermarket) will have you loaded down with more crisp, juicy apples than you know what to do with. Celebrate the very start of the season with our favorite desserts starring apples, each with a stunning 5-star rating.
If you can slice an apple, you can bake Ina Garten's pretty French Apple Tart. Simply splay tart apple slices over easy-to-make pastry dough and brush with apricot glaze before baking to give it a caramelized, golden finish.
With over 130 glowing reviews, Trisha Yearwood's Apple Dumplings are a sweet and easy addition to any homemade brunch menu. After wrapping Granny Smith apple slices in convenient canned buttermilk biscuit dough, she pours on homemade sugar syrup and cinnamon sugar, then bakes the dumplings until they're golden brown.
For a lot of apple lovers, fall means one thing: eating crisp for dessert. With over 400 rave reviews, Ina's Old-Fashioned Apple Crisp is the one to make, and it's ideal beside a scoop of vanilla ice cream.
Made with chunks of fresh, tender apples, plus applesauce for added moistness, Ellie Krieger's Apple Muffins are a healthy, whole-wheat treat that will make your mornings a little sweeter.
Cheesecake is tangy, rich and creamy on its own, but Bobby Flay's Caramel Apple Cheesecake takes it to another level. He tops the cake with fresh apple slices, apple-caramel sauce and crunchy walnuts.
Apples sure aren't the only fall produce we can't get enough of. Ina amps up her sweetly spiced crisp with slices of ripe Bosc pears, which gives her easy Apple and Pear Crisp another dimension.
Check out more apple recipes from our friends of #FallFest:
The Lemon Bowl: Tuna Salad with Apples
Creative Culinary: Boozy Snickerdoodle Cake with Apples
The Fed Up Foodie: Green Apple Butterscotch Macadamia Nut Cookies
Hey Grill Hey: Skillet Bacon Apple Crisp
A Mind "Full" Mom: Salted Caramel Apple Butter
Dishin & Dishes: Chicken with Cider Sauce and Apples
Foodtastic Mom: Kentucky Apple Skillet Cake
Healthy Eats: 6 Lighter Ways to Cook and Bake with Apples
In Jennie's Kitchen: 9 Amazing Apple Recipes
Mom Loves Baking: Chocolate Turtle Apple Slices
Taste with the Eyes: Red Lentil Penne, Apple, Walnut, Mint, and Gorgonzola Sauce
Swing Eats: Apple Roses (gluten-free)
Devour: Recipes to Get Apples Into Every Meal
More posts from Allison Milam.
Similar Posts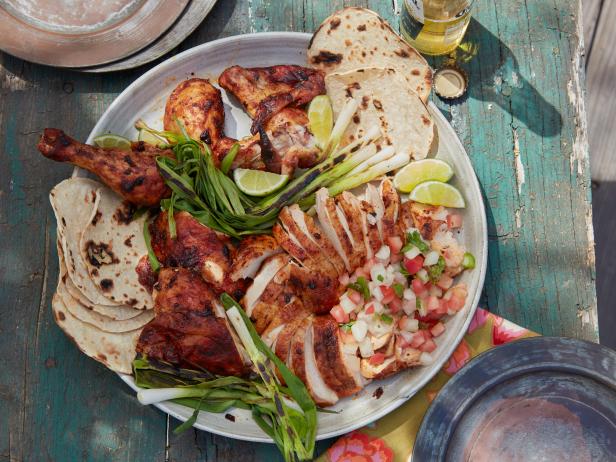 A little preparation means you can enjoy cookouts as much as your guests....