In case you missed it, last Tuesday marked the official return of Starbucks' ever-popular autumnal latte — and this year, they're debuting a cold PSL Frappuccino to help ease customers into the seasonal transition. (Bottled versions will be available in grocery stores nationwide starting this fall too.) The international coffee chain has managed to secure pumpkin spice's status as a hallmark of fall flavor — which means that soon, a flurry of other brands will follow suit, rolling out their latest takes on the warming combination of pumpkin puree and pumpkin pie spice. If you've been looking forward to the return of sweet, spicy pumpkin all summer long but don't want to risk wasting money on some of the new, experimental iterations, consider uncapping your own bottle of pumpkin pie spice and getting creative at home. Oatmeal, cinnamon buns, muffins and whoopie pies are just a few edible iterations that showcase the flavor in all of its comforting, spicy glory. Here are six recipes from Food Network Kitchen that show you just how it's done.
Pumpkin Spice Latte
It might surprise you to find out that you need only a tiny amount of the spice that inspired the mania behind this rather simple latte: one-quarter teaspoon of pumpkin pie spice, to be exact, along with one-quarter teaspoon of vanilla extract. The real key is to add a little pumpkin puree to the warm milk; it gives the latte extra body.
Pumpkin Spice Oatmeal
Loaded with fiber from the oats and pumpkin, this warm, spiced oatmeal offers up a hearty, comforting breakfast for just 250 calories. When made with whole milk, it takes on a rich and creamy taste — but it's equally delicious with 1 or 2 percent milk.
Pumpkin Spice Buns
If you're a sucker for classic cinnamon buns, you'll go nuts for Food Network Kitchen's pumpkin spice version. These sweet and sticky buns are perfect for an autumn brunch. Make the dough a day ahead of time and refrigerate it overnight for the second round of proofing. That way, in the morning, all you have to do is bake and glaze.
Pumpkin Spice-Cranberry Muffins
Loaded with dried cranberries, pumpkin and bright orange flavors, these fluffy muffins are extra-delicious when split and topped with cream cheese, jam or fruit butter at breakfast. Bake a batch over the weekend so you'll have muffins to stick in your kids' lunchboxes as a sweet surprise during the week.
Pumpkin Spice French Toast Casserole
This autumn-inspired casserole is both custardy and crunchy —– perfect for brunch, or even dessert. The pumpkin pie puree, which comes pre-sweetened and spiced, lends an extra touch of warmth. Since the unbaked casserole needs to rest overnight, it's ideal to make ahead for company the next day.
Pumpkin Spice Chocolate Whoopie Pie
The beloved fall latte flavor even works in the rich cream cheese filling for these easy chocolate whoopie pies. Whip up a batch for your first fall soiree in lieu of traditional pumpkin pie.
More posts from Emily Lee.
Similar Posts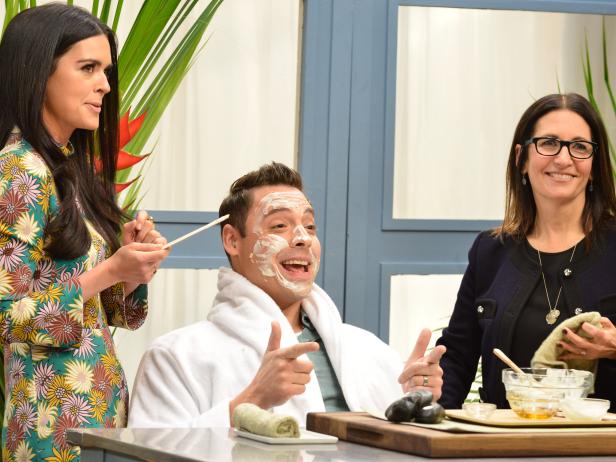 You don't have to travel somewhere exotic to make the most of your time off....