We're not sure how Buffalo sauce, the sinfully delicious yet simple combination of hot sauce and butter, came to be tied so intimately with football season. Nevertheless, we're counting down the seconds until we can reincorporate this comforting flavor into our fall dinner rotation, starting tonight with the NFL season opener. We know the beloved sauce best as the spicy, orange-hued coating on baked or fried chicken wings. But if you've been reserving Buffalo flavor for chicken and chicken alone, then you've barely scratched the sticky-spicy surface. Meatballs, macaroni and cheese, and even cauliflower are all suitable canvases for this brilliantly easy sauce. You can even customize the basic recipe by adding in barbecue sauce for a sweet, tangy note — or you can swap out the butter for lower-fat alternatives, like chicken broth, maple syrup and lime juice. Here are a few ways you can expand your Buffalo horizons, just in time for tailgating season.
Buffalo Meets Bison
Bison serves as a juicy, flavorful stand-in for classic chicken or beef in this spicy Buffalo meatball recipe from Food Network Magazine. You'll achieve an ideal meatball texture by combining the ground bison with panko, sour cream, grated carrot and celery. The meatballs get great Buffalo flavor after they've simmered in a mixture of chicken broth and hot sauce.
Buffalo Meets Mac
This recipe from Food Network Magazine aims to please any and all palates. The key to getting the perfect bite in every forkful is the layering: macaroni, chicken, macaroni, cheese sauce. Top with the panko-blue cheese-parsley mixture and bake until bubbly.
The Classic
If you consider yourself a purist, go with Melissa d'Arabian's recipe for classic Buffalo drumsticks. Spice lovers will go crazy for the hot, buttery sauce that she uses to coat the chicken. For a milder alternative, reduce the amount of hot sauce, and replace the butter with maple syrup and lime juice.
The Dip
Claire Robinson's dip has all the big flavors of Buffalo chicken wings (hot sauce, blue cheese and even celery) without the fuss and fat of frying. To make it even more figure-friendly, use light cream cheese.
The Pizza
Skip delivery and serve Rachael Ray's pizza that saves on prep time thanks to store-bought dough. A double dose of cheese, plus veggies and a grilled chicken cutlet topping, will have your crowd asking for seconds.
A Healthier Take
Enjoy one of your favorite bar and party snacks in a new form. Cauliflower that has a spicy Buffalo coating and is served with a cool, creamy blue cheese sauce is a delicious, vegetable-centric stand-in for the traditional wings.
A Crunchier Take
In the time it takes you to head to your favorite comfort food restaurant and order a Buffalo chicken salad, you could have made it at home for yourself and three friends. Throw together Rachael Ray's pan-seared version next time you host a Monday night potluck.
More posts from Emily Lee.
Similar Posts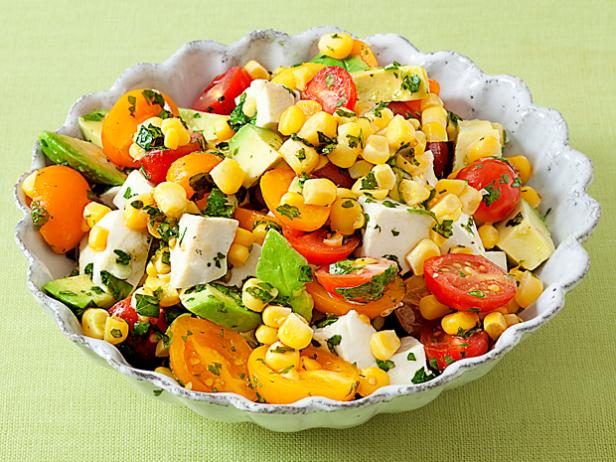 When it's too hot to cook, look no further than these tomato-focused recipes....