With every new season of Worst Cooks in America, Anne has proven she's a leader in Boot Camp, having won six out of eight seasons. Having lost Season 9 to Rachael, Anne's going into Season 10 with a comeback in mind. This time there are 16 recruits to choose from. Will she pick a stellar team and rule the challenges, grooming the perfect pick to win in the finale battle for $25,000? Tune in on Sundays at 9|8c to see which recruits she's working with, and watch how she fares against the Blue Team's Rachael Ray.
FN Dish recently caught up with Anne Burrell on the set to chat about the new season. She revealed her teaching process and gave advice to the Boot Camp recruits. Read on to get a window into Anne's thought process, learn where she draws experience and inspiration from, and get her best piece of advice for the practicing home cook.
Can you describe your teaching style and what you use to teach these recruits?
When I teach I really try to break it down to basics and connect the dots. … I introduce the cooking term and then explain it in an everyday kind of language, and people are like, "Ohhhhh." And then not only explain what the terms means and what the action they're doing is, but why. So I feel like when they have the, "OK, this is what I'm doing and here's why and this is what the result will be," they get sort of a full picture and the dots are connected so they have a full understanding of it, and I feel like, you know, people are like " Ohhhhh." And it's also just constant reinforcement and I feel, like, honesty. There's no need to be mean to people, but I feel, like, honestly, "This is good, this isn't, and here's why." But I always do definitely try to find something positive to say, even if it's, you know, "The rim of your plate was really clean." You know, like, there's no sense in just bashing people for the sake of bashing people.
Who were your teachers coming up, the people who had a really strong effect on you?
Well, I mean I am an alumna of the Culinary Institute of America, and then I went to Italy and did more culinary school and then worked for a year for free there. So that hugely shaped my career, but in terms of actual names of people that helped me after culinary school, definitely Lidia Bastianich and Mario Batali. I sort of cut my teeth with them, and I feel like I sort of have their stamps on both sides of me, which was honestly I think really lucky on my part.
Is there something in particular that you learned from them — maybe an approach?
Yeah. I mean, my experiences working with both of them are invaluable, and it would take me a really long time to tell you all of that kind of stuff, but I mean they taught me a lot about not only cooking but sort of philosophies of just how to behave in restaurants, how to work with people, how to maneuver in this kind of wild sort of ride of a life.
What would you say was the first dish you ever mastered, that you felt you had real control over?
Oh God. I don't know. There's so many, and you know there's so many things, so many times in my career — I mean I spent years, like, internalizing cooking techniques and making them part of my soul and just really being able to put my own thumbprint on it. This is how and why I do things. There's been lots of stuff like that, and the Italians have this saying, "e buono ma," which means, like, it's good, but it's not exactly what they know, so finally when I got compliments from Italians being like, "This is good; you have the Italian taste," I was like (gasp) YES! Like, it was, like, never a happier moment in my life.
When someone says, "There's no way I can learn how to cook," what do you say to that?
Then they don't want to. Anybody can learn how to cook if they want to.
For someone who's just a beginner, what's a good place to start when they really want to do it?
With recipes. Absolutely with recipes. I mean, when I don't know how to do something, I go and look for some directions on how to do it. That's what a recipe is, and it is shocking to me always that when I ask people, "Well, what recipe did you use?" and they're like, "Recipe?" And then, you know, they don't follow directions, they don't know how to do it, and then they're shocked when it doesn't work out. To me, that's shocking. So, start with recipes. Like, you know, there's these crazy things called websites, and the resources where you can go to find directions and recipes on how to cook stuff are limitless. I mean, far more ever than when I was learning how to cook, and so you want to learn how to make something? Go to Google first. To me, it's always a low-tech solution.
When you're teaching your students, how much do you emphasize instinct? Is it possible to train instinct?
Well, instinct is … I mean, it's instinct because you kind of have it or you don't. So when people are first learning, I don't encourage them to use their instinct at all; I encourage them to follow directions. That's what you have to do. I mean, when you don't know how to do something, you have to follow directions, and there is no shortcut for experience, and it's repetition, repetition, repetition, and then it becomes instinct.
What's the best piece of advice you can tell these Boot Camp recruits when they're coming in? What should they watch out for in the competition?
They should follow directions. They should taste their food. And they should follow directions.
Should they fear either you or Rachael?
They shouldn't fear anything. They should fear not following directions, because they'll hear about it if they don't. And it's extraordinarily important to me that when the recruits, celebrities or not, are in Boot Camp that we are actually teaching them. It is my mission. Making a show, to me, is secondary. I am a teacher, and so I will argue with producers, I will argue with anyone. I'm like, "Where are the teaching moments?" because I do not think it's fair or correct to give people jobs that are too big for them and then yell at them for it or send them home for it. It's not fair, so to me my number one thing whenever doing Worst Cooks is to teach, and that people take away from this experience, like, "Wow, I really learned something, and it has changed my life."
What's your plan to win this competition to regain your winning record?
I don't think I'm going to change my plan. It's done pretty well for me so far. My record is 6 and 2, so I plan on making it 7 and 2.
Tune into Worst Cooks in America on Sundays at 9|8c to see Anne's mentoring methods in action.
More posts from Joseph Erdos.
Similar Posts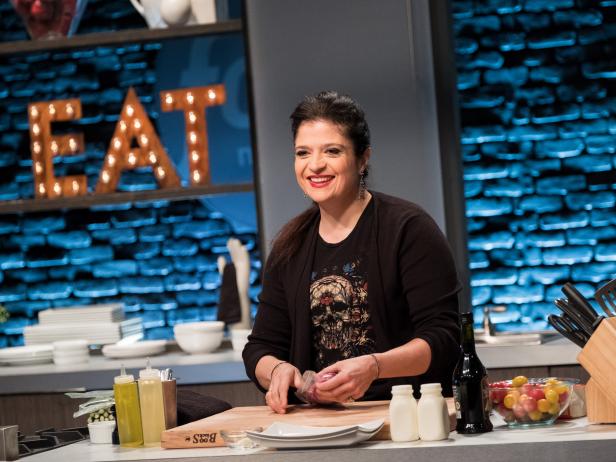 Get all the details on the upcoming premieres this weekend on Food Network....