One look at these recipes and you might think you know what's what: a cheesy pizza, a big bowl of rice, a classic layered lasagna. But look closer and you'll uncover every dish's hidden treat: Each one is made possible (and more flavorful, and healthier) by cauliflower.
The delivery man sure didn't drop this pizza at your doorstep. Though it's cut into triangles and doused in sauce and cheese like your go-to slice, it's not your average pizza at all. In fact, Ree Drummond reinvents pizza crust with her Cauliflower Crust Pizza, which nixes the flour and still manages to create a crazy-good pizza foundation. Even if you aren't going gluten-free, a slice of this veggie-packed pizza will have you on board with the alternative.
We aren't tater haters here, but these Baked Cauliflower Tots give the fried potato kind a run for their money. Thanks to a crunchy breading, a hot oven and a little cooking spray, you get a lighter take on the beloved crispy finger food, made for snacking to your heart's content.
Nearly anyone can slide pasta out of a box and transform it into the comfort food favorite: mac and cheese. But a special kind of cook goes for Cauliflower Mac and Cheese instead, reeling in the texture and flavor of the veggie. And, at least by the looks of it, kids and adults alike might not even notice that a veggie is hiding in plain sight.
A mountain of mashed potatoes may be the current go-to for your gravy boat, but potatoes aren't the only veggie that can attain this famously velvety texture. These silky Mock Mashed Potatoes aren't made with mashed potatoes at all. Instead, blending cauliflower creates a dead ringer that'll undoubtedly necessitate second helpings.
You might be accustomed to a mound of rice spooned onto your plate, but these omnipresent little grains aren't the only food that boasts such a fluffy texture. Transform a head of cauliflower into Healthy Sicilian Cauliflower Rice by breaking down the florets in a food processor until the texture resembles rice or couscous.
Give classic lasagna a makeover by incorporating cauliflower, an ingredient with serious star power. After roasting it in the oven until tender, use this hearty veg in two ways: Blend it into ricotta for texture and stack it in the lasagna for meatiness in place of beef or sausage. Once you try Roasted Cauliflower Lasagna, using lasagna noodles alone just won't cut it again.
Your consumption of Buffalo sauce might take the form of spicy wings more often than not, but this cauliflower copycat takes the cheer-your-team sauce in a new meatless (and healthier) direction: Buffalo Cauliflower with Blue Cheese Sauce. Plunge spicy cauliflower florets into cool, creamy blue cheese and, trust us, you'll get all the heat without the bother of nibbling anything off the bone.
Check out more cauliflower recipes from our friends at #FallFest:
Hey Grill Hey: Grilled Cauliflower Steaks with Burst Tomato Salad
Devour: 4 Sneaky Ways to Replace Carbs with Cauliflower
The Wimpy Vegetarian: Curried Cauliflower "Risotto" with Apples
Taste with the Eyes: Not Your Average Crudités Platter
Healthy Eats: All the Ways to Eat Cauliflower
In Jennie's Kitchen: Turmeric & Ginger Roasted Cauliflower
The Mom 100: Sauteed and Braised Cauliflower with Mustard Seeds and Green Peppercorns
Swing Eats: Cauliflower Fritters With Cheese, Jalapeño And Cilantro (Gluten-Free)
Creative Culinary: Whole Roasted Cauliflower with Parmesan and Cheddar Cheese Frosting
The Mediterranean Dish: Chickpea Stew and Cauliflower
TasteBook: Whole-Roasted Cauliflower with Hazelnut Gremolata
More posts from Allison Milam.
Similar Posts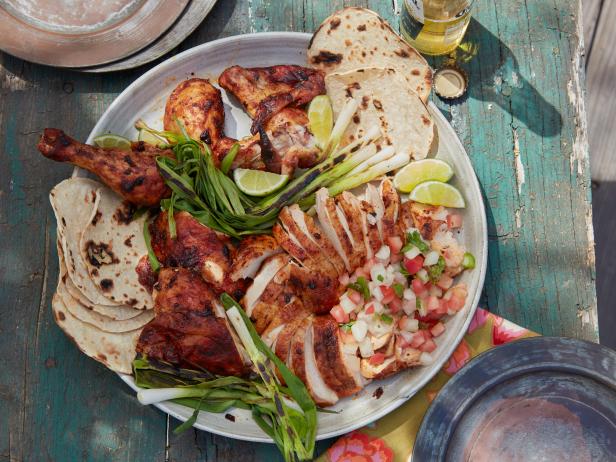 A little preparation means you can enjoy cookouts as much as your guests....