10 Things I Ate About You finds 10 enticing bites in smaller cities from coast to coast.
Sacramento (aka California's state capital) is known for its 28 museums, the Sacramento Kings of the NBA, and the quaint Gold Rush-era Old Sacramento district and state park. But it has recently rebranded itself as "America's Farm-to-Fork Capital" — and that title is true. The restaurants here have long relied on local farms and ranchers. Now more than ever the city has a vibrant and varied food scene that's drawing culinary-minded crowds from across the state and beyond.
Hook & Ladder Burger at Hook & Ladder Manufacturing Co.
Rooted in the past and flourishing in the present, Hook & Ladder is housed in a historic space that has been transformed into a hip spot with a casual, fun vibe. The restaurant offers happy hour specials during the week and is open until 1 a.m. on Fridays and Saturdays. Along with the superb cocktails, the stellar farm-to-table menu is a definite draw. Options include excellent thin-crust pizzas, housemade pasta and charcuterie. But the creativity in the kitchen really shines through with the burger that is changed up daily. The patty might come topped with pancetta, infused with spicy jalapenos or smothered with guacamole — it's anyone's guess on any given day. Weekend brunch brings a burger crowned with a sunny-side-up egg, crisp bacon, a hearty slab of tomato, melty cheddar cheese and a slick of Calabrian chili aioli. These craveworthy burgers may just be the restaurant's ultimate hook.
Maya Margarita at Mayahuel
Ernesto Delgado's Mayahuel is named for the Aztec goddess of the agave, so it's no surprise that the restaurant offers an extensive collection of the potent elixirs (namely tequila and mezcal) produced from this native plant of Mexico. Opt for a Maya Margarita and you'll get a drink made with agave and fresh lime juice instead of triple sec, making for a fresher and brighter riff on the standard cocktail recipe. Delgado, a native of Michoacán, has also dreamed up a dazzling cornucopia of dishes that have long been considered some of the best Mexican food in Sacramento. This upscale Mexican restaurant, which is located downtown, features a dramatic interior that perfectly complements its vibrant cuisine and cocktails. Under high ceilings are the bold colors of Mexico in the form of murals, prints and folk art, making Mayahuel feel modern yet still comfortable.

Chicken Fried Mushroom Po-Boy at Mother
In the midst of this capital city teeming with lobbyists and politicians sitting down to power lunches, Mother is a refreshing find: an uber-casual, Southern-style restaurant doling out innovative vegetarian dishes (with plenty of vegan and gluten-free options to boot). While impeccable salads come as no surprise, it's a sandwich that's the sleeper hit. The Chicken Fried Mushroom Po-Boy is served in a classic style with shaved iceberg lettuce on a French roll. The contrast of juicy mushrooms, crunchy breading and yielding bread with the punch of hot sauce and pickles is unbeatable.

Lasagne Verdi alla Bolognese at Biba
So passionate is Bologna native Biba Caggiano about Italian cuisine that she remains steadfastly devoted to her namesake restaurant, still overseeing everything here as Biba continues into its 30th year in business. Her dedication shines through in the classic Italian dishes that draw locals back again and again. The lasagna is one such labor of culinary love. This comforting creation features 10-plus layers and is made in the traditional style with bechamel sauce and Parmigiano-Reggiano. It takes four people just to roll out the noodles and three and a half hours to make the Bolognese sauce. The dish is only available on Thursdays and Fridays, but even so, the restaurant goes through a staggering 100 pounds of lasagna per week.

Herb Roasted Marys Organic Chicken at Empress Tavern
Though dubbed one of the hot new restaurants in Sacramento, the Empress Tavern is actually very old fashioned in many ways, starting with its meat-centric menu rife with hearty classics. Think of it as a modern incarnation of a classic California-style hofbrau offering a range of comfort food that's not too expensive or precious. The selection, which is prepared in an open kitchen, includes old-school short rib stroganoff, Parker House rolls and a French dip sandwich with a choice of prime rib, turkey or pork belly. A crowd favorite is the Herb Roasted Marys Organic Chicken. Juicy and flavorful, it comes with a punch of chimichurri and marble potatoes. The setting is as nostalgia-inducing as the dishes themselves, as the tavern's vaulted brick ceilings (a perk of its subterranean location under the Empress Theater) feel like a throwback to another era.

Parisian Macaron Ice Cream Sandwiches at Ginger Elizabeth
The petite Ginger Elizabeth boutique looks like the sort of sweets-stocked gem that you'd expect to stumble upon in Paris. It's fresh, clean and gleaming with enough confections to satisfy Willy Wonka. Ginger Elizabeth Hahn is the classically trained pastry chef and chocolatier responsible for the shop's many French-style macarons, exquisite chocolates in beguiling flavors (think buttermilk lime, Earl Grey tea and Maya chile) and luscious ice creams. Her ingenious macaron ice cream sandwiches come in flavor combinations that include caramelized milk and coffee as well as lemon gingersnap.

Special Sushi at Kru
Perhaps it takes a chef of Chinese descent who was born in Vietnam and grew up in Sacramento to bring a fresh approach to what is anything but a standard Japanese restaurant. Chef Billy Ngo is certainly proving this theory correct with his work at Kru. The restaurant features a fusion of Asian, European, and American ingredients and techniques, with a heavy influence of Japanese sushi and traditions woven throughout. It's a winning combination, as evidenced by a clientele that includes chefs who travel from as far away as San Francisco to dine here on their nights off. Stick with the weekly specials to get a taste of the most-creative and seasonal options. The exquisite sushi is expertly prepared, offering the perfect balance of fish and rice. Specials include seasonally available fish and mash-ups that make use of unexpected ingredients (think kimchi yuzu, corn dashi and fresh lemon cucumbers). Though currently in the process of moving, Kru is slated to reopen in October.

Tomato Salad at Grange
Grange is one of several restaurants that celebrate the flavors of California's Central Valley with seasonal menus that showcase fresh ingredients from local farms. But Chef Oliver Ridgeway at Grange just seems to do it a little bit better. The food is deceptively simple, but it's always bursting with vibrant flavor. An excellent place to explore California wine, Grange's wine vault contains more than 1,000 bottles of wine from all over the state. Located on the elegant ground floor of The Citizen Hotel, the restaurant also offers spectacularly fresh and beautifully plated salads year-round; one particularly striking option is the tomato salad. Served with fromage blanc, pickled onions, tarragon, balsamic vinegar and olive oil, this artful salad shimmers with vivid colors and bright notes.

Pad Kee Mao (Drunken Noodles) at Thai Basil
Don't let Thai Basil's appearance fool you. Though it looks like a typical Thai restaurant with its relaxing green interior adorned by folk art from the home country, it's offering anything but run-of-the-mill food. The chef and owner, Suleka Sununsangthong, returns to Thailand annually for inspiration, then modifies traditional recipes to incorporate Sacramento's local and seasonal ingredients such as asparagus and Meyer lemons. Take the Pad Kee Mow (or Drunken Noodles), for instance. The glutinous rice noodles are pan-fried in a rich soy-based sauce along with garlic, chiles and tomatoes, then heaped onto a bed of fresh romaine lettuce, crunchy bean sprouts and spicy arugula.
Farm Plate at Localis
Localis provides the opportunity to "offer the experience I look for when dining out to other food lovers," Chef Chris Barnum says. He seems to have hit the mark, as the restaurant has earned rave reviews from many a culinary-minded local. Its small, cozy space offers a look into the kitchen, while the existence of both a modest a la carte menu and an ever-changing chef's tasting menu extends a varied range of dining options. True to the restaurant's name, the dishes revolve around local farmers and other passionate food purveyors. The chef doesn't write menus — he lets the farmers tell him what will be on the menus. One constant, however, is the Farm Plate; pickled, roasted, cured or raw, the vegetables always tastes fresh and clean.
Photos courtesy of Hook & Ladder Manufacturing Co., Mother, Biba, Empress Tavern, Roy Wilcox, Kru, Grange and Thai Basil
More posts from Amy Sherman.
Similar Posts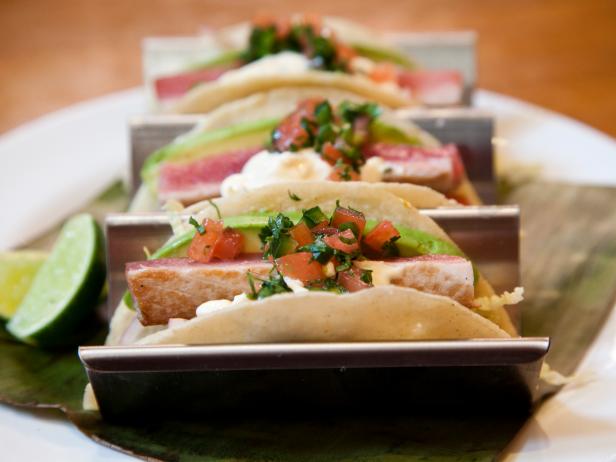 Hip spots are shaking up Magic City's Mexican-food scene with bold fillings and housemade tortillas....