The flavorless tomato wannabes that usually inhabit the produce section have gone into hiding, and plump and juicy in-season beauties have taken their place — at least for the time being. Now, and we really mean right now, is the time to bring fresh, super-sweet tomatoes into your kitchen, and these are the best recipes for you to make with tomatoes.
Combine ruby-red tomatoes with another in-season gem, watermelon, for Alex Guarnaschelli's Tomato and Watermelon Salad. Each bite of the sweet, balanced salad comes with a surge of juicy refreshment.
Multicolored, flecked-and-striped heirloom tomatoes are almost too pretty to do any major fiddling with. Keep their integrity intact and splay slices of these juicy jewels onto a buttery crust for Food Network Magazine's Heirloom Tomato Pie.
Panzanella, a Tuscan bread salad, is perfect for housing slices of uber-juicy tomatoes, with the crusty morsels of toasted bread soaking up the juices just right. Giada De Laurentiis' tasty, vibrant Artichoke and Tomato Panzanella is filled with color and ready to go in under 20 minutes.
You can pour a glug of tomato sauce out of a jar anytime. But now is the time for a fresher pasta topper. That's where Food Network Kitchen's One-Pot Spaghetti with Fresh Tomato Sauce comes in. After just 20 minutes of cooking, the spaghetti, tomatoes, garlic and fresh basil make their own sauce, and the pasta goes from raw to al dente all in one pot.
Ina Garten's go-to appetizer base is store-bought puffy pastry, and she crowns rounds of it with juicy tomato slices and tangy goat cheese to make easy Tomato and Goat Cheese Tarts.
If any soup is in order during the dog days of summer, it's gazpacho. Food Network Kitchen's Charred Tomato Gazpacho calls for 3 1/4 pounds of vine-ripe tomatoes. Blend the tomatoes together with bread, sherry vinegar, spices and more to achieve the balanced chilled-soup sweet spot.
Check out more tomato recipes from our friends of #SummerSoiree:
Feed Me Phoebe: Steamed Clams with Chorizo, Tomatoes and Kale
The Mediterranean Dish: 10 Fresh Tomato Recipes with a Mediterranean Twist
The Mom 100: Pasta with Fresh Tomato Sauce
Homemade Delish: Roasted Tomato and Poblano Salsa
The Wimpy Vegetarian: Easy Summer Tomato Tart with Artichoke Spread
The Heritage Cook: Tomato and Cucumber Summer Salad (Gluten-Free)
Devour: Praise Caprese with 6 Twists on Tomato Salad
Healthy Eats: How to Use Up Your Last Batch of Fresh Tomatoes
Creative Culinary: Fresh Tomato Summer Pie
In Jennie's Kitchen: Classic Caprese Salad
Napa Farmhouse 1885: Tomato, Peach & Melon Salad
Taste with the Eyes: For Tomato Lovers Only
More posts from Allison Milam.
Similar Posts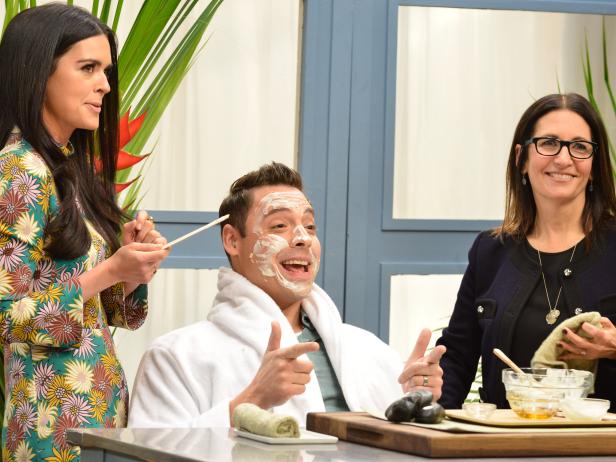 You don't have to travel somewhere exotic to make the most of your time off....