Baking can be a testy topic. Half science, half magic, it often demands precision and attention to detail that can be intimidating to even seasoned home cooks. Here's the good news: Tessa Huff of Style Sweet CA is here with her new cookbook, Layered, to dispel baking myths and to tell us how to fix common baking mistakes. Layered will inspire even timid home bakers to fire up their ovens and create something that's as beautiful as it is delicious.
Read on below to hear from Huff about how to prevent overbaked treats and stubborn frostings, then get her recipe for the over-the-top-indulgent Cinnamon Roll Cake pictured above.
What common baking failures do you see come out of home kitchens most often, and how can they be avoided?
Tessa Huff: Failure: Under- or overbaked goods. Fix: Get an internal oven thermometer to see if your oven temperature is accurate and adjust accordingly.
Failure: Batters and frostings that don't come together smoothly. Fix: Make sure that your ingredients are the correct temperature before getting started. Many recipes call for the butter, eggs, and milk to all be room temperature.
Failure: Cake fillings that squish out the sides. Fix: To solve this, pipe a ring of frosting on each layer of cake before filling to create a "frosting dam."

What's one myth about baking that you wish you could debunk once and for all?
TS: The myth that baking is difficult. It's true that there is more science in baking than cooking, but it doesn't need to be difficult. Follow the instructions in recipes until you are comfortable with how things should feel/look, and know when it is important to be precise and when it is OK to switch things up.
What's one assumption people make about baking that you've found to be true?
TS: Frosting a smooth cake can in fact be tricky. It takes practice and knowing the correct consistency of your icing.
Are there any hard-and-fast rules for combining cake, filling or topping flavors that home cooks should abide by?
TS: The best thing about layer cakes is being able to combine different flavors and textures to create unlimited combinations. With that in mind, I recommend keeping the sweetness and richness balanced — you probably wouldn't want as thick of a layer of sweet fruit filling or decadent ganache as you would a simple buttercream between your layers of cake.
Get your own copy of Layered just in time for the fall baking season here.
Cinnamon Roll Cake
Makes One Two-Layer 8-Inch (20-Cm) Cake; Serves 10 to 12
My husband, Brett, and his siblings were often treated to cinnamon rolls on the weekends. Brett is the youngest child by many years and always got to select which roll he wanted first. Being the big sweet tooth that he is, he remembers always picking the one from the middle of the pan — the one with the most frosting. Clever kid! I developed this cake with him and the roll in the middle of the pan in mind. The cream cheese in this Cinnamon Roll Cake makes it extra rich and velvety, while the ribbons of cinnamon throughout give it a punch of flavor. Serve it as a special weekend breakfast treat or to celebrate with any cinnamon roll enthusiast.
For the Cinnamon Swirl Cake
Butter or nonstick cooking spray, for the pans
2 1/4 cups (295 g) cake flour, plus more for the pans
2 teaspoons baking powder
1/2 teaspoon salt
1/4 cup (60 ml) sour cream
1/2 cup (120 ml) whole milk
1 cup (2 sticks/225 g) unsalted butter, at room temperature
4 ounces (115 g) cream cheese, softened
1 1/2 cups (300 g) granulated sugar
2 teaspoons vanilla bean paste
3 large eggs
1 large egg yolk
4 tablespoons (1/2 stick/55 g) butter, melted
1/4 cup (55 g) firmly packed brown sugar
2 teaspoons ground cinnamon
For the Cinnamon Crumble
1/2 cup (65 g) all-purpose flour
1/3 cup (75 g) firmly packed brown sugar
4 tablespoons (1/2 stick/55 g) unsalted butter, at room temperature
1 tablespoon honey
2 teaspoons ground cinnamon
For the Cream Cheese Frosting
8 ounces (225 g) cream cheese, softened
3/4 cup (1 1/2 sticks/170 g) unsalted butter, at room temperature
3 cups (375 g) confectioners' sugar, sifted
2 tablespoons whole milk
1 1/2 teaspoons vanilla bean paste
For the Cinnamon Syrup
1/2 cup (100 g) granulated sugar
1/2 teaspoon ground cinnamon
⅛ teaspoon salt
1 tablespoon unsalted butter
1 tablespoon all-purpose flour
Make the Cinnamon Swirl Cake:
1. Preheat the oven to 350 degrees F (175 degrees C). Grease and flour two 8-inch (20-cm) cake pans and set aside.
2. Sift together the flour, baking powder, and salt and set aside.
3. Stir together the sour cream and milk and set aside.
4. In the bowl of a stand mixer fitted with the paddle attachment, beat the butter and cream cheese on medium speed until smooth. Add the granulated sugar and mix on medium-high until light and fluffy, 3 to 5 minutes. Stop the mixer and scrape down the bowl.
5. Turn the mixer to medium-low and add the vanilla, then add the eggs and egg yolk one at a time.
Stop the mixer and scrape down the bowl.
6. Turn the mixer to low and add the flour mixture in three batches, alternating with the milk mixture, beginning and ending with the flour mixture. Mix on medium for no more than 30 seconds after the last streaks of the dry ingredients are combined.
7. In a small bowl, mix together the melted butter, brown sugar, and cinnamon.
8. Pour one-quarter of the batter into each of the prepared pans. Spoon one-quarter of the cinnamon mixture on top of the batter in each pan and use a wooden skewer or the tip of a knife to gently swirl it. Divide the remaining batter between the pans. Divide the remaining cinnamon mixture between the pans and gently swirl it. Bake for 24 to 26 minutes, or until a toothpick inserted into the center of the cakes comes out clean. Let them cool on a wire rack for 10 to 15 minutes before removing the cakes from their pans.
Make the Cinnamon Crumble:
9. While the oven is still at 350 degrees F (175 degrees C), line a baking sheet with parchment paper.
10. In a medium bowl, mix together the flour, brown sugar, butter, honey, and cinnamon with a wooden spoon until combined. The mixture should resemble little clumps of sand. Sprinkle them over the lined baking sheet and bake for 8 to 10 minutes, stirring halfway through, or until golden brown. Let the crumble cool before use.
Make the Cream Cheese Frosting:
11. In the bowl of a stand mixer fitted with the paddle attachment, beat the cream cheese and butter together on medium speed until smooth. With the mixer on low, gradually add the confectioners' sugar, milk, and vanilla until incorporated. Turn the mixer up to medium-high and mix until the frosting is fluffy.
Make the Cinnamon Syrup:
12. Just before assembling the cake, in a saucepan, place 2 tablespoons water with the sugar, cinnamon, and salt. Heat over medium-high until the sugar has completely dissolved and the mixture starts to simmer. Remove the pan from the heat and stir in the butter until melted. Mix in the flour until combined.
13. Let the syrup cool slightly, then use it immediately before it thickens.
Assemble the Cake:
14. Once the cakes have completely cooled, level them and choose which layer will be at the bottom. Place it on a cake plate or serving dish. Spread on half of the cream cheese frosting with an offset spatula. Sprinkle it with the cinnamon crumble pieces. Drizzle half the cinnamon syrup over the top. Top with the second layer of cake and repeat with the remaining frosting. Use a spoon and a zigzag motion to drizzle the remaining cinnamon syrup across the top layer of cake, letting it drip over the edges. Discard any extra syrup.
Baker's Notes:
The cinnamon crumble may be made in advance and stored in an airtight container for up to 1 week. The cake will keep in the fridge for up to 3 days. Got leftovers? Sprinkle extra cinnamon crumble over ice cream!
Text and photographs copyright © 2016 Tessa Huff, reprinted with permission from Stewart, Tabori & Chang, a division of ABRAMS Books.
More posts from Mallory Viscardi.
Similar Posts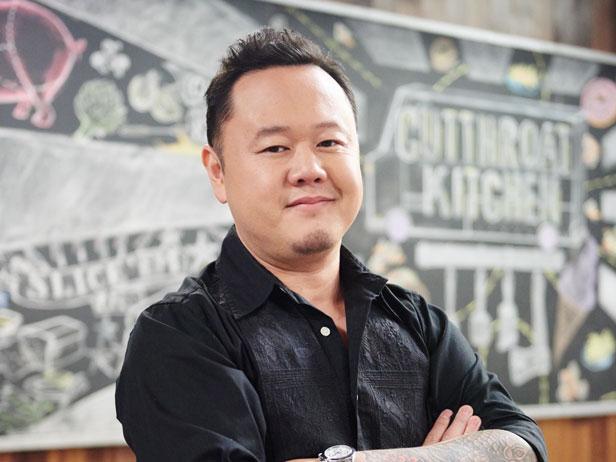 Find out how you can enter to win a copy of Jet Tila new cookbook....