10 Things I Ate About You finds 10 enticing bites in smaller cities from coast to coast.
Fresh air can feed the appetite — and there's plenty of it in Jackson Hole, Wyo. This outdoorsy destination is a top spot for those seeking nature in spades, as it's nestled alongside the Teton Range. Jutting straight out of the earth, with none of the usual foothills in front, the mountain range is one of the country's most stunning. In addition to the breathtaking views, visitors flock to these majestic slopes for world-class skiing. But winter isn't the only busy season. Along with the copious outdoor activities offered year-round in the natural environs that surround it, Jackson Hole also draws tourists with its myriad of dining options. The town's Old West vibe belies its sophisticated culinary scene, which features a diverse array of cuisines informed by both local and international influences. Here's where to satiate your appetite in any season.
Mezze Plate at Figs
Ensconced in the base of downtown's Hotel Jackson, Figs offers Mediterranean-inspired Wyoming cuisine, which translates to coastal flavors paired with local ingredients. Take the bison rib eye, for example. It's served with purple barley, green beans, pistachio and Urfa chile. The shareable mezze plate is by far the restaurant's most-popular dish. Fresh, fluffy pita is made to order and served hot off the grill with traditional dips. The hummus is made from organic garbanzo beans and punched up with plenty of pepper and spice notes that cut through its creaminess. The baba ghanoush also incorporates strong flavors: A smoky, meatlike eggplant base is highlighted with cumin and sumac. Fresh tabbouleh follows the owner's family recipe, incorporating a blend of organic herbs, vegetables, imported bulgur and extra virgin olive oil.

Elk Ragu Lasagna at Il Villaggio Osteria
Il Villaggio Osteria is an upscale Italian restaurant from Fine Dining Restaurant Group (Q Roadhouse & Brewing Co., The Kitchen, Bin 22). Intended to mimic the casual family-oriented restaurants found throughout the motherland, this Teton Village spot features homemade pastas, pizza cooked in a wood-stone oven and seasonal salads, all in a relaxed yet refined environment. Opt for a seat on the outdoor patio near the fireplace or a heater, and start the meal off with imported cheeses and salumi. Then, order the elk ragu lasagna. For textural purposes, the pasta in this particular dish is not made in-house (dried pasta achieves the ideal al dente feel), but this lasagna is arguably the ideal confluence of the Italian Alps and Wyoming. Rich elk ragu is layered with creamy bechamel, nutty Parmigiano Reggiano and fruity Emmental cheese. Large squares are cut, then baked until bubbling and served sizzling hot.

Lotus Beef Banh Mi at Lotus Cafe 
Sustainable, organic farming is at the heart of this cafe, which offers something for every style of diner, from the meat-and-potatoes types to the hardcore vegans. Absolutely every ingredient is organic, including the potatoes and safflower oil used to make the fries. The menu is rife with healthy riffs on global dishes, such as raw pad Thai, kimchi soup and bison tacos. A highlight is the Lotus Beef Banh Mi. To start, the sandwich is built on high-quality sourdough that's sourced from 460 Bread just across the Idaho border. Next comes locally grown, grass-fed beef, finished by Lockhart Cattle Company. Then, layers of fresh cilantro, chiles, cucumber, carrot and house-pickled red onion are added to brighten the meat. The sandwich is finished with a slick of Lotus-made creamy lemon-chili-ginger sauce. A side of truffle fries completes the plate.

Pork Posole Verde at Pica's Mexican Taqueria 
Considered by many to be Jackson Hole's best Mexican place, Pica's has earned praise from both local and national press. The margaritas incorporate fresh-squeezed juice. The tortillas are made in-house, daily. The pork posole verde is a definite favorite and even earned an appearance on Diners, Drive-Ins and Dives. The dish starts with a base of jalapenos and tomatillos, scented with caramelized onions and cumin. Sauteed pork and hominy are added to the mixture, which is cooked down to ensure maximum melding of flavors. The stew is then ladled into a bowl and finished with fresh cabbage, cheese, cilantro, a squeeze of lime and a fried tortilla. It's a warming dish, perfect after a day on the mountains.

BBQ Pork with Sticky Rice at Teton Thai 
Authentic Thai doesn't top the list of cuisines one would expect to find in Jackson Hole. But it's there, and it's darned good. For more than a decade, Teton Thai has been consistently racking up accolades for its pungent Southeast Asian fare. Spice-packed dishes evoke the fiery flavors of Chiang Mai. With a customizable spice scale that ranges from 1 to 5, a 4 can easily bring even the most-ardent heat lovers to tears — in a good way, of course. Such can be the case when ordering the BBQ pork with sticky rice, if you opt to dial up the heat factor. No matter which way you order it, this dish is a menu standout. Thin strips of pork fillet are lightly glazed in a sweet sauce, adorned with sesame seed and cilantro, then served with a side of savory chile-filled sauce and a basket of sticky rice.

Build-Your-Own Bagel Sandwich at Pearl Street Bagels
You know a bagel is good if it can satiate the cravings of a former New Yorker. When the mood hits, Big Apple expats head to one of the two Pearl Street Bagels locations. In the East Coast tradition, dough is made on-site in the Jackson location daily. It's boiled and baked throughout the day. And, as in many old-school shops, there are no toasters on either premises. For the purists, about a dozen flavors are offered with choice of cream cheese and toppings. Build-your-own sandwiches are available for those who are a little less rigid … and a lot more ravenous. Go Mediterranean with a spinach-feta bagel topped with sliced tomato, pesto and cheese.

Local Burger at the Local Restaurant & Bar
Run by the team behind The Local Butcher, this carnivore-centric spot overlooks Jackson Hole's historic town square. It not only has an ideal location, but also serves the best beef in town. Meat is sourced from local and regional farms that pasture-raise their animals on grass and forgo the use of hormones or unnatural additives. The beef is ground in-house in a custom blend for the restaurant's signature Local Burger. Single, double or triple patties are cooked on the flat-top grill, then stuffed into a sesame bun, along with lettuce, house mayonnaise, pickles and extra toppings if you so choose. Pro tip: Opt for the double with blue cheese and add on a customized option like tomato jam, bacon, caramelized onion or tasso ham. Each burger comes with a choice of local fries, side salad or kettle chips.

S'mores Cookie at Persephone Bakery Boulangerie & Cafe
Located just a few blocks from Jackson Hole Town Square, Persephone offers fantastic cafe dishes in a casual setting composed of an airy, Instagram-ready interior and a peaceful outdoor patio. Those in the know seek out this spot's artisanal pastries and breads. The latter are used in an excellent selection of breakfast and lunch dishes. The former pair well with the extensive list of coffees and teas. The s'mores cookie must not be missed. Persephone's version of Nutella adds to the richness of this indulgent treat, which stars toasted meringue sandwiched between two housemade, chocolate-dipped graham crackers. It's most definitely an amped-up version of the classic campfire standard.

Mushroom Toast at Spur Restaurant
Nestled in the base of Teton Mountain Lodge & Spa, Spur Restaurant takes "mountain cuisine" to new heights. Executive Chef Kevin Humphreys prepares elevated homestyle dishes influenced by the seasons, which makes for a menu of hearty mains like grilled South Dakota buffalo rib eye, as well as a Duroc pork chop served with sweet potato-and-kale hash, along with chorizo vinaigrette. Lighter on the protein, with subtle meaty notes, the mushroom toast is a satisfying starter year-round. The dish begins with a medley of mushrooms, such as hen of the woods and brown beech, which are roasted with herb butter to bring out their earthy goodness. The roasted mushrooms are heaped atop toasted potato bread, then finished with truffle vinaigrette infused with real shaved black truffle and a soft-poached egg.

Fish and Chips at Rendezvous Bistro
The flagship of Fine Dining Restaurant Group, and the first eatery the group opened, Rendezvous has been a Jackson Hole mainstay since 2001. It offers globally influenced French and American bistro fare in a comfortable dining room with a down-to-earth ambience. This combination has garnered a loyal following of locals, with many regulars dining here multiple times per week on dishes like steak frites and grilled barramundi with Thai cucumber broth. The menu changes seasonally, but the fish and chips are this summer's must-try appetizer. In a literal interpretation of the English classic, halibut is crusted in roughly crumbled potato chips before hitting the fryer, making for crisp flakes of salty ruffled chip in many a bite. Each piece of halibut comes adorned with fried capers and perched atop sweet dill remoulade, offering a new twist on tartare sauce.
Photos courtesy of Figs, Kendra Alessandro, Hannah Hardaway Photography and Sara Ventiera
More posts from Sara Ventiera.
Similar Posts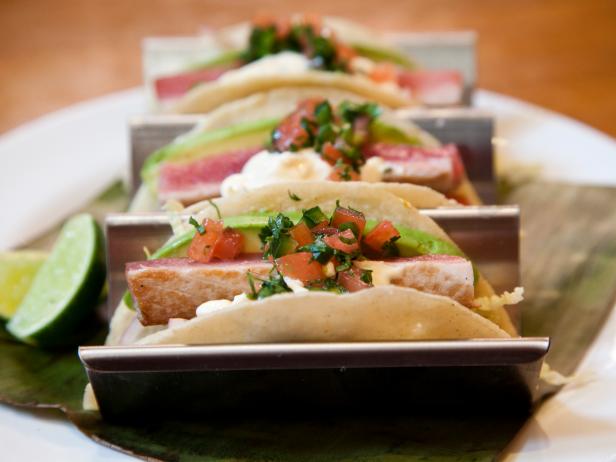 Hip spots are shaking up Magic City's Mexican-food scene with bold fillings and housemade tortillas....