Chefs' Picks tracks down what the pros are eating and cooking from coast to coast.
With the (literal) salad days of summer upon us, a simple vinaigrette is a wonderful way to add a refreshing burst of flavor to leafy greens and other vegetables. For most culinary professionals, no bottled dressing will do — chefs across the country create their own riffs on this classic by experimenting with different acidic ingredients to really make those flavors pop. We got the lowdown from several pros on the go-to vinaigrettes they use to pep up salads and more.
An Infusion of Savory Flavors
The number of dominant flavors featured in Columbus Tap's innovative vinaigrette may seem somewhat unexpected, but the resulting combination works well to create a unique umami taste. At this Chicago brew-focused spot, the savory dressing is drizzled over roasted or charred vegetables. "When you eat a spoonful or have it draped over the charred broccoli as it is served, all you get is delicious savory flavor, the true definitely of umami," says Chef Atticus Garant. In addition to dressing up vegetables, this vinaigrette can also be used to enhance seafood, smoked items and lighter proteins.
Umami Bomb Vinaigrette
3 1/2 tablespoons sun-dried tomato
2 tablespoons white anchovies
2 tablespoons capers
2 tablespoons shallots
4 teaspoons confit garlic
4 teaspoons fried confit garlic
1 tablespoon tomato powder
1/2 teaspoon lemon zest
2 1/4 teaspoons lemon juice
2 1/4 teaspoons parsley
7 tablespoons olive oil
1 teaspoon kosher salt
Finely chop the sun-dried tomato, anchovy, capers, shallots, confit garlic and parsley. Combine all ingredients, then mix well. Adjust seasoning as desired. Store in a sealed container.
An Asian and Middle Eastern Medley
Patrick Fleming of the Asian-inspired Boke Bowl in Portland, Ore., prepares a preserved-lemon vinaigrette to enhance his dishes. Fleming's version is so versatile that he utilizes it as a dressing, as a dipping sauce for vegetables and meats, and also as a marinade. "It is a great example of how Asian and Middle Eastern flavors can cross over," Fleming notes.
Preserved Lemon Vinaigrette
For the preserved lemons:
5 lemons
1/2 to 3/4 cup salt
One 16-ounce Mason jar
Quarter the lemons from top to bottom leaving 1/2 inch uncut so they stay intact. Place lemons in a bowl and pack the inside with salt. Pack lemons tightly in Mason jar, then pour remaining salt until lemons are covered. Let lemons macerate for a couple of weeks, shaking every couple of days until they are soft and supple.
For the vinaigrette:
1/2 cup tahini paste
1 tablespoon garlic, minced
1 bunch green onions, oiled, grilled and rough chopped
1 ounce preserved lemon skin rinsed and minced
1 tablespoon preserved lemon pulp
1 cup lemon juice
1/4 cup tamari
4 ounces mirin
6 ounces canola oil
Water (if needed to thin vinaigrette)
Place tahini, garlic, green onions, lemon skin and pulp in food processor, then turn on. Slowly add lemon juice, tamari and mirin until fully combined. Slowly drizzle in oil until fully combined. Add water if the mixture becomes too emulsified.
A Crisp, Apple-Centric Take
Chef James Rigato of the seasonally focused The Root Restaurant and Bar in White Lake, Mich., keeps it local with his hard-cider vinaigrette. Though any semisweet cider will work in this recipe, Rigato uses Spicer, a brand that's made by a nearby orchard from apples grown right on the premises. The cider lends a dry, tangy flavor to this vinaigrette. Rigato serves the dressing atop the restaurant's Orchard salad, which is brimming with Spicer's apples and Michigan dried cherries, Saga blue cheese, pickled onion and crispy housemade bacon. "It is a crisp, fresh dressing that highlights the apples and dried cherries of this Michigan-centric dish," Rigato notes.
Spicer's Hard Cider Vinaigrette
Yield: 8 servings
Total Time: 5 min
1 1/2 tablespoons thyme
6 roasted garlic cloves
1 1/2 tablespoons Dijon mustard
2 tablespoons plus 2 teaspoons honey
1/2 bottle hard cider
3/4 cups apple cider vinegar
1 1/2 cups vegetable oil
Combine all ingredients in a large bowl. Whisk until combined. Pour over salad to serve.
A Sweet-and-Sour Spin
Champagne-Honey Vinaigrette has become a staple at BlueStem in Kansas City, Mo., which serves progressive American cuisine. The restaurant uses its version of vinaigrette in multiple dishes, including a pear salad studded with pecans, cheese, watercress and white grapes. "This dressing has such a nice balance of sweet and sour and is extremely versatile," explains Chef Colby Garrelts. In addition to using the vinaigrette on salads, he suggests serving it over cooked leeks or drizzling a tablespoon or two over just-cooked scallops.
Champagne-Honey Vinaigrette
Yield: about 1 cup
1 cup champagne vinegar
1/3 cup olive oil
1 tablespoon freshly squeezed lemon juice
1/3 cup honey
Combine all the ingredients in a nonreactive bowl, adding the honey last to prevent it from sticking to the bottom of the bowl. Whisk vigorously until combined. Tightly sealed, the vinaigrette will keep in the refrigerator for up to 1 month. Before using the vinaigrette in a recipe, bring the vinaigrette back to room temperature and re-whisk to combine.
Photos courtesy of Columbus Tap, Boke Bowl, The Root Restaurant and Bar, and BlueStem  
More posts from Samantha Lande.
Similar Posts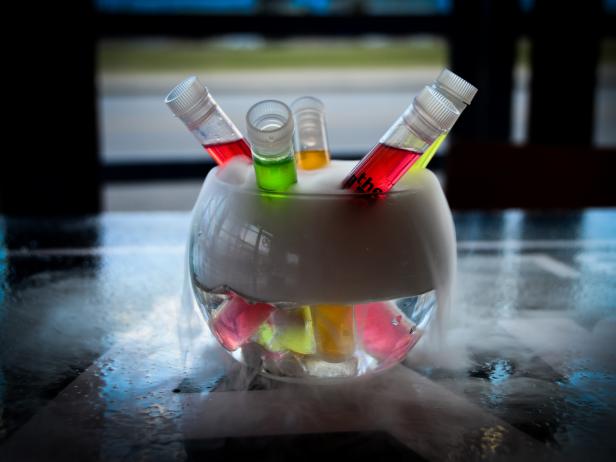 To celebrate the total solar eclipse, restaurants and bars are adding a bit of starry magic to their menus with items inspired by this rare celestial ...