A simple side of coleslaw might not look like something special, but we've learned — from summer after summer of piling it onto our plates and sandwiches — that a good slaw is so much more than a store-bought bag of shredded cabbage. It adds crunch; it brings on tang; it is the most refreshing, invigorating bite on any summer plate. And we've got just the recipes to make you appreciate it anew, each in its own way.
Make It Smoky
Kelsey Nixon's Tangy Coleslaw with Smoked Corn and Lime Dressing fits right into the barbecue. You start by smoking ears of fresh corn for a real taste of the backyard barbecue, before combining the kernels with fresh ingredients like red and purple cabbage, bell peppers and jalapeno, plus a tangy honey-lime vinaigrette.
Keep It Simple
Sure, it might look like just shredded cabbage and carrots, but one bite of Bobby Flay's Creamy Coleslaw will have you believing in the powerful union of a good, tangy dressing and crunchy, uncomplicated vegetables.
Do It Up with Citrus
Tyler Florence's top-rated Savoy, Lime and Cilantro Coleslaw for Food Network Magazine gets a refreshing punch from the juice of two limes, and a simple freshness from scallions and cilantro.
Cross Sweet with Spicy
You might think of coleslaw as a bit of a palate cleanser, but this Sweet and Spicy Coleslaw from Food Network Magazine hinges on the spicy heat of cayenne pepper and a surge of tangy sweetness from apple cider vinegar and sugar.
Call On a New Ingredient
Valerie Bertinelli's Italian Fennel Coleslaw may come with the expected green cabbage, but it's also dolled up with paper-thin slices of flavorful fennel.
Give It a Zing
A whole tablespoon of fresh grated ginger gives Geoffrey Zakarian's healthy Gingered Coleslaw with Golden Raisins an invigorating flavor boost, while cooking the raisins on a skillet until they're soft and golden brown brings a pop of juicy sweetness to every crunchy bite.
Keep It Colorful
If the saying that we eat with our eyes is true, Ree Drummond's Colorful Coleslaw is going to be one delectably delicious recipe. It gets its bright hues and its crunch from purple and green cabbage, multicolored peppers and carrots.
Make It Fruity — and Then Some
The beauty that is Tyler's Texas Coleslaw doesn't stop at its orange-chili dressing or 30-minute prep time. In fact, two sliced Granny Smith apples, a whole cup of crunchy pecans and a bunch of fresh mint take this slaw where no other has gone before.
Check out more coleslaw recipes from our friends in #SummerSoiree:
Creative Culinary: Apple and Poppy Seed Coleslaw
The Mediterranean Dish: Mediterranean Coleslaw and Salmon Bowl
The Mom 100: Spicy Coleslaw
Devour: 5 Ways to Make Your Picnic Slawsome
The Wimpy Vegetarian: Vegan Mango – Melon Slaw with Ginger and Lime
The Heritage Cook: Variations on Coleslaw – How To Make It Your Own (Gluten-Free)
Taste with the Eyes: Ode to the Fish Taco – Fancy Halibut with Cabbage Slaw
Elephants and the Coconut Trees: Raw Papaya and Green Mango Slaw
Healthy Eats: 7 Summer Slaws That Put the Store-Bought Stuff to Shame
In Jennie's Kitchen: Fennel & Mint Slaw
More posts from Allison Milam.
Similar Posts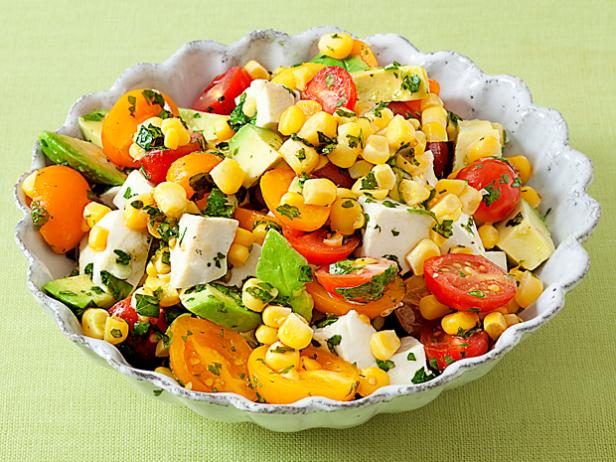 When it's too hot to cook, look no further than these tomato-focused recipes....