Juicy charred burgers and ketchup-slathered hot dogs may drive the initial attention to your Memorial Day cookout, but these showstopping side dishes are sure to make folks stay. More inventive than your average mayo-clad coleslaw, each of these bright, summery sidekicks will quickly disappear from the first backyard bash of the season.
Give your cookout side the trifle treatment for a true sight to behold: Food Network Magazine's Layered Cornbread Salad. With stack after stack of cornbread, black-eyed peas, tomatoes, peppers, cheese and more, this multilevel creation is tied together with a creamy sauce spiked with lime juice and chili powder.
Ina Garten's Crunchy Noodle Salad is far from the pasta salad drowning in mayo you may be accustomed to. She coats spaghetti with a tangy, nutty sauce of rice vinegar, soy sauce, honey, ginger and peanut butter, then tosses it all with sugar snap peas, peppers and scallions, for color and crunch.
Bobby Flay's recipe for Mesa Grill's Southwestern Potato Salad calls for all the creaminess of your classic potato salad, plus a kick of Southwestern heat from chipotle pepper puree and cayenne. Do it up with fresh lime juice, chopped cilantro and onion for your zestiest potato salad yet.
Even when pitted against potato and pasta salads at your cookout, Trisha Yearwood's Broccoli Salad will be the first to disappear. She coats the hearty veggie in a mayo-vinegar blend and adds big texture with bacon, onion, raisins and sunflower seeds, so each bite boasts a satisfying dose of salt, crunch and sweetness.
Most of us love guac so much we would eat it all on its own. Now you can deconstruct the dip favorite into a colorful Guacamole Salad you can eat with a fork. Simply toss diced avocados with tomatoes, peppers, red onion, black beans and an invigorating lime dressing.
An ear of charred, blistered corn is good on its own; it's even better when given Tyler Florence's spiced-up treatment. For his Mexican Grilled Corn, he smothers corn in a creamy dressing before sprinkling it with Parmesan cheese and chili powder.
Check out more Memorial Day recipes from our friends of #SensationalSides:
The Lemon Bowl: Greek Pasta Salad
Creative Culinary: French Potato Salad with Mustard and Fines Herbes
Napa Farmhouse 1885: Three Spring Vegetable Bruschetta Recipes For A Memorial Day Feast
In Jennie's Kitchen: Pulled Pork & Cabbage Salad
Feed Me Phoebe: Herb Marinated Steak Gyros Plates with Tomato-Onion Salad and Green Tahini Sauce
Devour: Red, White and Blue Sides for a Patriotic Memorial Day Picnic
Healthy Eats: 6 Veggie-Packed Sides for a Lighter Memorial Day Feast
Elephants and the Coconut Trees: Pineapple and Shrimp Fried Rice
Taste with the Eyes: Holiday Weekend Brunch: Shakshuka with Avocado, Epazote, Pinot Beans
The Wimpy Vegetarian: Healthy Mexican Casserole
The Mediterranean Dish: 25 Mediterranean Recipes for a Cookout Menu
More posts from Allison Milam.
Similar Posts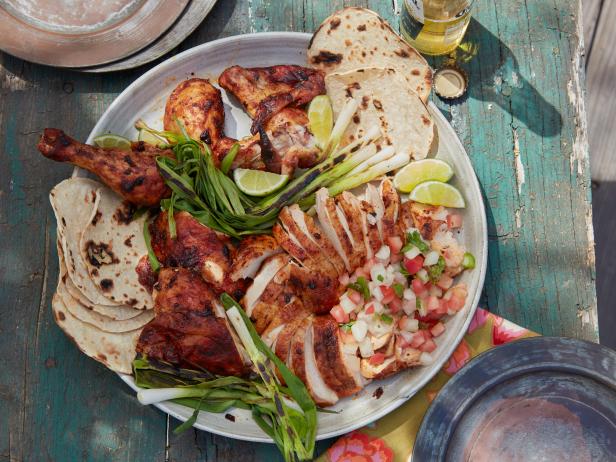 A little preparation means you can enjoy cookouts as much as your guests....