3 of a Kind checks out three places across the country to try something cool, new and delicious.
Which dessert is simultaneously hot and cold, old-fashioned and new? Baked Alaska. This sweet treat, which looks somewhat like an igloo, was inspired by the 1867 land deal in which Russia sold much of Alaska to the United States. Today its newfangled flavors and awe-inspiring presentation continue to impress.
Tropical Baked Alaska at Oleana, Cambridge, Mass.
This Eastern Mediterranean restaurant infuses its Baked Alaska with the tropical fruit flavors found in the region. Executive Pastry Chef Maura Kilpatrick says, "Baked Alaska is about the contrast of a warm outside and a cold inside, and I wanted the textures to add contrast too. Ours has a crunchy coconut cake to contrast [with] soft ice cream and meringue and then adds the tart passion fruit caramel to balance the sweetness of the meringue topping. It's hot and cold, soft and crunchy, tart and sweet, all on one plate!"
S'mores Baked Alaska at Atwood, Chicago
Chef Brian Millman's menu at Atwood combines seasonal American favorites with unexpected yet approachable twists. His Baked Alaska incorporates another torch-fired favorite: s'mores. Instead of using traditional meringue, the kitchen makes marshmallow fluff to top a moist chocolate cake filled with housemade graham cracker ice cream. Says Millman, "I then brulee the fluff and top with chocolate sauce, graham cracker crumbs and flake salt." The result is an elegant take on the campfire classic.
Baked Alaska at Baked Alaska, Astoria, Ore.
You'd expect to find Baked Alaska at this popular seafood restaurant called Baked Alaska, but the Oregon restaurant overlooking the Columbia River is actually named for Chef Christopher Holen's nickname. Chef Holen was once called "Baked Alaskan" as a tribute to his home state and his rocker appearance, not the iconic dessert. His sophisticated version of Baked Alaska is made with a gluten-free chocolate cake, lavender ice cream and meringue, and is set aflame at the table with 151 overproof rum, for maximum effect.
More posts from Amy Sherman.
Similar Posts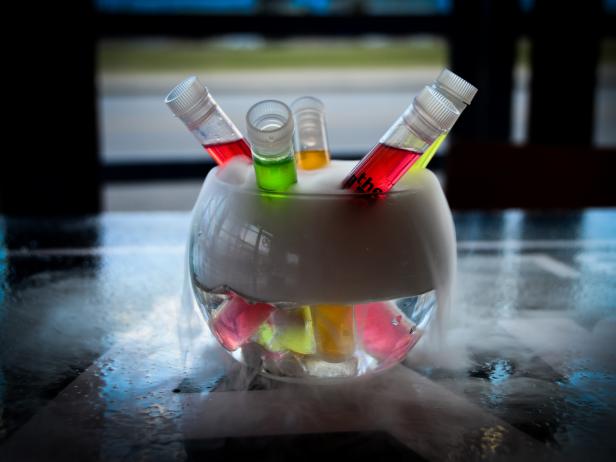 To celebrate the total solar eclipse, restaurants and bars are adding a bit of starry magic to their menus with items inspired by this rare celestial ...