Let's have a heart-to-heart. Is there a single place where bacon does not belong? Beyond crumbling it over a once-good-for-you salad or splaying a few slices beside scrambled eggs, there are boundless ways to put salty, crispy, addictive bacon to use. Celebrate bacon and all it's done for you by not holding back one bit; bring it into your favorite over-the-top dishes to make them even more indulgent.
Chicken and Waffles
If you thought that classic Southern combination of fried chicken and waffles was the best thing you could slather in maple syrup, think again. It's Chicken and Bacon Waffles that's the real win, made with diced, pan-fried bacon for a dose of salty smokiness.
Steak
Your average steak dinner, complete with mashed potatoes, creamed spinach and all the fixings, is a most-indulgent affair already. Going for Ree Drummond's Bacon-Wrapped Filet takes it one step further, offering a luxurious meal that actually takes only 25 minutes to make.
Cheesecake
Creamy and decadent, the average cheesecake needs not much more than a fork for it to be considered the perfect dessert. But, once you take your first bite of Food Network Magazine's Mini Bacon Cheesecakes, you'll see that this combination of sweet and savory is one for the books.
Biscuits
Try these Bacon, Cheddar and Chive Biscuits and you will soon find your truth. The bacon adds a delightful saltiness to the fluffy buttermilk biscuits, which do well with a good slathering of soft butter.
Tater Tots
Bacon-Wrapped Tater Tots combine the best of both worlds, and you might never take your tots naked again. Your childhood self would be oh-so-proud.
Cupcakes
For those who yearn for the balance of salty and sweet, Food Network Magazine's Chocolate-Bacon Cupcakes with Dulce de Leche Frosting are a work of art, with crunchy bacon crumbled atop each treat.
Get more bacon recipes from our friends at #ComfortFoodFeast:
The Lemon Bowl: Roasted Green Beans with Bacon
Creative Culinary: Bacon, Potato and Leek Soup with Roasted Garlic
TasteBook: Smokey Caramelized Onion, Coffee & Bacon Jam
Healthy Eats: 5 Better Ways to Put Bacon on Everything
Napa Farmhouse 1885: Oven Baked Bacon (and a Bacon Recipe Roundup)
Taste with the Eyes: Hawaiian Wedding Shower, Bacon Wrapped Pineapple Appetizer
The Mom 100: The Ultimate BLT Sandwich
Dishin & Dishes: Bacon Chipotle Caramel Crack
More posts from Allison Milam.
Similar Posts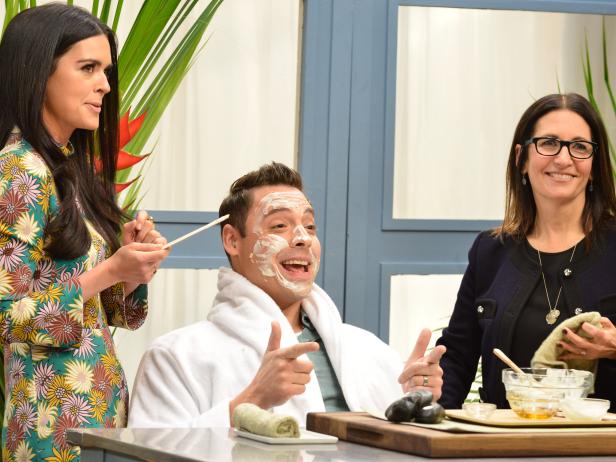 You don't have to travel somewhere exotic to make the most of your time off....