Chefs' Picks tracks down what the pros are eating and cooking from coast to coast.
The middle of winter may not produce the same bounty of produce as peak summer, but chefs have found great ways to use root vegetables. From simply roasted to vegetable-based cocktails, here are some of their favorite ways to get to the root of the season.
Beets
Chef Robert Berry of the soon-to-open Pancito & Lefty in Charleston, S.C., uses root vegetables – beets and carrots – in his cocktails. "This drink was inspired by our trip to Mexico CIty over the summer," he explains. "Mexico City was vibrant with fresh fruit and vegetable juices. The streets were covered with stands selling refreshing, cooling nonalcoholic vegetable concoctions, so we mixed in a bit of our favorite mezcal and it was a match made in heaven!" If mezcal is too strong, check out this beet Negroni and other healthy cocktails.
Beet Negroni
1 ounce mezcal (highest quality)
1/2 ounce Campari
3/4 ounce fresh beet juice
1/4 ounce fresh lemon juice
Pinch of salt
Mix all ingredients into a Boston shaker with ice, and shake vigorously. Strain into a rocks glass with one large rock. Garnish with a thick lemon twist, being sure to squeeze the essential oils out of peel, serve immediately.

James Beard Award-winning chef Michelle Bernstein takes her inspiration from Israel for her Beet Sorhgum Risotto at her newest restaurant, Cena by Michy. "When I lived there (in Israel), I was so immersed in the food that I didn't pay attention to it. I now crave it so much! This dish is so representative of Israeli food, and the color of the beets make it a stunning-looking dish. Beets are so nutritious, and the color of the veggie makes any dish made with them fun and fresh."
Cena Beet Sorghum Risotto
2 cups cooked sorghum, prepared according to package directions
1 tablespoon olive oil
1/2 teaspoon fennel seeds
1/2 bulb fresh fennel, chopped
4 cups beet juice
2 tablespoon butter
2 large roasted beets, peeled, grated on a large-hole box grater
2 tablespoon fresh dill, roughly chopped, plus more for garnish
1/4 lemon wedge
Kosher salt
Freshly ground black pepper
1/2 cup sour cream
1 tablespoon prepared horseradish
1 piece fresh horseradish
Heat the oil in a saucepan; add the fennel seeds and fennel, stirring over low heat until fragrant. Add the beet juice and reduce by half. Strain.
Place the strained beet juice in a saute pan, and add the grain, stirring until almost completely absorbed. Spoon in the butter and beets. Season, and fold in the fresh dill, squeeze in the lemon and season to taste.
In a small bowl, combine the sour cream and prepared horseradish; season with salt. Top the risotto with the sour cream, then grate fresh horseradish over the whole dish and garnish with additional dill.

Carrots
For Chef Anthony Quinn of Maude's Liquor Bar in Chicago, simplicity is best when it comes to his root vegetable of choice. "Carrots are beautiful this time of year, and I wanted to highlight the natural colors, flavors and sweetness," he says. "To preserve these qualities we simply roast the carrots in the oven with butter, chicken stock, salt and sugar. We glaze the carrots in their cooking liquid and add a little bit of honey to bring out the natural sweetness. The dish is topped with fresh herbs and cracked black pepper to add a spicy contrast."
Root Medley
Chef Kevin Nashan, of the acclaimed Sidney Street Cafe in St. Louis, makes a hearty entree out of an array of different root vegetables working together. On one side he creates a dish like a cheesy hash brown with potatoes, rutabaga, kohlrabi, parsnips, cream and cheese. On the other, he takes various root vegetables and cooks them beurre monte, a method used by many classically trained chefs to infuse something with the flavor of butter. Finally, he creates a beet gastrique to drizzle on top, adding a bit of sweetness to offset the rich cream and butter, and bring the dish together.
Rutabagas
Chef Doug Hewitt, of Detroit's farm-to-table restaurant Chartreuse Kitchen & Cocktails, takes a meatier approach to root vegetables, putting them in a smoker to heighten their flavor. He tends to use some of the heartier root vegetables — rutabagas, as well as potatoes, parsnips and beets. "Smoking is a great way to showcase a veggie in a unique way," he says. "We try to do things that people wouldn't be able to do at home. Being a vegan- and vegetarian-friendly restaurant, we want to give a unique experience from the type [of] vegetables they eat all the time."
Photos courtesy of Andrew Cebulka, Michael Pisarri, Maude's Liquor Bar, Sidney Street Cafe, Kaila Marie
More posts from Samantha Lande.
Similar Posts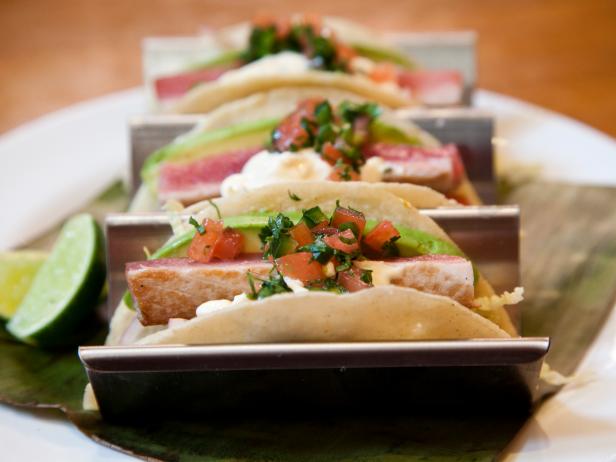 Hip spots are shaking up Magic City's Mexican-food scene with bold fillings and housemade tortillas....