Peanut butter is one of those close-to-our-hearts condiments that oftentimes isn't even used as one: We'll take it straight up by the spoonful to get that creamy, nutty and somewhat salty goodness in whatever way we can. Before you slather peanut butter onto another slice of bread for a PB&J sandwich, reinvent the PB wheel with our fleet of foods that seriously belong with peanut butter.
Brownies
Deeply chocolatey brownie batter is even better with peanut butter in the mix. When you bite into one of Bobby Flay's Peanut Butter Caramel Swirled Brownies, you'll surely taste the nutty spread, but you won't be able to see it, since it's marbled in with a caramel swirl.
Cinnamon Rolls
Most freshly baked cinnamon rolls come slathered in a drippy white frosting, but that kind of traditional glaze isn't the only way. Next time your homemade brunch takes a decadent turn, spread cooled cinnamon rolls with peanut butter frosting.
Granola
You're lookin' at a granola that leans more toward dessert than it ever would breakfast. Salty, sweet and crunchy Peanut Butter and Jelly Granola doesn't rely on the stuff from the jar; instead, this granola features peanut butter chips to reel in that peanut butter flavor.
Cupcakes
For so many of us, a good cupcake hinges on the frosting. Luckily, Ina Garten's Chocolate Cupcakes and Peanut Butter Icing are crowned with a fluffy, nutty cloud that jibes super well with chocolate.
Pie
If the thought of pie brings to mind images of fruit-filled, lattice-topped works of art, take a break from that kind of polished recipe for once. With a chocolate cookie crust and a velvety peanut butter filling, Ree Drummond's Chocolate Peanut Butter Pie is one of an entirely different breed, and it's a whole lot easier to make.
Burgers
OK, you just have to trust us on this one. While you've probably limited your burger toppings to not much more than ketchup or mustard or mayo, topping burgers with peanut butter is really a thing — and you should probably try it.
Get more peanut butter recipes from our friends of #ComfortFoodFeast:
The Lemon Bowl: Peanut Butter Magic Shell
Feed Me Phoebe: Healthy Peanut Butter Banana Oatmeal Bars
Big Girls, Small Kitchen: Peanut Butter Crispy Bars
The Mom 100: Peanut Butter Chocolate Chip Oatmeal Cookies
Napa Farmhouse 1885: Easy 3 Ingredient Peanut Butter Balls
The Wimpy Vegetarian: Winter Kale, Apple and Mint Salad with Thai Peanut Dressing
Healthy Eats: 5 Healthier Ways to Enjoy Peanut Butter for Dessert
Creative Culinary: Chocolate Dipped Peanut Butter Cookies with Pretzels
More posts from Allison Milam.
Similar Posts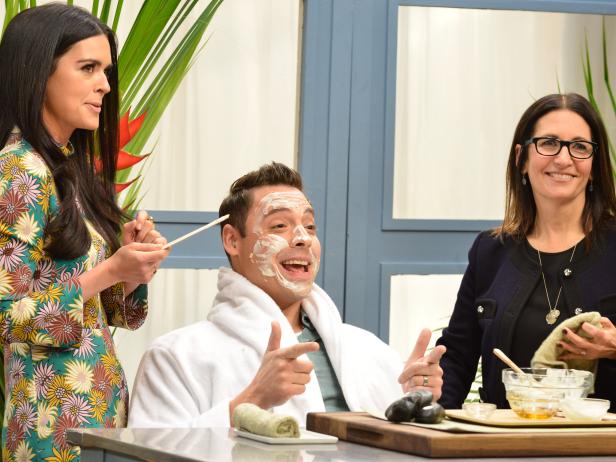 You don't have to travel somewhere exotic to make the most of your time off....