Good news for all you V-Day procrastinators: The holiday that celebrates chocolate, floral arrangements and, you know, love is on a Sunday this year. So even if you've waited until now to plan a date night, you still have plenty of time to get it right. And might we suggest making your Valentine's Day dinner extra special this year?
Here are some of our favorite dishes that take a wee bit more time and effort to complete than, say, your typical taco night. Resist the urge to scramble for a restaurant reservation, and give one of these a try instead. After all, nothing says "I love you" like a home-cooked meal.
Coq au Vin (above)
Ina Garten convincingly (and unsurprisingly) proves that this classic French dish is easy to make, but it's not really a one-pot meal. Still, the construction is rustic and uncomplicated, simple ingredients give way to deep savory flavors, and the dish feels special as soon its name leaves your lips.
Corn and Poblano Lasagna
Marcela Valladolid's Mexican twist on the Italian favorite spices things up (har har) for date night. Though this dish is many-layered, its assembly is straightforward. However, it will require nearly an hour in the oven, so it's a meal best suited for Sunday — and then the leftovers will feed you again and again throughout the week.
Beef Bourguignon
Popularized by Julia Child, this savory, bubbling stew tops the list for both comfort and exceptionality. Anne Burrell's version is easy to follow, and the dish spends most of the lengthy cook time hanging out in the oven — just don't forget to marinate the beef the night or morning before the big event.
Saffron Risotto
This creamy dish has a reputation for being complicated, but it's really just needy — stretch out that stirring arm for a workout over the stove. Plus, the recipe for this bouillabaisse-inspired version suggests whipping up your own vegetable stock for a truly special dish (which is entirely vegan-friendly, too).
Beef Pho
This Asian dish bills itself as easy to make — and it certainly is. But building a flavorful broth is crucial to depth of flavor, and requires more effort than opening a can. Come on, your sweetie is totally worth it.
Paella
Saffron was made for special occasions, so this is the perfect time to bust out Tyler Florence's "ultimate" version of this classic Spanish dinner. And since it's got chicken, chorizo, clams, shrimp and lobster, it's far from an everyday meal.
Wild Rice-Stuffed Butternut Squash
Wrestling with this unwieldy squash isn't a fun task in the middle of the week. But when you've got lots of time to cut and scoop the vegetable (and fill it with wild rice, cherries and spices), the lovely presentation is well worth the effort.  Bonus: This recipe is vegan, but makes for a satisfying main course.
Baked Alaska
In the encyclopedia next to "statement-making desserts" is a picture of baked Alaska. OK, not really — but it's certainly a dish that aims to impress. Ron Ben-Israel's recipe lays out the steps clearly, and the technique is actually easier than you think. (And really, the worst that can happen is that you and your date have a great big pile of ice cream to split.)
Chocolate-Filled Almond Macarons
For a dessert you can also show off at the office on Monday, try these delightfully petite French cookies. If you've never made them before, you'll likely need a bit of practice to get a hang of the pastry bag, so start this recipe in the morning. But don't worry — even if you bake up a batch of ugly macarons, they'll still taste delicious.
More posts from Lauren Piro.
Similar Posts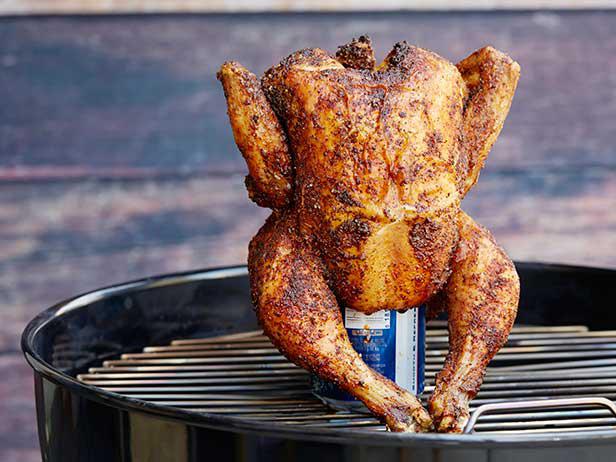 This clever grilling technique is easy enough to perfect even on your first try making it....