If you love to play with your food, football season is your time to shine as a party-thrower. Building a giant snack stadium isn't just for serving all your favorite celebratory bites at once – it's about creating a work of art (by our standards, anyway). And the highlight of your sporty masterpiece? The dips, of course. Try these irresistible options to fill all the holes in your game-day spread this year.
Chili Con Queso (above)
Ree Drummond's take on this comforting classic starts with breakfast sausage and onion. Browning both before you mix everything with cheese and chiles is an easy extra step that makes the dip even more savory.
9-Layer Cheeseburger Dip
The shredded lettuce that tops this masterpiece is the perfect "grass" for your stadium's field. And friends who raise an eyebrow at what first looks like a very plain salad will be in for a big, nine-layered surprise when they dip a chip.
Warm Artichoke-and-Bacon Dip
A bacon-studded dip is enough to make any football fan cheer, but Giada De Laurentiis doubles down on the smoky flavor by adding a little cumin into this recipe.
Avocado-Feta Dip
Though guacamole is the conventional star in the snack stadium, we like this cheesy twist on an avocado dip. Craving the original? Our Perfect Guacamole will please a crowd, too. Or there's always a third option: Make both!
Pepperoni Pizza Dip
Guy Fieri reminds us that the players aren't the only ones who should "go big or go home" on game day. Make this unabashedly indulgent dip to quickly elevate yourself to MVP status.
Edamame Hummus
Hummus is a hearty dip that's easy to make ahead (and perfect served at room temperature). Plus, in this version the edamame's pale-green hue makes it another inventive choice for the center of your stadium.
French Onion Dip
Gruyère toasts are the perfect accompaniment to this fan-favorite dip — and they'll look great lining the stands of your stadium or piled in the end zones.
Of course, a snack stadium is far from just the dips. Fill yours with an endless array of tiny bites, like pigs in every kind of blanket or green bean fries (standing at attention as your stadiums "fans" ). Or take cues from our fearless hosts of The Kitchen, who built their own "snackadium" of truly epic proportions. No, really you gotta take a look at this puppy:
More posts from Lauren Piro.
Similar Posts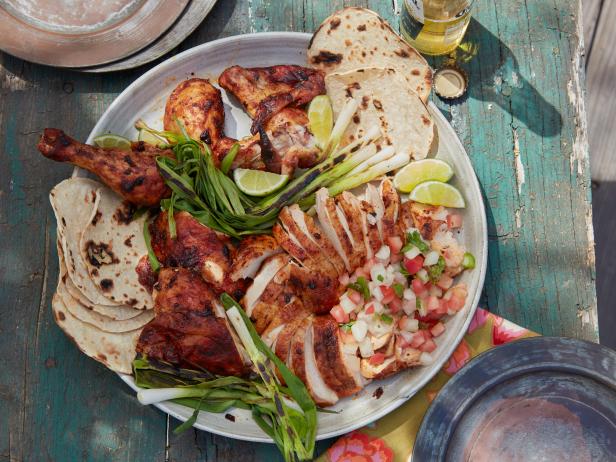 A little preparation means you can enjoy cookouts as much as your guests....