Chefs' Picks tracks down what the pros are eating and cooking from coast to coast.
With winter storms blanketing the country, there are plenty of snow days. Before you turn to reheated leftovers and a packet of hot chocolate, borrow a recipe from these snow-inspired chefs who have the perfect ways to warm up after snowball fights or shoveling.
Hot Chocolate
It's hard not to crave hot chocolate when it's snowing out. But even the simple childhood classic is up for an overhaul at the hands of a chef. Bronx native and Washington, D.C., chef Kwame Onwuachi of soon-to-open restaurant The Shaw Bijou puts a spin on the milk-chocolate norm, swapping in white chocolate and a secret ingredient of cookie butter spread! Onwuachi also jazzes up his marshmallows with sarsaparilla. The taste gives a little reminder of one of his summertime favorites — root beer floats. It's a dessert he loves to make with his niece.
White Hot Chocolate with Cookie Butter
Serves: 4
Start to finish: 15 minutes
4 cups milk
1/2 cup cream
7 ounces white chocolate, chopped
1/2 cup cookie butter spread, like Speculoos
Salt to taste
Cinnamon for garnish
In a small saucepan over medium-high heat combine milk and cream until simmering, about 5 minutes. Add in white chocolate and stir until melted, about 5 minutes, then mix in cookie butter, stirring until combined, about 2 minutes. Season with salt to taste. Pour into mugs and garnish with cinnamon.
Crème d'Ire Cocktail
With the snow falling outside, sometimes it's nice to cozy up fireside with a warming cocktail. This one from Diane Corcoran, beverage director at Chicago tiki bar Three Dots and a Dash, can be made single-serve or in punch format for a group. Tropical flavors like coconut should help even the coldest humans daydream of warmer days ahead.
Crème d'Ire Cocktail
For 1 cocktail
1 ounce aged rum, such as Appleton Estate Special Reserve
1 ounce rhum agricole, such as Duquesne
2 ounces half-and-half
3/4 ounce coconut puree, such as Ponthier or Boiron brand
3/4 ounce simple syrup
1/4 ounce Oloroso sherry, such as Lustau East India Solera
Freshly grated cinnamon, to taste, plus more for garnish
Freshly grated nutmeg, to taste, plus more for garnish
Crushed ice
Cinnamon stick, for garnish
If using a blender, add both rums, the half-and-half, coconut puree, simple syrup, sherry, and cinnamon and nutmeg to taste to the blender. Add 1 cup crushed ice and blend for 5 seconds on high speed.
If using a cocktail shaker, combine the ingredients in a cocktail shaker and shake vigorously until frothy, about 15 seconds.
Pour into a festive glass and top with more crushed ice. Garnish with more grated nutmeg and cinnamon, and a cinnamon stick, and serve immediately.
Crème d'Ire for a Crowd
For a  large batch; makes 3 gallons
2 quarts aged rum, such as Appleton Estate Special Reserve
2 quarts rhum agricole, such as Duquesne
1 gallon half-and-half
1 1/2 quarts coconut puree, such as Ponthier or Boiron brand
1 1/2 quarts simple syrup
1/2 quart Oloroso sherry, such as Lustau East India Solera
1 quart water
Freshly grated cinnamon and nutmeg
Cinnamon sticks, for garnish
Crushed ice
Whisk together all cocktail ingredients in a large punch bowl until combined. Garnish with cinnamon sticks and freshly grated nutmeg. Serve drinks individually over crushed ice and garnish with a cinnamon stick and more nutmeg.
Warm Chocolate Pudding
Nostalgia is a huge source of inspiration for pastry chef Kelly Fields. After all, her New Orleans bakery, Willa Jean, is named for her grandmother. So on snow days, she waxes nostalgic with warm chocolate pudding. "Most people I know grew up eating pudding cold. My mom, however, would make pudding on the stove the old-fashioned way," she says. "Remembering the warmth of our house, the light and the way the house smelled when my mom made this on winter days is one of my clearest childhood memories. Every time we serve it at Willa Jean, I still have the desire to cuddle up on the couch and take my time savoring every last bite."
Warm Chocolate Pudding
1 1/2 cups heavy cream
1 1/2 cups whole milk
1/2 pod vanilla bean
2 whole eggs
1/2 cup granulated sugar
2 tablespoons cocoa powder
2 tablespoons plus 1 teaspoon cornstarch
2 teaspoons salt
4 tablespoons unsalted butter, soft
4 ounces 70 percent chocolate
In a heavy-bottomed sauce pot over medium high heat, combine the cream, milk and vanilla bean. In a separate bowl, whisk together granulated sugar, cocoa powder, cornstarch and salt. Add in eggs and whisk the mixture until smooth. Once the dairy comes up to a scald, remove from heat and slowly temper, adding small amounts of the hot liquid into the egg mix while whisking constantly. Once the majority of the dairy is incorporated into the egg mixture, return the whole amount to the pot and place over medium heat. Cook, whisking constantly, until the mixture thickens and bubbles. Once bubbling, remove from heat and immediately whisk in the butter and chocolate. Serve warm as is, or top with optional coconut shortbread crumbs and candied pecans.
Coconut Shortbread Crumbs
1/4 cup powdered sugar
6 tablespoons unsalted butter
1/3 cup semolina flour
1 1/2 teaspoons salt, divided
1 cup coconut flakes
1/4 cup brown sugar
Preaheat oven to 325 degrees F.
Sift powdered sugar and set aside. In the bowl of a stand mixer fitted with the paddle attachment, cream butter until smooth. Stream in sifted powdered sugar and cream together until light and fluffy, about 2 to 3 minutes. Add semolina flour and 3/4 teaspoon salt; stir to just incorporate. Allow the dough to rest for about 30 minutes in the fridge before rolling out into an even layer, about 1/4 inch thick. Place on a cookie sheet and bake in oven until it just starts getting golden. Remove from oven and allow to cool until it's comfortable to handle. Place the shortbread into the bowl of a food processor and add in the coconut flakes, brown sugar and remaining 3/4 teaspoon salt. Pulse the food processor until all is incorporated and sandy. Return the mix to the cookie sheet and finish baking until toasty and golden, stirring every 5 minutes or so.
Candied Pecans
1 1/2 teaspoons egg whites
1 cup pecan pieces
2 tablespoons granulated sugar
Preheat oven to 325 degrees F.
Lightly whisk the egg whites in a small bowl until frothy. Add in pecan pieces and stir with a rubber spatula just until the pieces are coated. Sprinkle in the granulated sugar while stirring. Place nuts onto a baking sheet in a single, even layer. Bake until dry and toasty, stirring about every 5 minutes.
Marshmallows (with Hot Chocolate)
Chef Cory Colton, executive pastry chef of Quality Italian  in New York City, loves his hot chocolate with autumnal flavors, like pear and ginger. "The combination of spices, sweet pear and rich, dark chocolate could not be more perfect. The kick of spice from the ginger in the marshmallows is unexpected, but a welcomed addition as it melts into the mug," he says.
Spiced Hot Chocolate with Ginger Marshmallows
1 1/4 cups cream
2 3/4 cups milk
4 tablespoons sugar
1/2 cup pear puree
1 cinnamon stick
4 star anise
10 whole cardamom pods
1 1/2 cups good-quality dark chocolate (preferable 70 percent cocoa), chopped
2 tablespoons good-quality cocoa powder, such as Valhrona
In a heavy-bottomed pot, bring cream, milk, sugar, pear puree and the spices to a boil over medium heat. Cover the pot, bring down to simmer and allow the liquid to infuse for 30 minutes. Move the chopped chocolate and cocoa powder to a heatproof large bowl. Bring the mixture back to a boil, then pour the milk mixture through a fine strainer directly over the chocolate and cocoa powder. Whisk by hand until chocolate is melted and dissolved, or use a hand blender to combine.
Serve with Ginger Marshmallows (recipe below).
Ginger Marshmallows
Note: You'll need a candy thermometer for this project!
7 gelatin sheets
Ice, for chilling gelatin water
2 cups sugar
3/4 cup water
2 tablespoons corn syrup
2 egg whites
2 teaspoons fresh ginger, finely grated
Cornstarch and confectioners' sugar, for dusting
Prepare a baking sheet by lining it with parchment and dusting the surface with a mixture of equal parts cornstarch and confectioners' sugar.
Submerge gelatin sheets in ice-cold water and allow to bloom (get soft).
In a small pot, combine sugar, water and corn syrup. Put your candy thermometer in the pot. Bring to a boil and continue cooking until mixture has reached hard ball stage on a candy thermometer.
While the sugar mixture is reaching a boil, whip the whites, using a mixer on medium-high speed; continue to whip to soft peaks.
By the time the sugar mixture has reached the hard ball stage, the whites should be at a soft peak stage. With the mixer on medium speed, slowly add the hot sugar mixture to the whites, running it down the very inside of the mixer bowl to avoid making contact with the moving whisk (and spraying everywhere).
Remove gelatin sheets from water and squeeze out all the excess water that you can. Place the gelatin in the pot where the sugar had cooked — the residual heat will melt the gelatin, turning it into a liquid.
Drizzle the hot gelatin liquid into the whipping meringue in the same manner you did with the sugar syrup.
Lastly, add the finely grated ginger and whip until the mixture has cooled slightly but is still warm to the touch.
Spread the mixture onto the prepared pan, and smooth out and level with a spatula. Finish by dusting the top with another layer of confectioners' sugar and cornstarch mixture.
When cool, slice into squares. Drop the marshmallows into your hot chocolate (or eat them on their own!).
Photos courtesy of Kevin Carroll, Jeffrey Marini, Randy Schmidt, Quality Italian Restaurant
More posts from Samantha Lande.
Similar Posts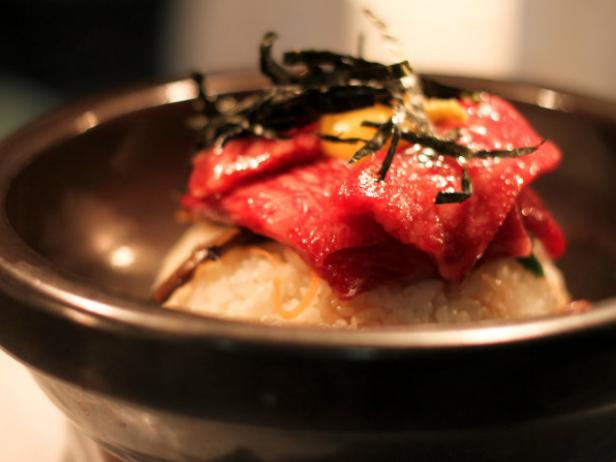 New Yorkers may be a bit of a skeptical bunch, but many leave their doubts at the door when indulging in omakase at their favorite sushi spot....