This Sunday, the Carolina Panthers and the Denver Broncos will face off in the biggest football game of the year. We're no experts on who has the advantage on the field, but we're here to break down the regional food rivalry between these two teams (much more in our wheelhouse).
Super Bowl 50 pits a Southeastern barbecue powerhouse against a Colorado city known for stellar Mexican food and microbrews, promising a fierce battle on the food front. Both food cultures translate well to the game-day party spread, so go ahead and make your allegiances known through your menu.
To deck out your viewing party with your preferred team's colors, check out the easy candy crafts above for the Broncos (left) and the Panthers (right). Use them as centerpieces that guests can eat for dessert.
Carolina Panthers:
Carolina barbecue is all about the pork — pulled pork, pork ribs, pork shoulder, whole hog, you name it. The style of sauce varies within the region, with a peppery, vinegar-based version preferred in the east and a sweeter tomato-based sauce dominating in the west. Bobby Flay's North Carolina smoked ribs are brushed with a western-style sauce.
The sauce for Anne Burrell's pulled pork sliders also leans closer to the western tradition, but switch it up and make this sauce from Food Network Magazine if your crowd prefers a vinegary bite.
Denver may have the edge when it comes to the local beer scene, but there are solid microbrews coming out of North Carolina, too. Beers from Charlotte-based NoDa Brewing Company are served at the Panthers' Bank of America Stadium nearby. Try the Jam Session, a pale ale with hints of citrus and pine that'll pair nicely with any barbecue feast.
Denver Broncos:
The mile-high city is known for its excellent Mexican food, especially anything made with green chiles. Ree Drummond's green chile queso is the perfect snack for Bronco fans to whip up for kickoff.
For a hearty game-day main, honor the Broncos' home state with Kelsey Nixon's Enchiladas Colorado, doused in a rich chile-laced sauce.
Lamb is also a staple of the region. Use ground lamb in place of beef in that ultimate game-day staple, chili, for a robust Colorado flavor. For a chunkier chili, use lamb stew meat in Alton Brown's pressure-cooker recipe.
On the beverage front, there are many worthy Denver-area microbrews to choose from, but our pick is White Rascal from Avery Brewing Company in nearby Boulder. They've been in business over 20 years, producing an array of brews including this year-round favorite, an unfiltered Belgian-style wheat ale spiced with orange and coriander. It's slightly unexpected but light and easy to drink as you settle in to cheer on the Broncos.
More posts from Sara Levine.
Similar Posts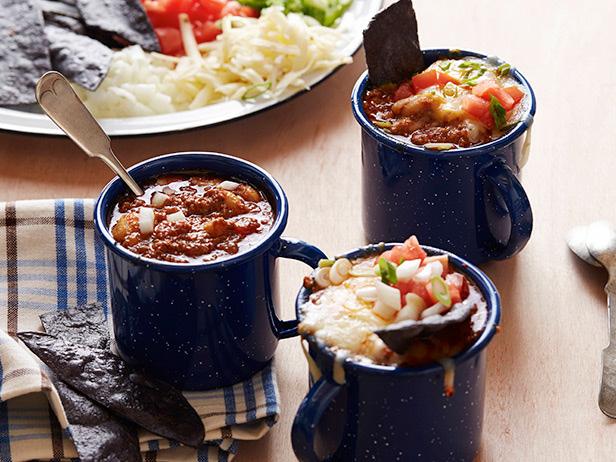 When March Madness means you can't pull yourself away from the screen, these dishes easily travel to the couch with you....