No matter if you're prepping a snack spread for Sunday's tailgate or simply looking to elevate your everyday dip roster, guacamole is a go-to choice for game day and any other day. Not only does this fan favorite come together with only a handful of ingredients, but it often takes just minutes to prep. Check out our top picks for classic and creative guac renditions, including one look-alike version that's a deceptively sweet dish.
Guacamole with Cumin-Dusted Tortillas
Consider this your back-pocket guacamole recipe. Bobby Flay's top-rated recipe brings together an all-star lineup of creamy ripe avocados, a single jalapeno for subtle heat and plenty of lime juice for bright flavor. He dresses up the dip by serving it alongside freshly fried tortillas scented with smoky ground cumin.
Chunky Guacamole
Follow Tyler Florence's lead and use a fork to mash the avocados, and take care not to smash them too much; this will help achieve a chunky texture. He recommends letting this cilantro-laced guac chill for an hour before serving so the flavors have a chance to marry.
Spicy Guacamole with Mango
It's all about the balance of sweet and heat in Marcela Valladolid's quick-fix guacamole, featured in Food Network Magazine. Juicy mango complements the fruitiness of the avocado while providing a cooling bite to offset the spice of serranos.
Garlicky Holy Guacamole!
If you have just 10 minutes, then you're set to prepare Rachael Ray's 5-star garlic-studded guac.
Spicy Bacon Guacamole
Burgers, pasta, even cupcakes — there's not much that bacon doesn't improve, and this crowd-pleasing guacamole is no exception. Crumbled crispy bacon adds a welcome texture to this easy recipe, which features pickled jalapenos instead of the fresh pepper.
Grilled Guacamole
By quickly charring the avocado and jalapeno, Rachael ensures a subtle smoky taste in her fuss-free dip. When it comes to the citrus juice, she opts for a mix of lemon and lime to brighten up the taste.
Charred Corn Guacamole with Corn Chips
When Bobby deems his corn recipe Perfectly Grilled Corn, you can be sure that it's going to yield the best-ever results. He uses these tender, golden kernels to beef up his simple, party-ready guac.
Pear and Pistachio Guacamole
According to the chefs in Food Network Kitchen, this guacamole is "perfect for autumn or winter when the petite Seckel pears are in season. But you can use any favorite pear." They add, "It has a surprising crunch, creating a delicious new version of guacamole."
Guacamole Cake
Don't let the look of this guacamole fool you: That's not a bowl of mashed avocado and red onion. This look-alike dish, featured in Food Network Magazine, is actually a sweet cake, boasting a molcajete base of chocolate cake and a guac-like filling of tinted ice cream. Check out these step-by-step photos to see how it's done.
More posts from Maria Russo.
Similar Posts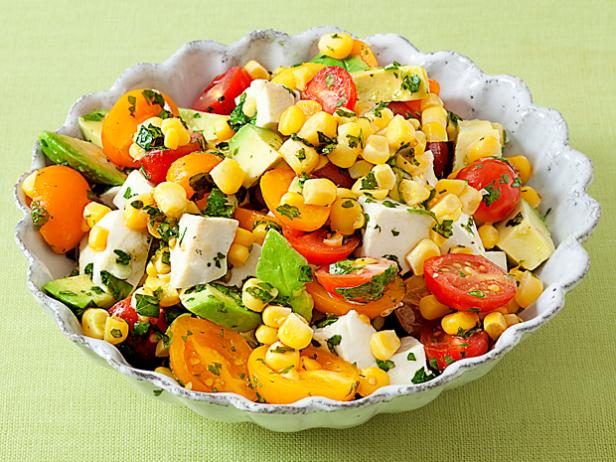 When it's too hot to cook, look no further than these tomato-focused recipes....