When football fans arrive at your house in droves on Sunday, forget serving them composed, sit-down dishes that'll hinder their cheering and jeering. Instead, transform game-day classics into innovative, easy-to-eat dips that say no to forks.
Tacos Instead of Taco Dip
Instead of using the store-bought taco seasoning packets to make full-fledged tacos, go for another game-day favorite: Taco Dip. Complete with beef, beans and everything you would load into your taco, it's a football-party winner made for crunchy tortilla chips.
Out-of-the-Box Pizza Dip
Calling upon the delivery man sure is easy, but it's not the most-creative party approach. Load everything you love about your go-to slice into this hearty Supreme Pizza Dip, a saucy, cheese-stringing and pepperoni-scattered dish best served with garlicky toasts.
Hearty Chili, No Bowls About It
If you serve chili by the bowl, it's going to go fast. Extend the goods by presenting them in dip form. This prodigious 8-Layer Chicken Chili Dip has everything you love about your favorite chili bowl, and it's all scooped up chip by chip.
A Big Fat Greek Dip
Greek salads don't scream "party," but this Greek Salad Layered Dip sure does. Simply layer all the standard Greek salad toppings, like tomatoes, red onions and olives, over a cool yogurt dip with cucumber and feta cheese for a scoopable party app that's lighter than other game-day picks.
Off-the-Bone Buffalo Chicken
A lot of football fans will be found nibbling Buffalo chicken off the bone come game day, but this Lightened-Up Slow-Cooker Buffalo Chicken Dip takes a different approach. Surprisingly it comes with the same big flavor, but with fewer calories and less fat.
Diner-Style Sandwich, Now As a Dip
Though a melty diner-style Reuben is perhaps one of the best things between sliced bread, its ingredients also make for a killer dip. Served with rye bread toasts or crackers, Food Network Kitchen's 5-Layer Reuben Dip comes with Swiss, sliced corned beef, sauerkraut, coleslaw and homemade dressing. The best part is that you can make the dip a day before to cut prep time on game day.
Check out more game-day dip recipes from our friends:
Feed Me Phoebe: Healthy French Onion Dip with Leeks and Shallots
The Heritage Cook: Chipotle Black Bean Dip
Creative Culinary: Kahlua, Walnut and Brown Sugar Baked Brie
Dishing with Divya: Boiled Peanuts Hummus
TasteBook: Everything Bagel Dip
In Jennie's Kitchen: Hummus, 4 Ways
The Mediterranean Dish: 11 Game-Day Recipes with a Mediterranean Twist
Dishin & Dishes: Individual Nachos with Pico De Gallo
The Mom 100: Warm Jalapeno Popper Dip
Healthy Eats: 5 Lower-Fat Dips for Game Day
Napa Farmhouse 1885: Artichoke & Olive Dip
Red or Green: BBQ Dip With Roasted Vegetables
Taste with the Eyes: Favorite Dish on the Super Bowl Buffet, Guaranteed
More posts from Allison Milam.
Similar Posts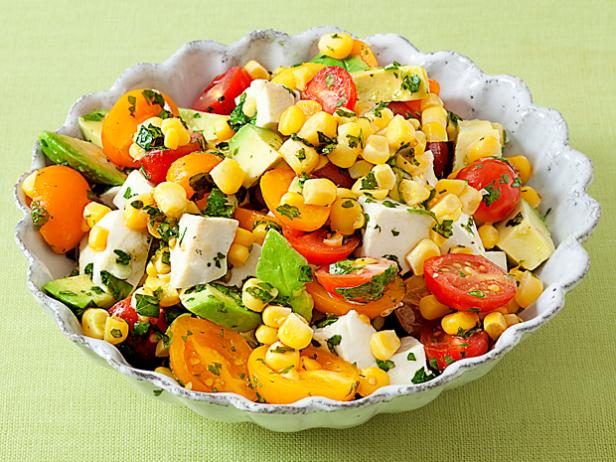 When it's too hot to cook, look no further than these tomato-focused recipes....